"Salmon Girl invites us to tap into the traditional wisdom of the salmon with the innocence and playfulness of a child's heart and mind."
-Martine Kleissen- Event Coordinator
Salmon Girl explores the world of water and salmon. Through theatre, dance, music and puppetry, this piece follows the journey of a young girl into a magical adventure where the delicate balance of nature could change her life forever. A visually stunning work that shares a First Nations perspective on the importance of Salmon. Choreographer Michelle Olson from the Tr'ondek Hwech'in First Nation and playwright Quelemia Sparrow from the Musquem First Nation bring together their respective cultural perspectives and stories to create a piece that is both meaningful and delightful to all audiences.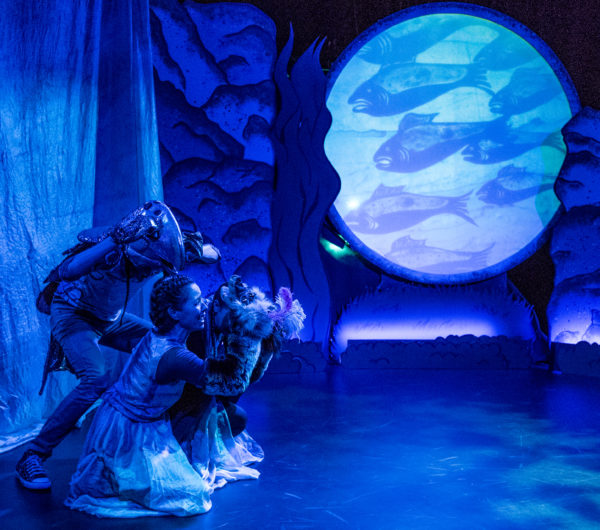 At a time when the environment, women and indigenous people are in the forefront of the news and social media Salmon Girl is a timely production. Perhaps better suited to slightly older children than  toddlers, and because of the costumes and puppetry, may be just a bit more advanced than what we think of for some Carousel for Young People productions.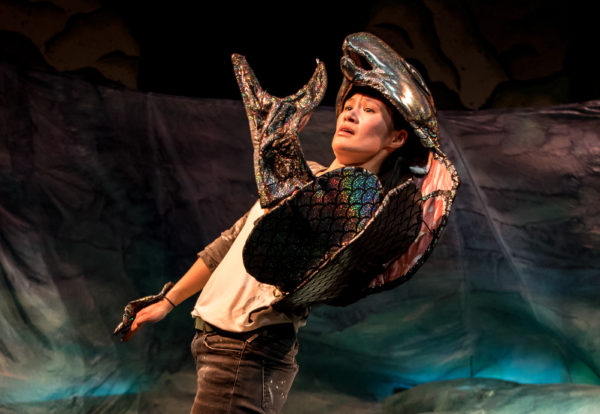 This is a production with a message. After falling into the river the young woman is turned into a salmon. The experience changes her perspective on the nature around her and calls on the empathy of the audience as the story unfolds.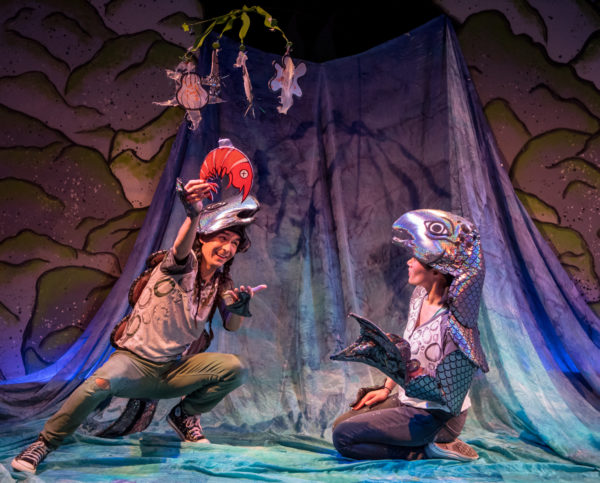 The costumes portrayed more than just characters but were more works of art and very colourful catching the eye and attention of the audience. The dances were graceful and captivating. The play had a good pace and kept the audience enthralled. An adventure with a message for families and children about 6 and older.
Salmon Girl is a Raven Spirit Dance production. Created by Michelle Olson and Quelemia Sparrow.
Dates: Run: April 6 – 14, 2019 [April 6, 7, 13, 14 at 11 am and 2 pm]
Check www.carouseltheatre.ca for performance calendars and show times. School group matinees available
Ticket prices: Adults: $35; Seniors/Students: $29; Young People (Ages 3-18 years): $18
Address: The Waterfront Theatre on Granville Island
1412 Cartwright St, Vancouver BC
Box Office : tickets.carouseltheatre.ca or 604-685-6217
Running Time: 60 minutes with no intermission
About Carousel Theatre for Young People
Founded in 1976, Carousel Theatre for Young People creates playful, exceptional and accessible theatrical experiences that inspire, involve and educate. Each season approximately 40 000 young people and their families benefit from CTYP's programming. At Carousel Theatre for Young People we believe that the arts play a vital role in a young person's development. We envision a community that empowers people to be more imaginative, expressive and engaged.
Images provided by Jodi Smith, JLS Entertainment. Photo credits: Erik Zennstrom
[wdi_feed id="2″]