FLORAL FLAVOURS
Beaucoup Bakery launches new spring menu inspired by flowers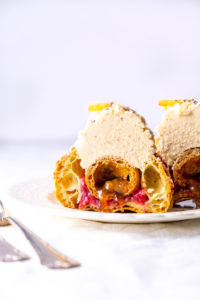 Beaucoup Bakery & Café (2150 Fir Street) is taking inspiration from popular blooms this season and infusing floral flavours into its new spring menu. Starting Tuesday, March 19, 2019, customers can treat themselves to three new pastries and two vegetarian savoury options: Jasmine Blueberry Croissant, Lavender Rhubarb Orange Choux, Cardamom Saffron Flan Pâtissier, Parsnip Celeriac Lentil Tarte, and a Roasted Spring Veggie Sandwich.
"I've been experimenting with floral flavours and really like the way they can enhance a classic pastry,"explains Betty Hung, co-owner of Beaucoup Bakery. "For example, lavender has a beautiful and subtle flavour. It pairs especially well with the tart nature of rhubarb and citrus from the orange. Saffron is stronger in nature and works well with the cardamom spice and vanilla. We look forward to having people come in to try our new pastries."
The Cardamom Saffron Flan Pâtissier ($4.25) is a cardamom saffron vanilla custard baked in a buttery flakey pastry shell.
Beaucoup's signature double-baked croissant for spring is the Jasmine Blueberry Croissant($5.50) made with a jasmine-scented almond cream, blueberry compote, and topped with an almond streusel.
The Lavender Rhubarb Orange Choux ($5.50) features a lavender rhubarb compote, orange caramel puff, and coconut praline cream in a crunchy choux pastry.
The two new savoury vegetarian options are great for brunch, lunch, or a quick snack.
The Parsnip Celeriac Lentil Tarte ($4.95) is composed of parsnip celeriac cream, French lentils, and topped with a fresh fennel and radish salad. While the Roasted Spring Veggie Sandwich ($10.50) features a hearty mix of roasted yams, piquillo peppers, tomatoes, fresh basil and cherry tomatoes on Beaucoup Bakery's butter croissant with crème fraiche, and chipotle mayo.
All Beaucoup Bakery items are made fresh daily and can also be pre-ordered for pick-up in large quantities. Spring seasonal items will be available until June 23, 2019. For more information, please visit beaucoupbaker.com
About Beaucoup Bakery & Café
Beaucoup Bakery & Café opened its doors in December 2012, offering French-inspired pastries. The reason for opening Beaucoup Bakery was simple, to leave the world a happier place, even if through something as simple as a cookie. The company's priority is to put care and pride into everything it does, from the ingredients used and the little details that go into the baking, through to the way the company treats valued customers and friends.
Beaucoup Bakery & Café  |  2150 Fir Street, Vancouver, B.C., V6J 3B5  |  604-732-4222
Twitter: @beaucoupbakery | Instagram: @beaucoupbakery | Facebook: /beaucoupbakery  |  beaucoupbakery.com
[wdi_feed id="2″]