SOUTHERN PRIDE CHICKEN: JUKE FRIED CHICKEN HOSTS VANCOUVER'S INAUGURAL 'DRAGS BENNY' EVENT DURING EVENING OFFSHOOT ON APRIL 12
Three-Course Menu, Welcome Cocktail, Performances from Drag Queens Kendall Gender, Perla Coddington Highlight Fundraiser Benefitting Local LGBTQ+ Organization QMUNITY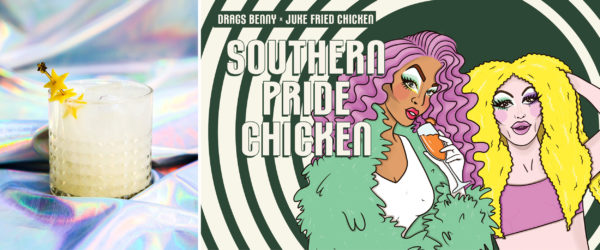 Juke Fried Chicken and Eat North will join forces and light up the night when they co-host 'Southern Pride Chicken,' a special evening offshoot of the popular Drags Benny series of pop-up events in support of Canadian Pride initiatives, at Juke's Chinatown location on Friday, April 12.
Beginning at 10 p.m., Juke's Southern Pride Chicken event offers guests two drinks, canapés and a three-course family style feast featuring Juke's signature Southern-inspired fare as well as a series of drag queen performances by Vancouver's Kendall Gender and Calgary's Perla Coddington. Throughout the night, the local drag-cocktail-making duo known as 'Bitter Queens' (Juke Bar Manager Olivia Povarchook and Tiago De Souza Jensen) will also be serving lip-smacking libations inspired by both performers.
A limited number of general-admission tickets are available for $59 per person including tax and gratuity, with tables of six also available to be booked in advance. Partial proceeds from ticket sales will be donated to QMUNITY, a non-profit local organization that works to improve the lives of queer, trans and Two-Spirit people and their allies and allow them to fully self-express while fostering a sense of inclusivity.
Juke's Southern Pride Chicken event serves as an opening act for a Drags Benny pop-up brunch being held on Sunday, April 14 inside the Crystal ballroom of Victoria's Fairmont Empress Hotel that will see Gender and Coddington share the stage with two-spirited Victoria drag artist Eddi Licious and Chicago-based celebrity drag queen Laila McQueen, who was a featured performer on season eight of RuPaul's Drag Race.
"I am thrilled that the success of our Drags Benny series in recent months has allowed us to introduce it to the West Coast, and that we have such a great partner for our first-ever Vancouver event at Juke," says Eat North founder Dan Clapson. "This Southern Pride Chicken event isn't just a great way to get out, let loose and have fun — it's an opportunity to raise some much-needed funds for a very important cause."
TICKETS
General admission tickets to Juke's Southern Pride Chicken fundraiser are available for $59 per person including tax and gratuity, with limited tables of six available for advance booking. All tickets include two drink tickets, canapés and a three-course family style menu, and are available for at jukefriedchicken.com/drags-benny.
For more information on Juke Fried Chicken or to stay up to date on all the latest developments at both locations, go to jukefriedchicken.com, become a fan of /jukefriedchicken on Facebook or follow @jukefriedchicken on Instagram.
ABOUT JUKE FRIED CHICKEN | Juke is the reason the chicken crossed the road. Launched at 182 Keefer Street in 2016 by Justin Tisdall, Chef Bryan Satterford and Cord Jarvie with a second counter-service outpost called 'Little Juke' that opened at 1074 Davie Street in 2018, Juke has quickly carved out a reputation for serving up an elevated-yet-fun menu comprising the city's best Southern-inspired fare. Beyond its trademark gluten-free, non-GMO-grain-fed and free-range fried chicken and sticky pork ribs available to eat-in or take-out, Juke's two locations also feature a mouthwatering selection of seasonal snacks, salads and sides as well as an array of signature cocktails, wine and local craft beer available by the pint, bottle and bucket served up in casual, inviting spaces that encourage guests to turn up, tuck in and kick up their heels. | jukefriedchicken.com
Juke Fried Chicken: 182 Keefer Street, Vancouver BC V6A 1X4 | 604-336-5853 | Open seven days a week 11 a.m. – 11 p.m. | Saturdays & Sundays 10 a.m. – 11 p.m.
Little Juke: 1074 Davie Street, Vancouver BC V6E 1M3 | Open seven days a week 11 a.m. – late
Facebook: /jukefriedchicken | Instagram: @jukefriedchicken
ABOUT EAT NORTH | Founded by three food enthusiasts in 2013, Eat North is an online platform that aims to tell stories of the Canadian food scene and the people behind it. Eat North encourages Canadians to look in their backyards for outstanding homegrown ingredients or dishes and aims to inform the rest of the world that the Canadian food scene is about more than just maple syrup, poutine and ketchup-flavoured chips. The culinary news site tells you why food matters to Canadians. | eatnorth.com
Facebook: /EatNorth | Twitter: @eatnorthca | Instagram: @eatnorth
SOCIAL MEDIA INTEL
Join the conversations on Instagram and Twitter using the brunch series hashtag #dragsbenny and tagging @eatnorth and @jukefriedchicken
Media release and images provided by Kate Blyth, SMC Communications Inc.
[wdi_feed id="2″]