When I walked into Devil's Elbow on Beatty street I was whisked to the back room.  There sitting resplendent in a red track suit and a red Expo's cap was the original rap-daddy of Canada, Maestro Fresh Wes Williams.  He greeted me warmly and explained that he was just wrapping up some of his travel plans.  He had a firm handshake and carried with him an air of confidence and wisdom.  If I had to choose one word to describe his appearance: crisp.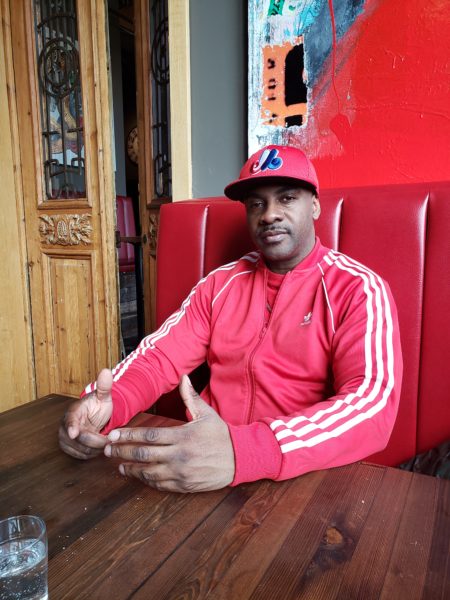 I asked him what brought him to Vancouver.  Maestro said his visit was a busy one, beginning with his March 8th performance at the 7th Annual Kidney Gala at the JW Marriott at the Parq.  He was also celebrating the launch of his latest album "Champagne Campaign" that same day!  
Me: So tell me about Champagne Campaign.
Maestro: Champagne Campaign is an album commemorating my 30 years being known as Maestro Fresh Wes.  A lot of times within this genre of music, MC's have a life expectancy which isn't too long compared to other genres of music.  But the fact that I have been here recording and performing for such a long time, it's time to celebrate, so that's what I'ts all about.  It's a beautiful album, 12 tracks. Joining me on the album is Blessed, Lord Finesse (DITC), Saukrates, TJ Habibi.  It's guest starring Tona and Dusty Wallace, Adam Bomb….the list goes on…..
When I asked Maestro what has given him the drive to keep going for over 30 years, Maestro was reflective.  He couldn't put it down to any one thing, other than the desire to push himself and not to sit back on his laurels.  When he started out he was listening to New York Artists in the 80's.  Names like LL Cool J, Cool G Rap, Erik B. & Rakim.  But fast forward to today, where many thought that rap was just going to be a fad, the Maestro and and a handful of others are still here turning out new music, new hits.
I asked Maestro about his acting career.  He is celebrating his 8th season on the CBC hit series "Mr. D" but the chance to star in a comedy isn't why Maestro got into acting.  He talked about seeing Tupac in the movie "Juice" and that was his real inspiration to take up acting. He was inspired by Ice-T in "New Jack City" and Ice Cube in "Boyz n the Hood" which peaked his curiosity, but it was Tupac that made him want to enter the world of acting.  He studied up on Tupac and learned that he had taken acting classes and went to acting school.  So that is what Maestro did. 
Maestro:  I went to a lot of acting classes in Toronto, and that is how I built up my core.  What I learned from being a hip-hop artist was the importance of repetition and preparation.  As an MC, you got be ready, you know what I mean?  And I just brought those transferrable skills to the arena of thespian artistry.
We talked about his different roles including his latest in Mr. D, and he told me that comedy not something that just came naturally to him.  Each time he looked at a script he thought first about how to make it his own, so that he could genuinely express himself.
Maestro: You have to make it your own, man.  I wrote a book called "Stick to Your Vision", and last November I did a Ted Talk in Vancouver on the subject of 'self-revision'.  So it is one thing where you have a vision, but sometimes your vision can transition you into doing a lot of different things.  You need to be able to revise your plan so you can expand.  I started out as an MC but then I expanded into to expressing myself as an actor, doing presentations, and there are many things that I learned along this path that sticks with me. 
Now that I am working on Mr. D, I have the opportunity to work with a great cast and a great script.  It is a fantastic opportunity for me.  I am not the comic headliner, but I look at the script and I look at my role and I make it my own.  I look at what it takes to make the scene work.  I started out in more dramatic roles, but I am glad I opened myself up to other opportunities because I have had the pleasure of being on this great show now for 8 seasons. But I will be doing more work in the future, more dramatic stuff.  Some people don't know this about me, but I was nominated for a Gemini award for best actor in a supporting role in a dramatic series on HBO called "The Line."   Hip hop gave me the transferrable skills that I could take with me into the arena of acting.  
But with his new album dropping I asked Maestro if this is now a time where he is really going to focus on his music career, or if he is going to keep pursuing acting opportunities.  He told me that when he landed in Vancouver, even before he went to his hotel, he went to an audition.  He knew he was going to be in Vancouver for a few days, so he decided to make the most of it by working, hustling and exploring all opportunities.  He timed it so that he could land in Vancouver, make it to the audition, and then go to the hotel to begin preparing myself for the Kidney foundation gala. 
Many musicians also support causes that are close to their heart.  Maestro was particularly moved by the not only the work of the Kidney Foundation of Canada but was moved by the people who were living with kidney disease and the donors that were saving lives.  
Maestro:  This (Kidney Foundation Gala) was one of the most inspiring events of my whole life.  We had some people there who were lucky to be alive; blessed.  I finished the show, smashed it, and this guy comes up to me and said 'Maestro man, that show was awesome, it was dope!'  I thanked him and told him how I was pleased I was releasing a new album that same day, and he was excited to hear the new tracks.  But then I asked him who that guy was standing next to him, and he said, 'Oh that's just Scott. I donated one of my kidneys to him.  But back to the show, man that was a great show you did.'
I couldn't believe how nonchalantly he said he gave a person one of his kidneys.  I realized that I was sitting in a room full of heroes.  A room full of people who have done some monumental, life changing things for other things.  This showed me that I might have reached a certain destination by releasing this brand-new album, but there is so much more to do out there.  I have to continually push myself to do greater things.  
I am reminded of a famous speaker named Les Brown.  Les Brown is a former radio DJ, member of the Ohio House of Representatives, and motivational speaker.  He said it is a great tragedy that many people go through life and don't use up all their stuff.  This will never be said of the Maestro. 
Musician. Actor. Author. Speaker. 
When you look at Maestro Fresh Wes, you see a multifaceted, talented man who operates in many theaters at once.  He cannot be defined by one album, one role or one song, because he keeps producing something newer and better.  He keeps growing.  After listening to his latest album, I think he is doing his best work at fifty.  
If I had to choose one word to describe how Maestro uses his talents and brings the best of himself into the world, that word would be… amplified.