Very rarely do wines receive a perfect score, be it in wine shows or from wine critics.  Not surprisingly, I was speechless when our 2015 Little Pawn Chardonnay was recently awarded 100 points by John Schreiner.  This is the first time a Canadian table wine has ever achieved a perfect score.
It gave me pause to think, not only, what a great acknowledgement this is for the dedication and efforts of our Viticulturalists, Winegrowing Team and Winery Staff; but also what this means for CheckMate and the Okanagan Valley as a whole.  It validates the vision, hard work and creativity at CheckMate, and the fact that it is now possible to produce elegant, Burgundian-style Chardonnay right here in the Okanagan Valley – the world's next great undiscovered wine region.
I am very excited that the 2015 Little Pawn Chardonnay is being released to CheckMate Wine Club Members this spring, along with our 2015 Fool's Mate Chardonnay, 2015 End Game Merlot and 2015 Silent Bishop Merlot.
In order to ensure you receive an allocation of these wines, become a CheckMate Wine Club Member.
Not only will you receive priority access to new release wines but you will also have access to limited release and library wines.  Our renovated winery and new hospitality area will be completed in 2019 and will provide the ultimate visitor experience in which to enjoy CheckMate Wines.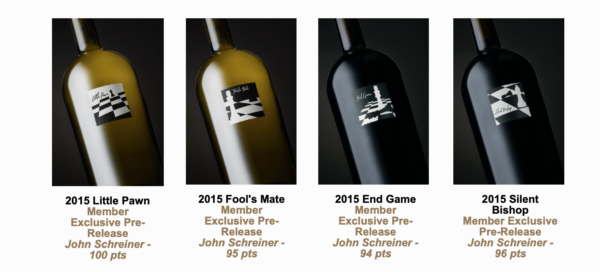 CheckMate Member Shipments will be processed on Friday, May 17th.  Members have the option to completely customize their selections, by Wednesday, May 15th with wines shipping the week of May 19th.
If you have any question regarding membership, please don't hestiate to contact us at membership@nullcheckmatewinery.com
Customers on our mailing list may purchase the 100 point 2015 Little Pawn Chardonnay in a Vertical Set (2015, 2014, 2013 Little Pawn) – perfect for wine connoisseurs, vintage comparisons, gifts and for cellaring.  These limited gift sets are only available for pre-order for a short time and will ship the week of June 17th.
Cheers, Phil McGahan, Winemaker
Media release and images courtesy of CheckMate.
[wdi_feed id="2″]