Salvador Dali Sculptures to Alberni Street and West Hastings in Vancouver
Two Original Large-scale Salvador Dali Sculptures, and over 100 Dali Artworks on Public Display in Vancouver
Chali-Rosso Art Gallery, featuring the largest collection of original European Modern Masters' works in Vancouver, today announced that starting from May 17, 2019 until October 1, 2019, they will showcase two original large-scale Salvador Dali bronze sculptures and over 100 additional Dali artworks, at no cost to the public. Salvador Dali's Space Venus, valued at $2.8 million, will be publicly exhibited at Lot 19 – corner of West Hastings and Hornby Street. Another sculpture, titled Dalinian Dancer, valued at $1.2 million, will be on display at the corner of Alberni and Thurlow Street.
"I am proud to be able to display these majestic bronze sculptures and share them with Vancouverites and visitors from around the world." – says Susanna Strem, owner and curator of the Chali-Rosso Art Gallery. "Last year, many visitors came from far and wide, ranging from Seattle, Vancouver Island, Langley, Maple Ridge, specifically to see the sculpture, I could sense their appetite for this world class level of art. In order to step up our efforts, F.I.N.E. Art in the City Foundation has been created and partnered with, for this year's exhibition. The Foundation intends to be a spark in the Vancouver art scene, with plans in the future to bring in major art exhibitions and exciting and innovative projects. My passion is to expand people's perspective about art, fine art from the international art scene that is thought provoking and inspiring."
The Salvador Dali sculpture collection has been exhibited in major museums, city plazas and art galleries all over the world, such as London, New York and Beijing. This will be the very first time that the monumental Space Venus will be displayed in Canada. Vancouver's inaugural unveiling of the Dalinian Dancer will be in the heart of downtown, at Alberni and Thurlow Street.
James Sanders, a renowned Dali expert in Switzerland says: "Vancouver is maybe one of the best cities to live in, but unlike Shanghai, Paris or New York, it is still waiting for this caliber of art. The status and significance of these two pieces in the history of art is unchallenged."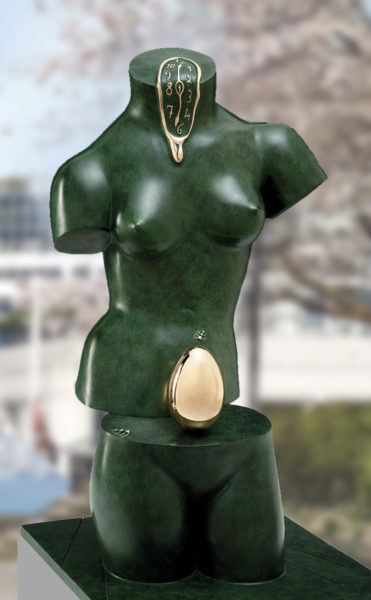 People in Vancouver are lucky to have the opportunity to just walk up the street and take a selfie with a $2.8 million dollar piece of art anytime they want without having to buy a ticket. This Dali Exhibition is in its 6th year, in previous years, gallery director Oree Gianacopoulos, enthusiastically chimes that people, who work and live nearby the sculpture, have become guardian angels, calling the gallery to inform if they see anything suspicious. "Although, we've been asked so many times if we are not wary about the sculpture's safety, she says, all I can say is that Vancouverites and visitors alike have proved to be nothing but respectful and admiring".
Chali-Rosso Art Gallery will continue the tradition of giving back: public donations received, as well as a percentage of Chali-Rosso Gallery sales will go to the Recovery Through Art Society, a non-profit organization, whose mission is to support innovative mental health and addiction recovery, and growth through art.
As part of the Definitely Dali project, Chali-Rosso Gallery showcases 100 additional original Salvador Dali artworks, including 20 gallery-size sculptures, at their Howe Street location, free for the public to view. For more information on the Definitely Dali project visit www.definitelydali.com.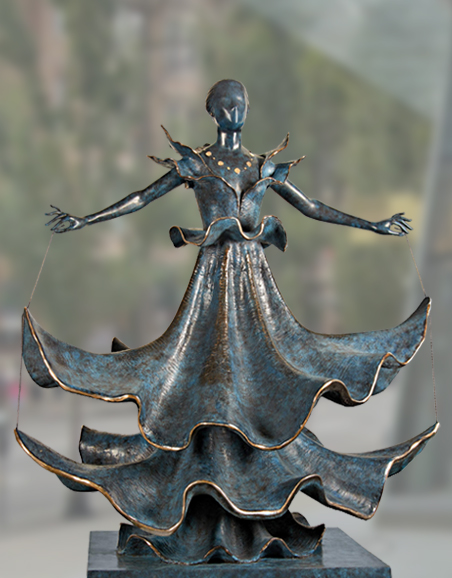 Chali-Rosso Gallery, as one of the most innovative galleries in town, for the very first time, introduced a brand new feature to this exhibition that will leave people in awe. In the spirit of Salvador Dali's limitless imagination, the gallery has developed the DefinitelyDali Augmented Reality app for iPhone and Android. By pointing the phone on to the Dalinian Dancer, the sculpture will come to life and starts dancing to the rhythm of the music of Spain. The gallery is planning to create more apps for other artworks in the gallery.
The official public unveiling of the majestic Dalinian Dancer, will be taking place:
Date: Friday, May 17, 2019
Time: 12:00 pm
Location: 745 Thurlow, at the corner of Alberni Street Cost: Free for the public to attend

The official public unveiling of the 11.6-foot tall Space Venus will be taking place:
Date: Saturday, May 18, 2019
Time: 2:30 pm
Location: Lot 19 – West Hastings & Hornby Street Cost: Free for the public to attend

About Chali-Rosso Art Gallery
Chali-Rosso Art Gallery was founded in 2005, and is located in downtown Vancouver, at 549 Howe Street. The Gallery has a collection that is primarily focused on graphic works of the most well-known Modern Masters, such as Pablo Picasso, Salvador Dali, Marc Chagall, Joan Miro and Henri Matisse. In addition, they also offer works by Pierre-Auguste Renoir, Paul Gauguin, Andy Warhol, Roy Lichtenstein and a variety of others.
All of the artwork at the Chali-Rosso Gallery is original, they do not carry reproductions. Each artwork is accompanied by documentation and certificate of authenticity. Chali-Rosso Gallery is one of the authority in authenticating works by Modern Masters. For more information on the gallery visit www.chalirosso.com.
About the Salvador Dali Sculptures
Space Venus:
Bronze sculpture – Height 11.6′ / 350 cm
Dali made no secret of his worship of female beauty, adorning the Space Venus in his own surreal elements. The underlying form of this sculpture is the familiar, classic female torso of the Venus de Milo. Venus, the epitome of femininity and the very essence of womanhood, takes center stage as the star of Dali's bronze sculpture collection. Creating an enigma for the viewer, iconic Dalinian symbols, such as the egg, ants and the melting clock, transform the image from Classical to Surreal.
Dalinian Dancer:
Bronze sculpture – Height 69″ / 175 cm
This playful sculpture, titled Dalinian Dancer, displays several elements reminiscent of Flamenco. The dancer's perfectly coiffed head, hair pulled tightly into a low, sleek bun, and the flirty neckline and floating ruffles of her swirling dress complete the signature look. Dali's dancer twirls gracefully in a display of vitality and ecstasy, the layers of her skirt gently flaring in waves as she moves rhythmically.
About the F.I.N.E. Art in the City Foundation: The mandate of the Foundation is to exhibit world class art in cities' urban areas, with special focus on works by internationally renowned artists. The mission is to create free public access to these works of art and to engage individuals and communities to learning more about fine art. The F.I.N.E. Art in the City Foundation hopes to create and enrich vibrant communities and inspire future generations of artists and art enthusiasts.
About the Through Art Society:
Recovery Through Art Society, a non-profit organization, its mission is to support innovative mental health and addiction recovery and growth through art. For more info visit www.recoverythroughart.ca
Media release and images provided by Alice Zhou, Gracious Host Events and PR.
[wdi_feed id="2″]