After stiff competition at each of the divisional events in Oliver, Kelowna and Penticton, the results are in! The Tasting Games Finale will have a winemaker, a wine party planner, a grape farmer, a wine purchaser and two sommeliers on stage, competing head to head for the title of "Best Wine Taster in BC".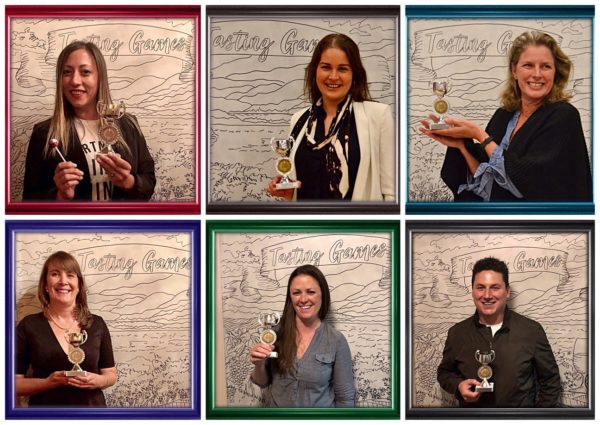 Want to compete next year? The top scoring audience member at the Finale event will be guaranteed a spot on stage in 2020!
Join in the fun, and cheer on your favourite competition by wearing their colour! Buy tickets for the tonight's Tasting Games Finale Tuesday May 21 in Kelowna.
Both Matt and Shanyn will be competing on stage with Severine and Tanja at the Tasting Games finale, May 21 in Kelowna. To find out who will be up on the stage with them, join us for the Central Okanagan Tasting Games event May 14 in Penticton.
Who knows… you could be the next wildcard winner at the Finale!
B4G1 party discount
Want to come to watch the wine pros battle it out at the Tasting Games and bring your friends? Now, buy 4 tickets and get 1 ticket for FREE! Each ticket includes chef prepared small bites, a 5 wine tasting flight and infinite laughs.
Simply enter the coupon PARTYTIME at checkout…  Buy your tickets now!
See you at the next Tasting Games!
~ your coaches Arnica, Darcen, Rhys and Ivan
Learn more: TerroirWine.ca
Darcen Esau
TasteAdvisor
B.C. Tasting Games
Wine Club
Terroir Consulting
Media release and images provided by Darcen Esau, Terroir Consulting.