Covert Farms Family Estate Earns Seven Medals at the 
International Organic Wine Award
Family-owned winery attributes wins to decades of regenerative agriculture winemaking
Now in its 10th year, the International Organic Wine Award has evolved into one of the most prestigious tasting competitions in the industry. Each wine submitted for judging is evaluated by a panel of professionals who use a rigorous and analytic sensory evaluation system known as PAR; the highest possible score is 100 points. This year, the panel judged more than 1,000 organically certified white, red and rosé wines, as well as dessert, sweet, sparkling, pearl and other specialty varietals.
Covert Farms has entered the competition for three consecutive years, and holds distinction as the only winery in Canada to participate in 2019. The winery earned three gold medals for its bold reds, including the
2015 Amicitia
(93 points),
2016 Grand Reserve Cabernet Sauvignon
(93 points) and
2015 Grand Reserve Zinfandel
(93 points). In the rosé category, Covert Farms' delicate 2018 Sparkling Pinot Noir was awarded a gold medal and 90 points, and the patio-friendly
2018 Rosé
received a silver medal and 88 points. In the white wine category, the supple
2018 Pinot Blanc
earned a silver medal and 88 points.
Passionate advocates of regenerative agriculture, the Coverts have spent years feeding nutrients to their land to maintain strong soil health. As a result of minimal handling, avoiding mechanical disturbances and regularly rotating crops, their storybook vineyard – consisting of 100 percent estate-grown grapes – is robust, resilient and filled with juicy grapes. Global competitions such as the International Organic Wine Award provide the Coverts and their team an ideal opportunity to measure their product against fellow organic wineries, particularly as the international wine community increases awareness and production of organic wines.
"I am so proud of our entire team for the dedication they have shown throughout the years to the process of organic, sustainable winemaking and maintaining a healthy vineyard – all of their hard work has truly paid off," said Gene Covert. "I hope our success at the International Organic Wine Award will help to spread awareness not only of regenerative winemaking, but also sustainable farming. Caring for the land is crucial to building healthy communities and yielding strong crops well into the future, and we are thrilled to be part of a community that is spreading that message."
Learn more about the Coverts' winemaking process first-hand by booking the
Hands on Harvest Signature Experience
, an immersive exploration of the farm and winery that shares the fascinating world of regenerative agriculture with plenty of tastings along the way; at the end of the tour, participants can relax on the porch and sample charcuterie and cheese paired with wine tastings. To learn more about the Coverts' winemaking process from vineyard to bottle, visit
covertfarms.ca/wine-process
.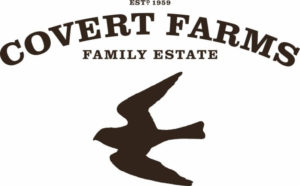 About Covert Farms Family Estate:
Covert Farms Family Estate is a fourth-generation, 650 acre organic farm, vineyard, and winery. Situated in Oliver, BC, the estate boasts more than 40 organically grown fruits and vegetables, and 100 percent estate grown grapes – featuring a wine portfolio that includes the opulent Roussanne/Viognier; clean and crisp Sauvignon Blanc/Sémillon; cherry- and strawberry-flavoured Rosé; and intriguing blends such as The Bluff, MDC and Amicitia. Visitors can relax on the licensed patio and enjoy a glass wine with a charcuterie and cheese board, or take an expansive 1.5-hour family-friendly Hands on Harvest Signature Experience tour aboard the Coverts 1952 cherry-red Mercury truck. Those who love recreation will appreciate the location of Covert Farms as a gateway to the famous Okanagan landmark, nʕaylintn (McIntyre Bluff), while event organizers can take advantage of the estate's two acres of dedicated licensed event space, including a cozy wine lounge and open-air barn. Groups will be wowed by Covert's impressive farm-to-table offerings and interactive add-ons like customizable tours and team-building activities.
https://covertfarms.ca
Media release and images provided Jorden Hutchison, Hutchison PR.
[wdi_feed id="2″]