It isn't too late to enjoy the wines that were presented at the annual Bloom Wines of British Columbia Spring Release Tasting. Bloom is the major spring release event for BC wineries featuring their latest offerings.
At events like this, there never seems to be enough time, so I am always looking for a better way to approach them.  New year, new plan.   After tasting two very good, though very different Pinot Noir wines, Blue Grouse and Spearhead, in the morning seminar (see 'Vintage 2018 Media Preview' published earlier), I decided to concentrate on Pinot Noir and then move on to other wines and wineries that I hadn't visited for a while.
The event runs from 2:00 until 5:00, which certainly seems to be a reasonable amount of time, but it is very deceiving.  As well, I got to the room about 40 minutes later after the attending the earlier session that started at 12:30.  Never mind, with my new plan it would all work out.
Now understand, if one is rude and elbows others out of the way, ignores friends, colleagues and other familiar faces, you could certainly increase the available time, but that is definitely not the nature of such events.  Wine people tend to be very nice people and after many years of doing this I am very fortunate to know many, many wonderful people, both in front of and behind the tables.  Even if you limit it to a quick friendly, 'Hello,' and listen to the odd recommendation from a colleague, it is virtually impossible to hit all the tables you intend to, no matter how short your short list is.  So, my sincere apologies to all the wonderful producers I didn't get to.
OK, enough of my whining. (Oh, the woes of a person in the wine media!).  I didn't accomplish all of what I had wanted and I missed tasting a lot of great wines, but here, in alphabetical order, are a few highlights of the wines, all Pinot Noir, that I did get to sample.  Prices shown are from their web sites.
Arrowleaf
Summerstorm Rosé Brut 2017            $26
Made from Zweigelt.  Very nice, balanced, not acidic.  Pleasant and easy to drink.
Baillie-Grohman
Pinot Noir Terraces 2017                   $27
From a south west facing vineyard.  Big, bright ripe and juicy.  Good varietal character.
Pinot Noir Reserve 2013                    $45
Beautifully aged with savory and meaty notes.
Gray Monk
Pinot Noir 2017                                 $19
Uncomplicated, easy to drink, good value.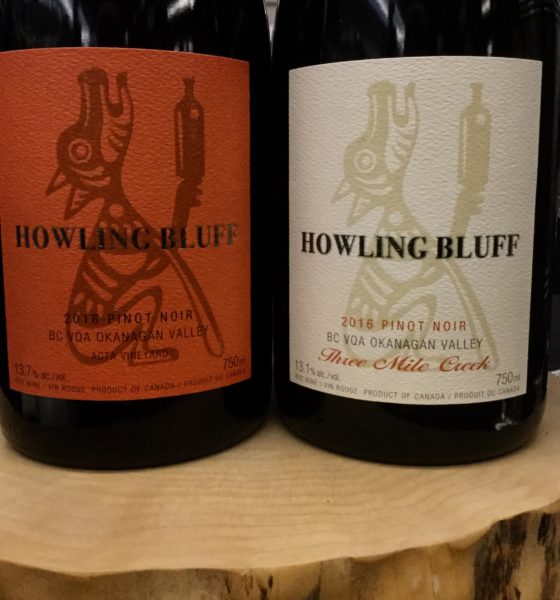 Howling Bluff
Three Mile Creek Pinot Noir 2016       $35
Delicious!  Savory.  Excellent value.  Great example of BC Pinot Noir.
Acta Vineyard Pinot Noir 2016            $35
Delicate, floral and fruity.  Impressive and well-priced.
Laughing Stock                          $35
Pinot Noir 2016
Amazing.  Be sure to try this one.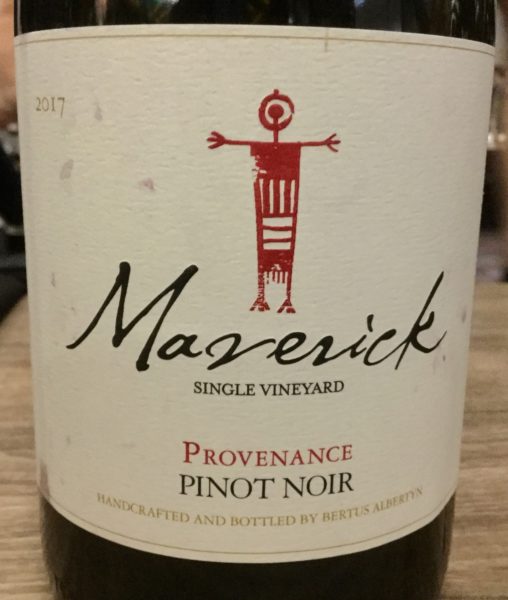 Maverick
Ella Brut Rosé NV                             $35
Impressive BC bubble.
Provenance Pinot Noir 2017                $29
Well priced, layered with lots of depth, earthy, savory, meaty.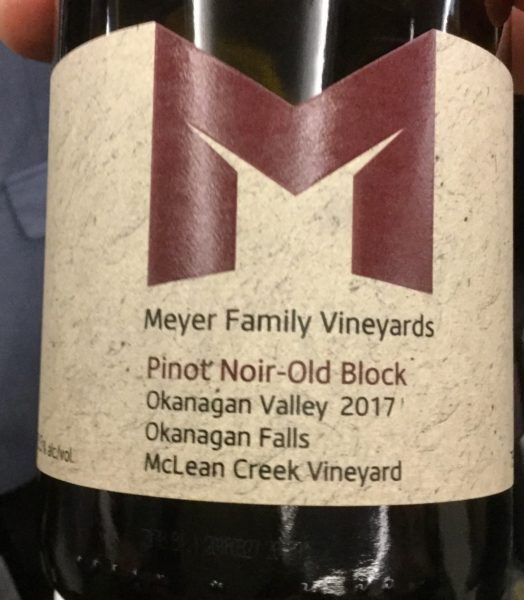 Meyer Family Vineyards
Old Block Pinot Noir 2017                  $44
MFV specializes in this grape and for good reason.  Excellent, rich, layered and complex.
Mission Hill
Reserve Pinot Noir 2017                     $28
Cherry, raspberry and spice
Monte Creek Ranch.
Pinot Noir 2017                                 $21
Cherry, vanilla and spice.  Medium body with a creamy texture.  Made with grapes grown in Vernon. One of the best at its price point.
Noble Ridge
Reserve Pinot Noir 2016                     $31
Good, straight ahead Pinot – plum, cherry and toasty spice.
Quails' Gate                             $52
Stewart Family Reserve Pinot Noir 2017
This one needs time.  Big and layered, but still tight.  Let it rest from a few years and then it will shine.
Red Rooster
Pinot Noir 2017                                 $20
Surprisingly good for this price point.  Dried fruit, meaty and spice.  Good value.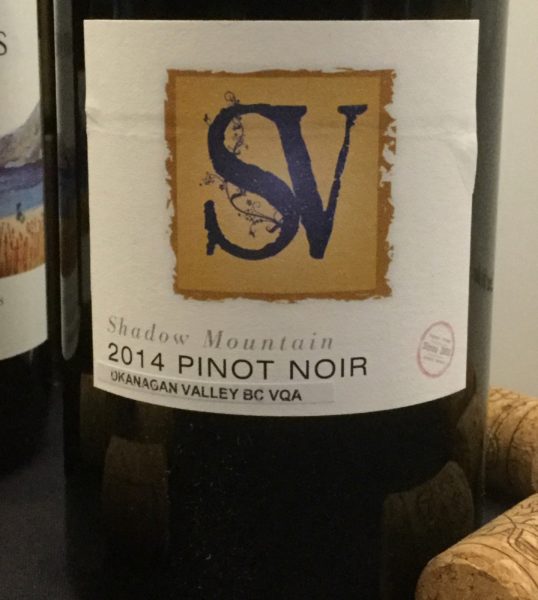 Savard Vines
Shadow Mountain Pinot Noir 2014       $26
The extra age on this one has helped it develop into a very well-rounded wine with good varietal character.  Fruity with a creamy texture.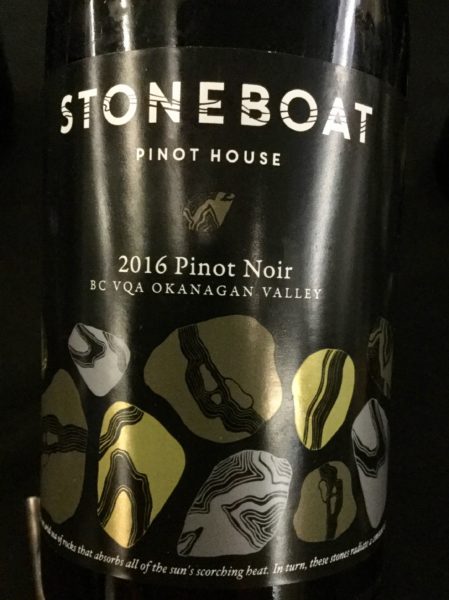 Stoneboat Vineyards
Pinot Noir 2016                                 $27
Always one of my favourites at this price point.  Cherry, raspberry and spice.  Dry.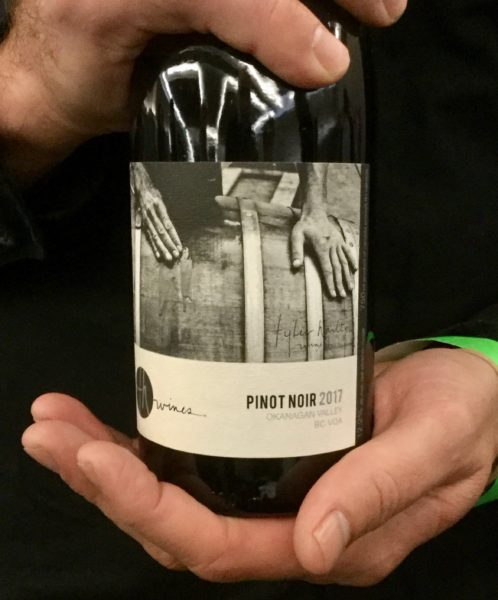 TH Wines                                $35
Pinot Noir 2017
Cherry, plum, meaty and savoury.  Very good.
Tightrope
Pinot Noir 2016                                 $31
Good varietal character – cherries, berries, plum, spice and cocoa.
Before I knew it, time was up and there were still several pinots that I had wanted to sample, but that would have to wait until another time.  However, just as they dimmed the lights, I was standing beside the BC Wine Studio table and I was able to snag a refreshing glass of rosé from my friend, Mark Simpson.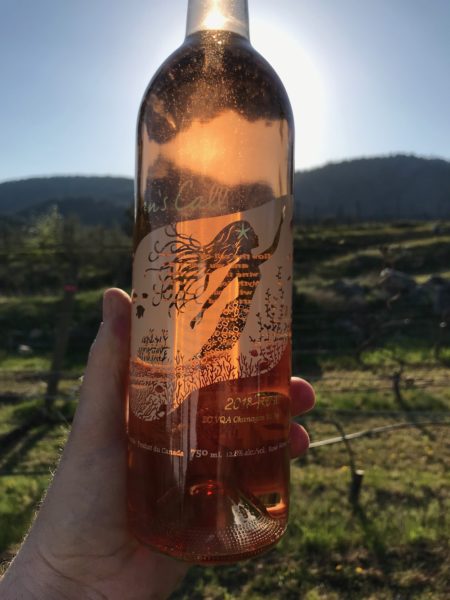 Siren's Call Rosé 2018                 $19
One sip and I thought, wow, what's in this?  Mark told me it was a blend of Pinot Noir, Syrah, Bacchus and Viognier.  What an intriguing blend. It was fermented with skin contact and with natural yeasts.  This creamy wine has aromas and flavours of cherry, rhubarb, strawberry and a hint of spice.  Very nice.
With close to 300 wineries spread throughout BC, there is clearly a lot to choose from and with wines to suit every taste and budget.   BC makes it all, sparkling, white, rosé and red and we win far more than our fair share of international awards.  Buying local, means buying quality.  My recommendation, no matter where you live, is to visit your local wineries and sample their wares.  Better yet, seek out new ones using the interactive Trip Planner at WineBC.com.
Cheers!
(All photos, except as noted – Sam Hauck)