First-Time Event 'Go Blue on South Granville' Kicking Off this Summer
The BC Blueberry Council brings a 10-day event to South Granville
To launch the start of this year's fresh blueberry season, the British Columbia Blueberry Council (BCBC) is teaming up with the South Granville Business Improvement Association (SGBIA) to celebrate all things blue – as in blueberries – for 'Go Blue on South Granville'. This 10-day event will take place from July 18 to 28, 2019 along South Granville.
A number of South Granville's restaurants will be featuring local blueberries in both savoury and sweet offerings, as well as beverages. In addition, the street (from 5th to 16th Ave) will be transformed with hues of blue as various retailers will be celebrating blueberries in their own ways – with special promotions, sales, events, and decorations.
What to expect:
Bean Around the World @batwcoffee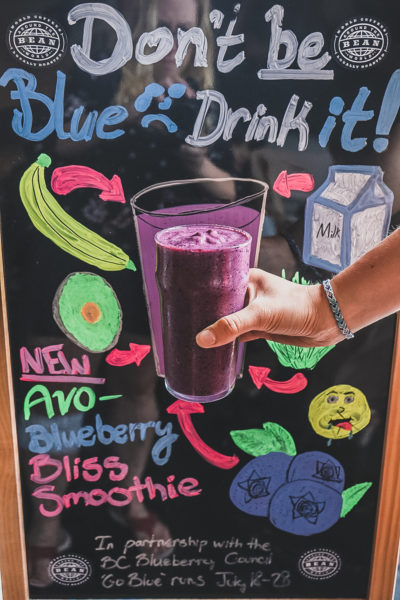 Blue Matcha latte and Avo-Blueberry Bliss smoothie VG
Bin 4 Burger Lounge @bin4burgerlounge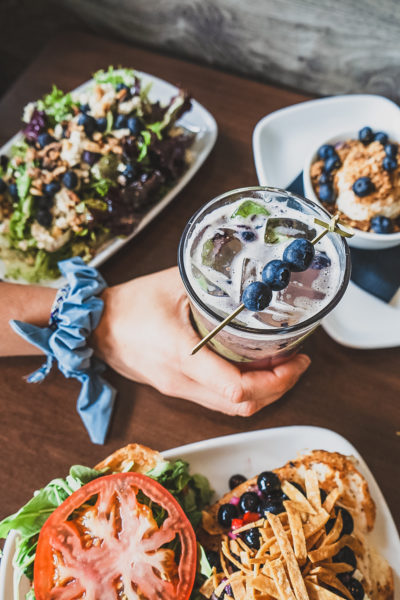 Blueberry, walnut & goat cheese salad
"The Blue Rocket" Bin 185 (chicken burger with blueberry jalapeno salsa)
Blueberry basil bourbon smash (cocktail)
Blueberry crumble cheesecake
Breakfast Table @breakfasttable604
Blueberry coconut gluten free waffle with a blueberry chilli bourbon compote – $12.50
Blueberry Bourbon Sour – $8.75
Blueberry Mint Soda – $4.50
Cheesecake Etc[email protected]_etc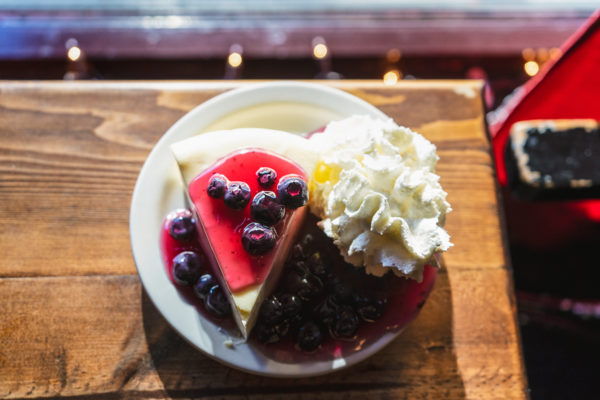 Original Cheesecake with blueberry topping – $7.50
Fiore @fioreyvr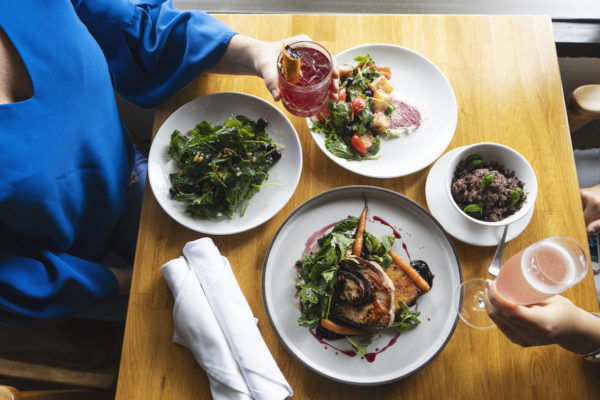 Blueberry & balsamic pork roulade (entree) GF
Blueberry & basil granita, blueberry & lavender panna cotta (desserts) GF
Goodge Place @goodgeplace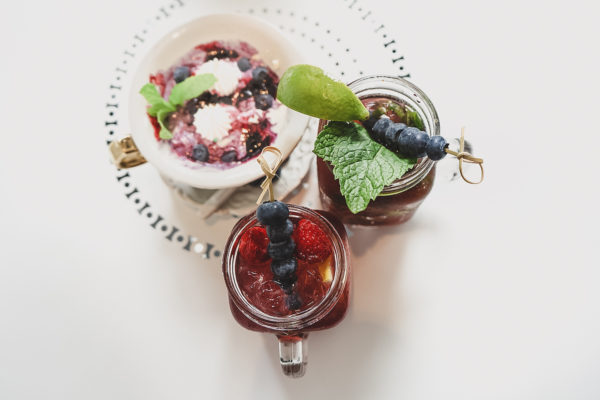 Virgin Blueberry mojitos
Iced Blueberry Lemonade
$4 – $5 / drink
Heirloom @heirloomveg
Blueberry French Toast with cashew vanilla bean cream and hazelnut praline VG
Blueberry and Spinach Salad with almond feta, toasted walnuts and a shallot vinaigrette VG/GF
Blueberry Cheesecake with coconut vanilla bean whip cream and freeze dried blueberry VG/GF
Jamjar @jamjarfolk
Blueberry + Artichoke Salad. Lamb Shank with Blueberry. Jus Blueberry Milk Pudding Sweet blueberry hummus, a blueberry sour cocktail
Retail: blueberry sumac jam
Meinhardt @meinhardtfinefoods
– Staff will be wearing blue to get in spirit
– Blueberries for only $3.99
– Sockeye Salmon w/ Blueberry Sauce (Deli Case)
– Porkchop w/ Blueberry Compote (Deli Case)
– Blueberry Lemonade Drink (Grab n Go)
– Blueberry Scones (Pastry Case)
– Charlotte Blueberry Mousse Cake (Pastry Case)
– Blueberry Swiss Roll (Pastry Case)
– Blueberry Cheesecake Mousse Cake (Pastry Case)
– Blueberry Fresh Fruit Tart (Pastry Case)
– Blueberry Panna Cotta (Pastry Case)
– Woolwich Wild Blueberry Soft Fresh Goat Cheese (Cheese Area)
– Tonica Blueberry Kombucha (Kombucha Area)
– Liberte Blueberry Yogurt (Dairy Section)
– Various Gourmet Blueberry Jams (Jam Section)
– BLUE PACKAGE SmartSweets Sweet Fish (Front of Store)
Ouisi Bistro @ouisibistro
Buttermilk Marinated-Cornmeal Crusted Catfish Filet with Blueberry-Pink Grapefruit Salsa, Red Beans, Green Rice and Cornbread – $18.50
Cocktail
The Rise Eatery @theriseeatery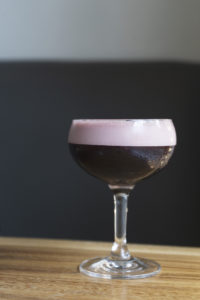 Born to be Blue – spiced rum, blueberry juice, balsamic reduction, calamansi lime (Cocktail)
– Trout-out for Blue – blueberry & lemongrass cured Lois Lake steelhead trout, deviled egg yolk, blueberry crème fraîche, pickled apple & cucumber slaw, shrimp chips (Starter)
– Tartbreaker (VG) – five spiced caramelized onion & blueberry tart, plant-based bacon bits, baby arugula, tofu crème fraîche, pickled blueberries (Starter)
– Tortellini Outrageous (VG) – roasted golden beet purée stuffed blueberry tortellini, chickpea ricotta, parsnip & beet chips, blueberry soy balsamic glaze (Main)
– The Magic Dragon – white chocolate mousse filled craquelin puff, limoncello macerated blueberries, lemon curd, mint meringue, freeze dried blueberries (Dessert)
– Brunch Feature – Three-egg chicken omelette, feta, cream cheese, arugula, pickled blueberries with country potatoes and toasted baguette
The Stablehouse Bistro @stablehousebistro
Parmesan gnocchi, duck leg, leek, blueberry, apple, arugula, almonds (DINNER ONLY)
Lemon chiffon, blueberry, juniper, thyme, sunflower seeds (LUNCH AND DINNER)
Vij's Rangoli @vijsrangoli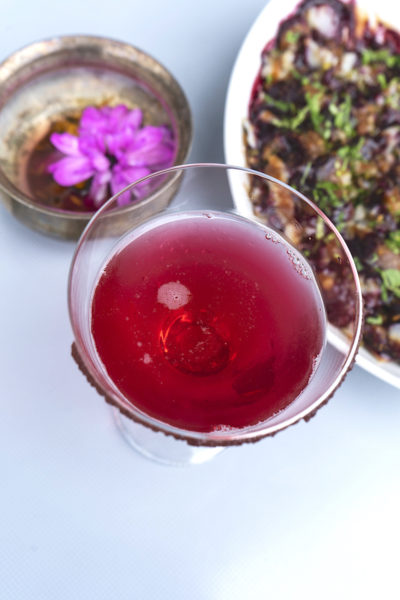 Savoury Chaat (whole wheat crisps with white chickpeas and green chillies) with Blueberry Chutney VG Berry Alright cocktail BC blueberry shrub. Tarragon infused Narrative Spirit of the Vineyard, Giffard Grapefruit Liqueur, Prosecco, blueberry chutney rim
West Restaurant @westrestauarant
3-course Meal 1) Blueberry Panzanella w/ grilled sour dough, whipped ricotta, pickled onion, basil
2) Yarrow Meadows Duck Breast w/ blueberry gastrique, roasted beets, swiss chard, duck jus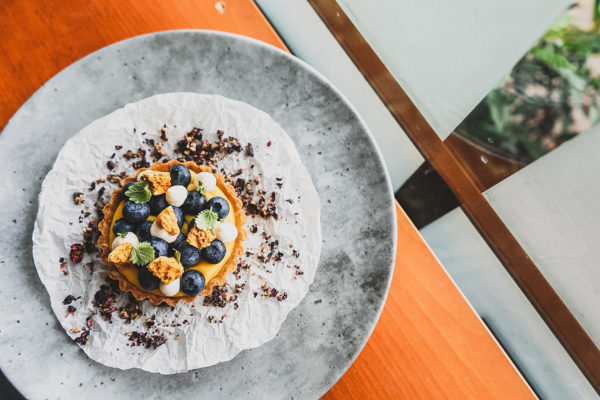 3) Blueberry Tart w/yogurt ice cream, honeycomb
In addition to blueberry menu items and blue window displays, the group is working on securing a blueberry-themed mural painted along South Granville — a perfect destination for photos.
Ivy Haisell of the SGBIA says "The South Granville neighbourhood is excited to share our love of juicy BC blueberries! Our businesses are ready to showcase their menus and retail hospitality during this 10-day festival. We expect to challenge your expectations of the blueberry. Visitors will not be disappointed, and should definitely bring their cameras!"
This is an event you don't want to miss! There will be delicious food and drinks, great shopping deals, and daily giveaways for those who visit participating stores and restaurants.
Restaurants:
Bean Around the World Coffees Drink, VG
Bin 4 Burger Lounge – Lunch & Dinner
Breakfast Table – Brunch, GF, V
Cheesecake Etc – Dessert, V option
Fiore Restaurant– Lunch & Dinner
Goodge Place – Drinks & Dessert, V options
Jamjar – Folk Lebanese Food – Lunch & Dinner, VG option
Ouisi Bistro – Dinner
The Rise Eatery – Dinner, Brunch & Dinner, VG option
The Stable House – Lunch & Dinner,
Vij's Rangoli – Lunch & Dinner,
West Restaurant + Bar – Dinner
Heirloom Vegetarian Brunch, Lunch & Dinner, VG, GF options
Meinhardt Fine Foods – Lunch & Dinner
Retail:
Purdys Chocolatier
Mine & Yours
JAK's Beer Wine Spirits
Murchie's Tea & Coffee
Lord's Shoes & Apparel
PLUM
Dianes Lingerie
Connect with us on social media to stay up-to-date on the event and possibly be featured on our page:
@bcblueberries
#GoBlueSouthGran
About BCBC
The mission of the British Columbia Blueberry Council is to enhance the viability and strategic development of the blueberry industry through promotion, research, industry education and relationship building.
Media release and images provided by Tara Clark, Social T. Feature image: Heirloom Blueberry and Spinach Salad with almond feta, toasted walnuts and a shallot vinaigrette.