Chill Out & Go Back to School with Uno Gelato
Vancouver farm-to-cone gelateria launches Gelato 101 seminars
Uno Gelato is delighted to announce the start of new Gelato 101 seminars this autumn.   Our fun and tasty classes are seasonally themed and are designed for "cone-noisseurs" and beginners alike, no experience needed.  Uno Gelato handcrafts Italian style gelato and sorbetto from scratch, made fresh daily. We embrace a "farm-to-cone" philosophy utilizing the best natural ingredients, and partner with local farmers and suppliers.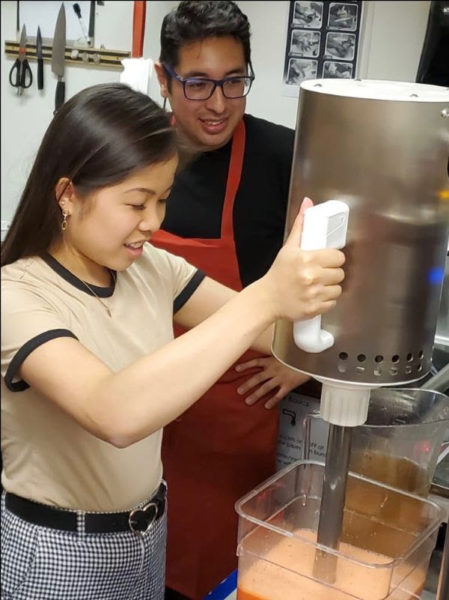 Great for girls night, date night, or come solo and meet some new friends, Uno Gelato 101 students will discover the sweet science of making gelato and sorbetto in the classic Italian method.  Classes will run from October 17 to February 27 on Thursday evenings at 7 pm for approximately 1.5 hours.  Led by Maestro Andrés Bermudez, sessions are limited to 7 people and will be held at our Kitsilano location, 2579 W. Broadway in Vancouver.  Priced $50 per person (plus taxes), it includes a cone or cup of choice during the visit, along with a pint of choice to take home. Private group classes are also available for booking.  Contact us at info@nullunogelato.com or 604-733-5884 for reservations.
"We've taken an old fashion ice cream social to a whole new level. With our Gelato 101 classes, guests enjoy a hands-on experience of making sorbetto or gelato in our lab. They get to sample all the flavours we have available and gain an understanding of its history and science, as well as see up close how microbatch gelato is made," said Andrés Bermudez, Maestro, Uno Gelato.
Uno Gelato currently has up to 25 flavours, with seasonal selections available as different fruits and nuts ripen locally.  Some of the best selling are Salted Caramel gelato, Very Cherry gelato, and Midnight Chocolate Sorbetto – a vegan option crafted with Guittard's black cocoa and 99% cocoa from Valhrona.
A sampling of our seasonal themes this coming year include:
October – Pumpkin Pecan Cheesecake gelato / Passion Fruit sorbetto
November – Roasted Hazelnut gelato / Banana Chocolate Chip gelato
December – Tahitian Vanilla with Roasted Pistachio gelato
January – Midnight Chocolate sorbetto / London Fog gelato
February – Chocolate Scotch gelato / Ruby Chocolate gelato
Uno Gelato sources from local farmers in the Fraser Valley such as Berry Haven for blackberries, S. Balducci for blueberries, Fraser Valley Hazelnuts, Tesfa for water buffalo milk, Avalon Dairy for organic milk and cream, Vancouver Island Sea Salt, and Sweet Tree Ventures in Quesnel for BC birch syrup – a natural sweetener, to name a few of our regional producers.  Trained by a world champion gelato Maestro, Andrés Bermudez is the former Maestro at La Gelateria Parmalat in Miami Beach.
At Uno Gelato you will experience the sublime flavours of true artisan, handcrafted gelato, created and produced by an amazingly talented team of local craftsmen and women. You won't find bubblegum flavoured gelato, but you will find year-round favourites as well as seasonal creations using the very best natural ingredients available. From Vancouver Island Sea Salt to Avalon Dairy organic milk and the freshest local fruits and herbs, Uno Gelato is a sensory experience you won't forget. Uno Gelato…Simply Divine
Media release and image provided by Lori Pike-Raffan, Uno Gelato
[wdi_feed id="2″]