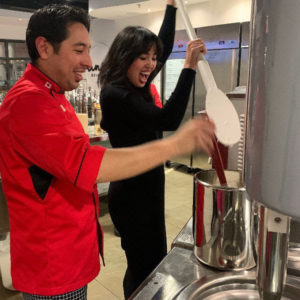 We are delighted to announce the safe restart of our popular Gelato 101 seminars this fall. The fun and tasty classes are seasonally themed and are designed for "cone-noisseurs" and beginners alike, no experience needed. Numerous new safety protocols are in place for guests to safely enjoy a hands-on experience of making artisan sorbetto or gelato in our lab.
Our classes will run from October 1, 2020 to February 25, 2021 on Wednesday and Thursday evenings at 7 pm for approximately 1.5 hours. Led by Maestro Andrés Bermudez, sessions are limited to only 6 people and will be held at our Kitsilano location, 2579 W. Broadway in Vancouver. Priced $59 per person (plus taxes) it includes: an entertaining, hands-on learning experience; a pint of the gelato or sorbetto made that evening to take home; a cone or cup of choice during the visit; along with an extensive sampling of Uno Gelato's current flavours. Private group classes are also available for booking.
"Our classes were sold out last winter and then on hiatus this past spring and summer. We're excited to safely resume them this fall with students experiencing hands-on the making of Italian style sorbetto or gelato in our lab, from scratch. They will enjoy a curated flight of the flavours we have available and gain an understanding of its history and science, as well as learn to craft microbatch gelato and sorbetto," said Andrés Bermudez, Maestro, Uno Gelato.
The new safety protocols include: temperature checks and social distancing; mandatory PPE equipment — students are asked to bring and wear a face mask (if they forget they will be provided one), and students will be provided disposable gloves to wear while in the lab.
Uno Gelato currently has up to 50 flavours, with seasonal selections available as different fruits and nuts ripen locally. The seasonal themes for the 2020-2021 autumn and winter semesters are*:
October – Pumpkin Pecan Cheesecake gelato / Summerland Peach sorbetto
November – Rum Raisin gelato / Lemon Basil sorbetto
December – Apple Kiwi sorbetto / Chocolate Grand Marnier gelato
January – Chocolate Coconut Malibu Gelato / Blood Orange sorbetto
February – Banana Bread gelato / Midnight Chocolate with Amarena Cherry Sorbetto
* Sorbetto seasonal themes are subject to change based on fruit availability.
At Uno Gelato you will experience the sublime flavours of true artisan, handcrafted gelato, created and produced by an amazingly talented team of local craftsmen and women. You won't find bubblegum flavoured gelato, but you will find year-round favourites as well as seasonal farm-to-cone creations using the very best natural ingredients available. From Vancouver Island Sea Salt to Avalon Dairy organic milk and the freshest local fruits and herbs, Uno Gelato is a sensory experience you won't forget.
Uno Gelato…Simply Divine
Media release and images provided by Lori Pike, Uno Gelato. If you would like to be featured on MyVanCity.ca please email to myvancityval@nullgmail.com for full details.