Four Seasons Resort and Residences Whistler Brings the Culinary Talent to Cornucopia Once Again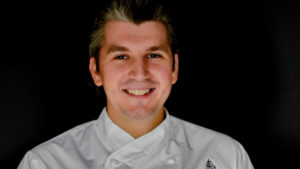 SIDECUT Modern Steak + Bar is adding culinary craftsmanship from foodie havens San Francisco and Vancouver to their arsenal for Whistler's legendary celebration of food and drink festival Cornucopia. Each year, the in-house restaurant at Four Seasons Resort and Residences Whistler brings culinary tastemakers to the alpine region for creative collaborations to nourish Resort guests.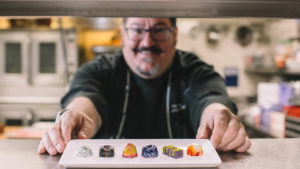 This year, America's Best Baker Eric Keppler of Four Seasons Hotel Silicon Valley at East Palo Alto and YEW seafood + bar Restaurant Chef Evan Morgan will be turning up the burners at SIDECUT for two special evenings.
A Dinner with America's Best Baker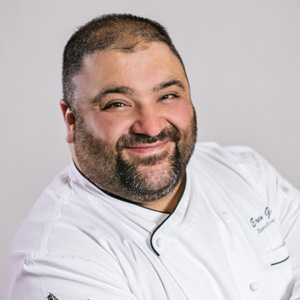 Winner of Food Network USA's popular series, Best Baker in America and Executive Pastry Chef at Four Seasons Hotel Silicon Valley Eric Keppler is joining Four Season Resort Whistler Executive Chef Eren Guryel from SIDECUT Modern Steak + Bar to delight guests with a dining experience that combines their strengths.
Travelling from the modern, sun-filled Hotel in the heart of Silicon Valley, Keppler is known for his high-end, sometimes quirky pastry creations that are fuelled by his passion and the ongoing inspirations he takes from everyday moments.
"Curiosity and resourcefulness are huge creative drivers for me. I draw inspiration from many different sources, whether it be art, film or television, fashion, music and even popular culture," says Keppler, who names every dessert. "I'm so thrilled at the opportunity to bring my passion for pastry to Whistler and Cornucopia. I'm sure it will be a memorable dining experience and I'm very much looking forward to connecting with guests as I share my dessert creations."
SIDECUT's culinary captain Guryel is known for his ability to elevate beautiful, locally-sourced produce and pair it with expertly prepared premium proteins to deliver seasonal dishes big on flavour.
"Cooking simply sounds deceptively easy," shares the Chef. "In truth, it takes skill, confidence, care and experience to let the ingredients truly shine and it's what keeps cooking fresh and focused for me."
Keppler's stellar baking will accompany each of Guryel's plates to ensure every course is a home run. Guest will enjoy dishes such venison loin, wild mushroom and brussels strudel with roasted heirloom carrots and Saskatoon demi-glace, and can also look forward to a take-home treat.
Friday, November 15, 2019
6:00-9:00 pm
SIDECUT Modern Steak + Bar
CAD 155
Tickets can be purchased here.
The Corridor with YEW + SIDECUT
Follow the map along the Sea-to-Sky corridor through ocean, lakes, valleys and mountains to reveal the true story of produce to plate. Vancouver- YEW, Whistler – SIDECUT and Lillooet – Fort Berens Estate Winery represent 100 miles (160 kilometres) of taste from sea-level to soaring skies.
Fort Berens is one of British Columbia's most unique wineries thanks to its unexpected address in Lillooet. Located 186 miles (286 kilometres) northwest from BC's much better known wine region in the Okanagan Valley, Fort Berens' winemaker takes advantage of the vines' unique geography to make great wines. Expressing its very own sense of place, Lillooet brings the heat – it's often the hottest location in the country each summer.  However, its cooler nights and warmer fall temperatures create balance and flavour, resulting in rich, ripe fruit that maintains Fort Beren's signature fresh acidity.
Once guests have raised their glasses, dinner courses move from ocean to alpine, taking diners on a journey with SIDECUT's Guryel and Restaurant Chef Evan Morgan from Vancouver's YEW seafood + bar.
Morgan references his love of the area and its evolving access to ingredients "I have cooked all over the world and can say with confidence that there is no other culinary region like British Columbia. This is an area of constant growth, development and exploration while also being a geographical sweet-spot for world-class seafood, award-winning wines and cheeses, and a long list of seasonal produce that is constantly growing. We are so lucky to have this extraordinary balance of sun rain, ocean and earth."
Both chefs work closely with local growers and vendors stemming from a strong belief for celebrating the exceptional ingredients on the doorstep. This is a lesson they strive instil to future generation of chefs and diners.
"The bounty and quality of ingredients in the Pacific Northwest is well-known throughout the continent," shares Guryel. "Being lucky enough to tap into the hyper-local farmers, purveyors and markets for this event is truly a privilege."
Friday November 8, 2019
6:00-9:00 pm
SIDECUT Modern Steak + Bar
CAD 155
Tickets can be purchased here.
Media release and images provided by Colley Communications Inc.
[wdi_feed id="2″]