Sip your way through the Holiday Season with Waterside Winery!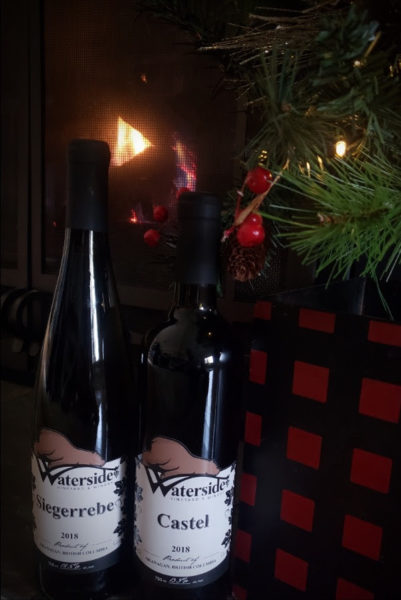 Sip your way through Waterside Winery's 'Sip of the Season' and the Shuswap Wine Trail's Christmas Open House weekend on December 7th and 8th. Come and taste local award-winning wines, exclusive offers, new vintage releases and library wines, local food delicacies and artisans arts and crafts.
Waterside Winery will be open 11am – 5pm on December 7th and 8th to celebrate the holiday season, enjoy samples of locally produced gourmet Terroir cheeses on Saturday December 7th, and local artisan arts and crafts all weekend.
Savour the award-winning library wine 2014 Marechal Foch, the new 2018 Castel red wine (BC's only Castel varietal, a French x American Hybrid), or new vintage of Siegerrebe, Ortega and Gewürztraminer.  New dessert wines will launched, including Cherish (Cherry), Blackberry Bliss, Waterside Blues (Blueberry) and Rockin' Raspberry wines.
Co-owner Jennifer Marcotte says 'Christmas is a time for gathering – with friends, family, with community. We open our doors to you, for you to gather with us, share some wine, and enjoy that warm holiday cheer that fills us.'
Make a day of it and discover the Shuswap Wine Trail's Christmas Open House Weekend of Waterside Winery, Baccata Ridge Winery, Larch Hills Winery, Marionette Winery, Ovino Winery, Sunnybrae Winery, Recline Ridge Winery and Celista Winery.  Taste the best wines from the cool climate varieties here in the Shuswap/North Okanagan!
After all, wine does make a great stocking stuffer!
Event: Waterside Winery's 'Sip of the Season' Christmas Open House
Date: Saturday Dec 7th and Sunday Dec 8th, 2019
Location: Waterside Winery, 70 Waterside Rd, Enderby
 Time: 11 a.m. – 5 p. m.
QUICK FACTS:
Nestled on the bank of the picturesque Shuswap River, Waterside Vineyard is located in an outstanding microclimate in the radiant North Okanagan Valley.

While the hot days, cool evenings and impeccable terroir of the region lend their expertise to produce the perfect grape, our viticulturists draw on a generations-old Mediterranean tradition of wine-crafting to deliver a crisp, robust and balanced artisanal wine to your table.

In 2009 seven acres of vines were planted with six grape varieties, in 2014 the Winery and Tasting Room were opened.

Kevin Verschoor and Jennifer Marcotte purchased the winery in April 2018 and have brought in three new varietals, and focused on vineyard improvements to increase the quality of the vines and wines.

Current Estate grown varietals from the Enderby vineyards are Ortega, Gewürztraminer, Siegerrebe, Pinot Gris, Pinot Noir, Marechal Foch and Zweigelt, whilst the Castel is sourced locally.

Waterside Winery Tasting Room is open by appointment November – March, and open Tuesday – Sunday during the summer open hours in April – October.

Situated in Enderby, BC, Waterside winery is a scenic 20 minutes drive from Salmon Arm and 30 minutes drive from Vernon.

Waterside wines are available from the winery, online, or from select private wine stores throughout the Okanagan and Lower Mainland in British Columbia.
For more information please contact:
Karen Smith – Marketing Manager, Waterside Winery
70 Waterside Rd, Enderby  BC  V0E 1V3
Cell Phone: 250-306-4820
Winery Phone: 250-838-9757
Email: marketing@nullwatersidewinery.com
Website: www.watersidewinery.com
Facebook: @WatersideWinery
Instagram: @WatersideVineyard
Media release and images provided by the winery.
[wdi_feed id="2″]