Kindling Imperial Stout
Just in time for the festive season, Cannery Brewing's Kindling Imperial Stout is sure to light your fire. The rich and delicious Kindling is the perfect complement to Canada's winter wonderland.
Ian Dyck, co-owner of Cannery Brewing explained, "The Kindling is an Imperial Stout, brewed with coffee, chocolate, oats and coconut. We are pleased to feature coffee beans from Naramata's Homestead Roastery in this limited release beer."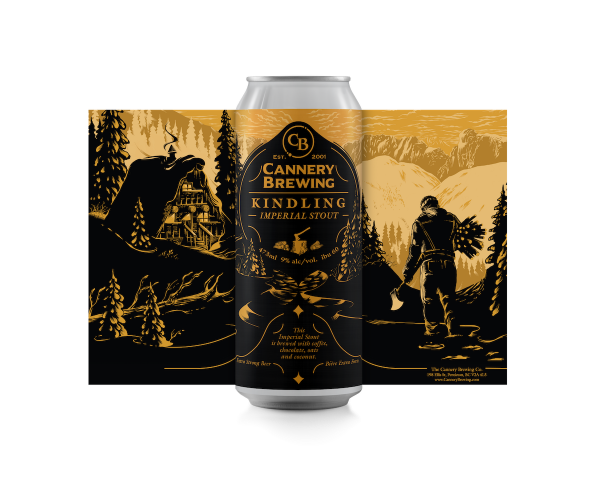 Lon and Nicole Ford, the owners of Homestead Roastery were very excited to collaborate on this beer. "When we got the call from Ian looking for the ideal coffee for the Kindling Imperial Stout, we had to think carefully about the roast profile selection. Our fresh roasted Brazilian bean was a natural fit with the buttery and chocolatey notes of this beer. We were thrilled to be a part of this collaboration with Cannery Brewing."
Dyck explained, "This rich and roasty Imperial Stout is Cannery's answer to the "pastry stout craze". Our team adjusts the recipe every year, creating a brand new, full bodied stout for the holiday season."
The label was designed by Penticton-based illustrator and graphic designer Skyler Punnett from Super Deluxe Creative. Skyler described his goals for the Kindling label. "I wanted to combine the ruggedness of the alpine with the cozy comfort of an A-frame cabin to get that 'first beer after a bluebird day on the hill' feel."
Cannery Brewing's Kindling Imperial Stout is available in 473ml cans at craft-beer focused stores throughout BC, on tap at select restaurants, and in Cannery Brewing's taproom. For more info on this beer and a list of selling locations, visit: https://www.cannerybrewing.com/beer/kindling
For additional information on Cannery Brewing or any of its hand-crafted ales and lagers, visit www.CanneryBrewing.com, follow them on social media, call 250.493.2723 or drop by and see them in their taproom and brewery, which is located in beautiful downtown Penticton, at 198 Ellis Street.
Media release and images provided by Kim Lawton, Cannery Brewing.
[wdi_feed id="2″]