The rainy season is upon us, and what better way to beat those drizzly Vancouver days than to cozy up with a hot tea and delicious bites with Notch8 at Fairmont Hotel Vancouver?
Notch8's Chef de Cuisine Dennis Peckham brings a Raincouver themed tea to downtown every Wednesday through Sunday from January 11 to April 12. Guests can escape the pitter patter with an array of sweet and savoury selections, from the Crab Profiterole with Dungeness crab, green apple, smoked roe and fennel, to the Chocolate Mud Tart served in a dark chocolate pastry shell, filled with chocolate crémeux, chocolate ganache and chocolate "soil."
RAINCOUVER AFTERNOON TEA
Wild Rice Velouté
puff rice, pine oil
Citrus Brioche, Blueberry Scone
clotted cream, strawberry preserve
Beet Cured Salmon
spring salmon, red beets, cucumber, citrus aioli
Mushrooms and Bannock
creamed mushrooms, arugula, fried bannock
Crab Profiterole
dungeness crab, green apple, smoked roe, fennel
Seared Bison
spice rubbed bison, whipped cream cheese, pickled berries
Venison and Pemmican
cured venison, foie gras pemmican mousse, toasted hazelnuts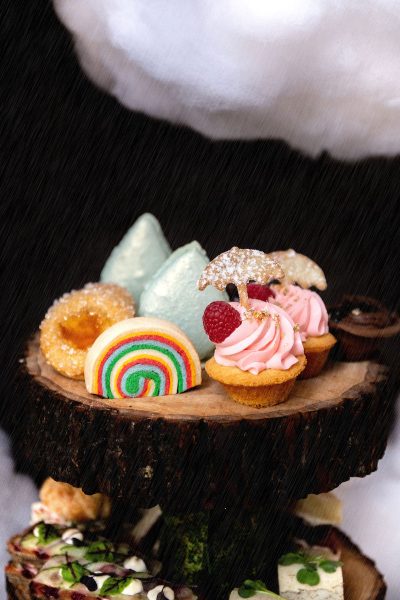 Chocolate Mud Tart
dark chocolate pastry shell, chocolate crémeux, chocolate ganache, chocolate soil
Rainbow Shortbread
multi-color butter shortbread cookie
Wild Berry Rain Drop
rain drop macaron shell, wild berry curd
Rain Puddle
sweet bun, apricot filling
Umbrella Cupcake
vanilla cupcake, raspberry cream, umbrella crisp
January 11 – April 12, 2020
Wednesday to Sunday
Sittings at 11am, 1pm & 3pm
Adults $65
Children $32.50 (ages 12 and under)
For reservations or more information, please call 604-662-1900 or email hvc.concierge@nullfairmont.com
Priced at $65 for adults and $32.50 for children, with seatings at 11:00am, 1:00pm and 3:00pm. Tables can be booked here or by calling the Notch8 reservations team at 604.662.1900.
Media release and images provided by Casey Barks, Fairmont Hotels & Resorts, Canada's Pacific Northwest Region.