From live outdoor murals, interactive painting classes and custom art giveaways, Belgian Moon is supporting creators from coast to coast by commissioning their projects with one objective in mind: to remind Canadians that we're all #UnderTheSameMoon. The projects will be showcased on Belgian Moon's social channels throughout this period of physical distancing featuring local artists including Tierney Milne of Vancouver,  Curtis Van Charles of Calgary.
#UnderTheSameMoon Project Gallery: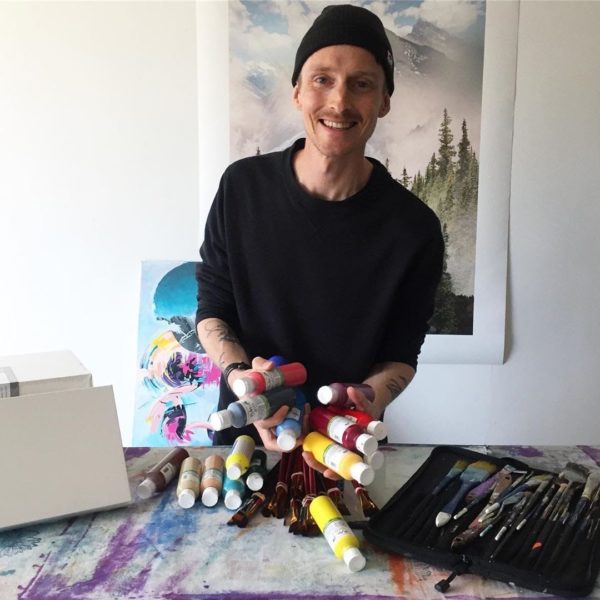 Name: Curtis Van Charles
Region: Calgary, AB
Project: Pints & Pastels
Curtis hosted a live Instagram painting tutorial last Friday, May 8 to teach his followers how to paint with his unique style. Curtis facilitated the assembly and delivery of paint kits to the first 10 followers who reached out to him on Instagram. Although there were a select amount of kits, Curtis shared what you needed to pick up from his favourite art store offering curbside pickups to ensure anyone could get involved and follow along.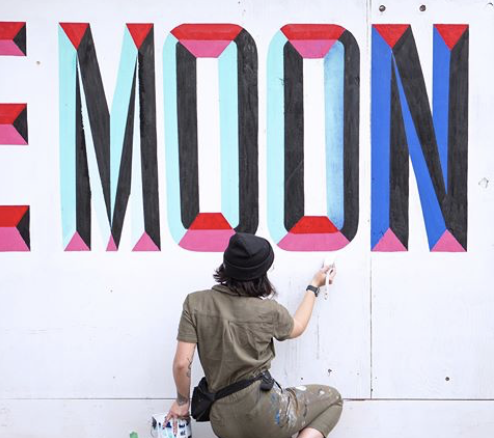 Name: Tierney Milne
Region: Vancouver, BC
Project: We All See the Same Moon Mural
Tierney painted a typographic mural on the exterior of Plenty on Robson inspired by the line from Haruki Murakami about coming together despite distance: "We're both looking at the same moon, in the same world. We're connected to reality by the same line." This temporary artwork features the words "WE ALL SEE THE SAME MOON" in bold, colourful, light-hearted beveled typography. The goal with this piece is to help inspire a sense of both local and more broad connectedness while we're all apart in our respective homes. This project was a part of an effort by the Vancouver Mural Festival, City of Vancouver and Vancity Credit Union, with support from Belgian Moon, to beautify boarded up businesses across the city during this unusual and trying time.
Art has the power to inspire positivity and unite people from all walks of life and, while the entire world is experiencing this pandemic collectively, Canadians could use a little inspiration to remember that we're in this together. Each project is unique and aims to inspire positivity, all while giving artists the platform to bring art into the world when it's needed most.
Interested in ways to creatively pass your time at home? Here are a couple of artist projects that have launched that you can continue to follow along with @belgian_moon on Instagram for more upcoming projects.
Belgian Moon is a Belgian-style wheat ale that is proud to deliver something more to beer drinkers. Brewed with the belief in exploring all the flavour life has to offer, the #1 wheat beer in Canada is artfully crafted with Valencia Orange Peel and Coriander for a bright, refreshing twist of flavour. Our story begins in the Sandlot Brewery at Coors Field in Denver, Colorado, at the beginning of the 1995 baseball season. After earning his Ph.D. in brewing from the University of Brussels, our founder Keith Villa returned stateside with the goal of brewing well-crafted beers inspired by Belgian styles, with a refreshing twist. Amongst the many beers one fan favorite emerged, in true baseball fashion they called it 'Bellyslide Wit'. Someone said, "A beer this good only comes around once in a blue moon," and thus Blue Moon® Belgian White Belgian-Style Wheat Ale was born.
Media release and image provided by Chrisanna, Citizens Relations.