Thanksgiving Dinner typically centres around the turkey, however, we know the real star of Thanksgiving is the potatoes.
Versatile and sometimes divisive, everyone has their own preferred method of how to serve potatoes – from mashed, to baked, scalloped, loaded, or even chopped up and fried, potatoes have proven themselves to be the true hero of the dinner plate.
Mellisa Mills is the founder of Spread'Em Kitchen Co., a Vancouver-based vegan cheeze and dip company, and she is sharing her tips on how to elevate your potatoes to gourmet status, so that everyone will be reaching for seconds. Mellisa's secrets include adding a chive and garlic spread to mashed potatoes, or a dill and truffle vegan cheeze, for a twist on a loaded baked potato.
elevated vegan mashed potatoes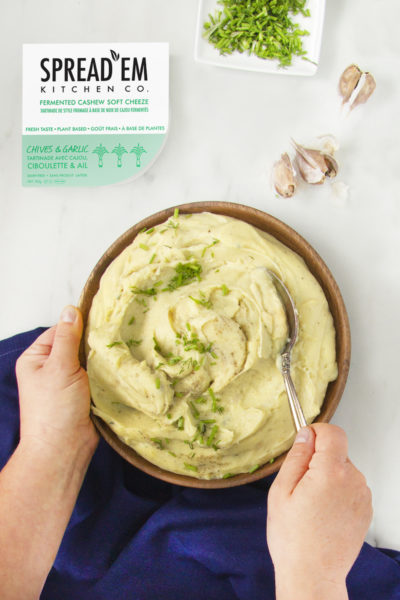 2 lbs golden potatoes, peeled (leave some skin on for more rustic presentation)

Water (enough to cover potatoes by ~1 inch)

1 tsp sea salt

5 tablespoons Spread'Em Kitchen chive and garlic Cream Cheeze

4 Tbsp Spread'Em Kitchen buttery spread

2-3 Tbsp plain unsweetened dairy-free milk (we prefer cashew milk // or sub organic dairy milk)~1/2 tsp each sea salt and fresh ground black pepper, to taste
Media release and Spread 'em image provided by Meredith Blok, Talk Shop Media.