"In this series I present the Sustainable Christmas recipes from the Canadian chefs of the Fairmont Hotels across Canada and Internationally"
Christmas Goose and Red Cabbage Strudel with Lamb's Lettuce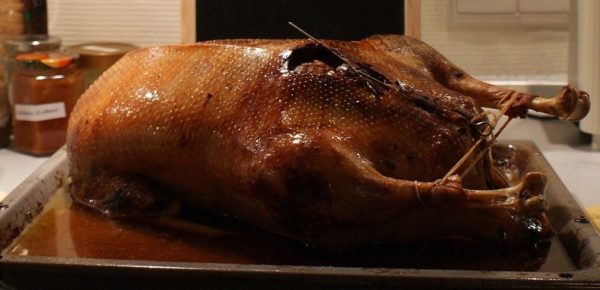 Strudel Dough
250g Pastry flour (Type 405) 
60ml Vegetable oil 
125ml Water 
Pinch of Salt 
For the Filling 
Knob of butter 
200g Leftover meat from Christmas goose (duck or any other roast meat works as well) 
50g Braised red cabbage 
50g Apple cubes 
20g Goose gravy 
5g Raisins 
20g Stale bread cut in 1cm cubes 
As needed Salt, pepper, starch 
TO FINISH 
To Garnish Lamb lettuce 
Drizzle Balsamic vinegar 
Dizzle Olive oil 
6 tbsp Goose gravy 
1 Put flour on the work bench and make a well in the middle. Add the oil and gradually add the water while stirring it together with a fork.
2 Once all wet ingredients are incorporated, knead by hand for around 5 minutes until it's a smooth dough. Let the dough rest under a cloth for 30 minutes.
3 In a pan, sweat the apple cubes in butter, then add the gravy. Add the red cabbage, goose meat and raisins and slowly braise all together until almost all the liquid is gone. Thicken with starch as needed.
4 Add the bread cubes, season to taste and then let it chill.
5 Place the strudel dough on a floured work surface and roll it out with a rolling pin into a rough rectangular shape approx. 3mm thickness.
6 Place the dough on a clean-floured kitchen towel then stretch until it is as thin as possible – you should almost be able to look through it. If the dough breaks while stretching let it rest a little longer.
7 Once fully stretched, place the filling in the bottom part or the dough then fold in the sides and roll up the strudel. Brush it with liquid butter, then place it on a baking tray.
8 Bake at 180°C for 20 minutes. Reduce the temperature if the strudel browns too fast.
9 Marinate the lettuce with vinegar and oil and place as garnish on the side.
10 To plate, spoon some gravy in the middle of the plate. Slice the strudel in equal pieces and place one piece in the middle of the sauce. Garnish with the marinated lettuce and serve.
Guten Appetit!
Andreas Block
Executive Chef – Fairmont Hotel Vier Jahreszeiten, Hamburg, Germany
"Using Christmas leftovers to create new dishes helps the festive season last even longer! This recipe is a great way to reuse leftovers in a traditional way for the family to enjoy. A strudel is great dish for leftovers. Provided you give the attention required to the pastry, you can change the filling to adapt to what you have left over."
"Fairmont understands that sustainable travel is not about giving something up; it is about gaining something more – a great vacation that also helps to make the world a better place." 
Costas Christ, Global Sustainability Strategist, Virtuoso Travel Network and Senior Advisor for Sustainable Tourism, National Geographic Travel 
Luxury hotels are not simply a place to stay. These iconic establishments play an important role for locals and visitors to cities around the globe. In 2020 this vision has been more true and poignant than ever before. 
We believe it is our privilege to enhance genuine experiences and promote a rich cultural exchange within our communities by ensuring long-term sustainability and stewardship of our planet. 
Fairmont is proud to support and participate in Planet 21, Accor's environmental and social sustainability program. Planet 21 challenges everyone – guests, hotel colleagues, partners, and property developers – to take measurable actions to minimize our hotel's impact on our planet. Programs addressing reforestation, water conservation, energy savings and food waste reduction are an integral part of our hospitality DNA. As we look to the future, our hotels pledge to continue promoting long-term sustainability and stewardship in each of our communities. 
78% of luxury travellers consider it important that their hotel has environmentally sustainable practices. Having a positive connection to local people and the planet continues to be a priority amongst luxury travellers. Being green has evolved from a nicety to a necessity. 
80% of luxury travellers are looking for sustainable tourism experiences and are increasingly motivated to visit hotels that implement good environmental practices in their operations. 
84% of luxury travellers consider it important that the hotel gives recommendations of experiences that contribute in positive ways to the local economy. 
Recipes, and information provided by Sydney Torgov, Chimera Collective. Stock photos do not represent the actual dish.