"In this series I present the Sustainable Christmas recipes from the chefs of the Fairmont Hotels in Canada and Internationally"
Fairmont Waterfront Pho Ga Tay – Vietnamese Turkey Noodle Soup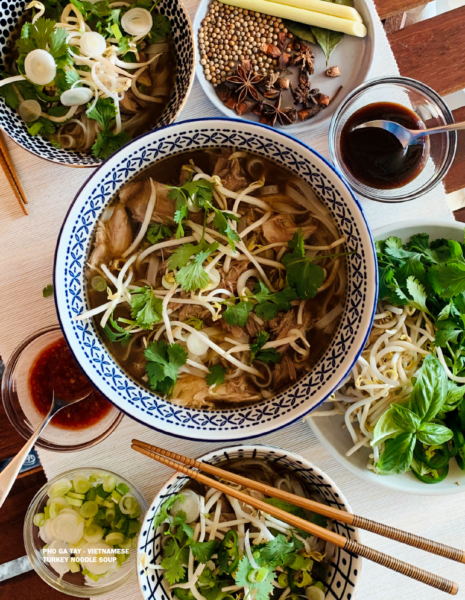 To Make the Broth
1 Roasted Turkey, bone in (left overs from festive dinner) 
20ml Canola Oil 
2 Small White Onions, Unpeeled 
2 Fresh Ginger (large) 
4lt Water 
1 Lemongrass, cut into 10cm lengths 
2 Kaffir Lime Leaves 
14g Coriander Seeds 
8 Star Anise 
4 Cloves 
½ Cinnamon Stick 
30ml Fish Sauce 
10ml Palm Sugar 
To taste Kosher Salt 
Garnish
200g Rice Stick Noodles 
200g Cooked Turkey Meat 
200g Bean Sprouts 
40g Green Onion 
1 Jalapeno 
1 bunch Cilantro (rough torn) 
1 bunch Thai Basil (rough torn) 
1 Lime (cut into wedges) 
30ml Hoisin 
30ml Sambal or Chili sauce 
1 Preheat large (5 litre) heavy bottom sauce pot on a burner and set to medium-high heat.
2 Cut onion in half, keeping skins in tact, and place cut side down on bottom of the pot. Place whole pieces of ginger around the onions. Cook without moving them until well charred. Approximately 8 minutes. Turn ginger over and char the other side.
3 Pick all the breast and leg meat from the leftover turkey into bite size pieces and set aside. Cut turkey carcass into smaller pieces that will fit into the pot.
4 When onions and ginger are well charred, add in the turkey bones and enough water to cover the bones then bring to a simmer on medium high heat.
5 Add in the lemongrass and lime leaves to the broth.
6 Toast whole spices in a pan and add to the broth: coriander, star anise, clove and cinnamon.
7 Simmer the broth for 3 hours skimming any impurities that come to the top.
8 Strain the broth, discard the solids and allow broth to cool for 1 hour. Skim and discard any fat that rises to the top.
9 Return the broth to a simmer on medium high heat. Season to taste with fish sauce, palm sugar and kosher salt.
10 Fill a second large pot with water and bring to a boil. Add rice noodles to boiling water and cook for 7 minutes until tender, strain the noodles and place the hot noodles in the serving bowl.
11 Meanwhile add the turkey breast and dark meat to the simmering broth.
12 Ladle the hot broth with turkey meat over the noodles until completely covered.
13 Serve immediately and dress the pho with bean sprouts, green onion, jalapeño, coriander, basil, lime, hoisin and your favorite chili sauce.
Fairmont Waterfront
Michael Pagnacco 
Executive Chef – Fairmont Waterfront, Canada 
"We work in an industry that has direct impact on food waste and as chefs it is our responsibility to find creative ways to utilize product that would otherwise be wasted. I love making hot turkey sandwiches with Thanksgiving leftovers. For a more elevated and non-traditional option, I turn leftover turkey into Vietnamese noodle soup." 
"Fairmont understands that sustainable travel is not about giving something up; it is about gaining something more – a great vacation that also helps to make the world a better place." 
Costas Christ, Global Sustainability Strategist, Virtuoso Travel Network and Senior Advisor for Sustainable Tourism, National Geographic Travel 
Luxury hotels are not simply a place to stay. These iconic establishments play an important role for locals and visitors to cities around the globe. In 2020 this vision has been more true and poignant than ever before. 
We believe it is our privilege to enhance genuine experiences and promote a rich cultural exchange within our communities by ensuring long-term sustainability and stewardship of our planet. 
Fairmont is proud to support and participate in Planet 21, Accor's environmental and social sustainability program. Planet 21 challenges everyone – guests, hotel colleagues, partners, and property developers – to take measurable actions to minimize our hotel's impact on our planet. Programs addressing reforestation, water conservation, energy savings and food waste reduction are an integral part of our hospitality DNA. As we look to the future, our hotels pledge to continue promoting long-term sustainability and stewardship in each of our communities. 
78% of luxury travellers consider it important that their hotel has environmentally sustainable practices. Having a positive connection to local people and the planet continues to be a priority amongst luxury travellers. Being green has evolved from a nicety to a necessity. 
80% of luxury travellers are looking for sustainable tourism experiences and are increasingly motivated to visit hotels that implement good environmental practices in their operations. 
84% of luxury travellers consider it important that the hotel gives recommendations of experiences that contribute in positive ways to the local economy. 
Recipes, information and images provided by Sydney Torgov, Chimera Collective.