"In this series I will be sharing my take on which BC Wine pairs well with some inspirational recipes"
This year was the first opportunity I have had to taste, enjoy and review the wines from Frind. For my first food and wine pairing I chose the Premier Cabernet Franc 2019.
2019 Premier Cabernet Franc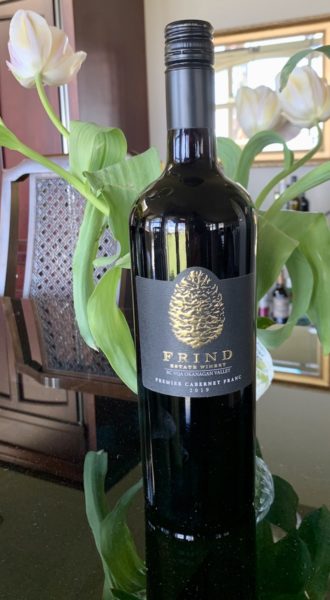 This rich and elegant single varietal Cabernet Franc has been a favourite of our Enologist since the beginning of maceration. Aged in both French and American oak for only 10 months compliments vibrant fruit flavours of strawberry and plum. Pair with grilled vegetables and roasted tomato flatbread.
Notes courtesy of the winery.
This is a wine with excellent potential, although now it is very young, it exhibits quality. Light scents of fresh bing cherries and ripe fruits followed by a light tasting, smooth, soft palate with approachable tannins.
A bit lighter in colour but with delicious notes of cinnamon and Italian plum. Rich and quite tantalizing.
If you must drink it now, and it is very good so who could blame you, I suggest decanting well ahead of time and making sure it is served at a room temperature of 68°. You will not be disappointed with this wine.
The wine was the perfect accent for the Italian dish filled with yummy tomatoes and crispy bacon, enhanced with the tang of the arugula and made rich with fresh parmesan and al dente pasta.
My notes.
I served this wine with a very simple dish, which amazed me with how delicious it was with just a few ingredients. I would describe the dish as rich, but not too rich. Just plain good, as many simple recipes can be. The warm tomatoes and bacon added an extra appeal of rich goodness. Fast, easy and delicious make it a perfect anytime dish that I would not hesitate to serve to company.
BLT Pasta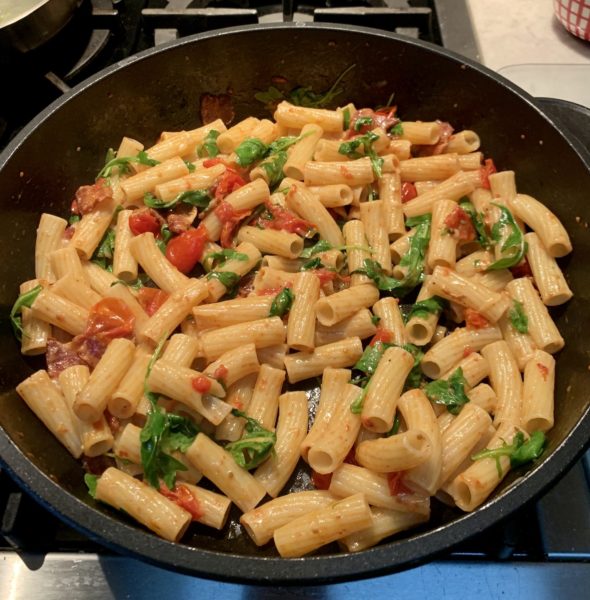 This recipe was inspired by the one from New York Times Cooking, with my own variations. Served two. Starting with a substantial green salad dressed with olive oil and balsamic for the first course.
Ingredients
any tube pasta, I used Elicoidali but Rigatoni would also be nice (200g)
cherry or grape tomatoes, slied in half (18 or more)
thick sliced bacon, preferrably from a local butcher (4 slices)
arugula (two or more handfuls)
grated parmesan cheese (1/2 to 1 cup)
salt and pepper
Method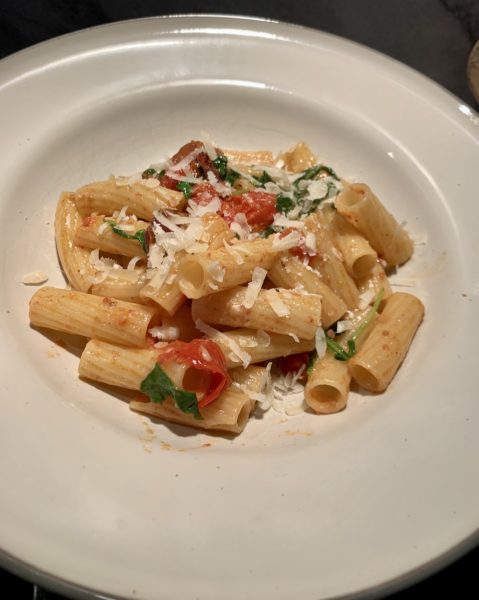 Use a large non stick frying pan. I reversed the order of preparation somewhat. First I sliced the bacon into 1″ lengths (next time I would do 1/2″) and fried over medium high heat, turning often, until crispy. Remove from the pan.
Turn the pan down to medid add the sliced tomatoes, salt and pepper the tomatoes.
At this point I left the pan on a very low burner while I had my salad course. I did not put the bacon back into the pan but next time I would do so to make sure it kept warm.
Bring a large pot of water to a boil (I used a 4 litre pot) , adding two heaping tablespoons of salt to the water. Cook the pasta for two minutes less than the instructions on the package.
Once cooked drain the pasta reserving 1/2 – 1 cup of the pasta water.
Add the pasta and parmesan to the pan and stir to coast the pasta well with cheese. Add the arugula last and continue to stir just until the arugula wilts.
Top with more parmesan cheese if you wish. Serve immediately.
Tasting notes, as indicated above, courtesy of the winery. Images: MyVanCity My notes (in bold italics) I received complimentary wine to facilitate this review, all opinions are my own.