Okanagan Vintners Celebrate A Decade in the Okanagan
The Roche Wines team gears up to celebrate this milestone… quietly
May 2021 marks the 10th anniversary of the Roche family arriving in Canada to the Naramata Bench. Today, Roche Wines is a family-run winery situated on the beautiful Naramata Bench. Given the current climate, the family will not be having a big in-person celebration, so instead, they are inviting people to learn more about their story.
Pénélope and Dylan Roche, the owners, winemakers, and vignerons at Roche Wines, brought their sustainable farming practices and traditional French savoir-faire to Okanagan terroir in 2011.
The Family Behind Roche Wines
Dylan and Pénélope Roche had extensive experience in the industry before starting their own project. Pénélope is a trained viticulturist and winemaker from Bordeaux, France. For six generations her family-owned Chateau Les Carmes Haut-Brion, an exquisite vineyard and winery in the Graves appellation whose history dates back to Roman times. Born into the winemaking tradition, Pénélope studied oenology in Bordeaux, and made wine in Spain, New Zealand, and Australia. Born in Vancouver, Dylan found his passion for wine while working for an active travel company in the heart of Burgundy, France, as a bicycle mechanic. Earning his diploma in viticulture and winemaking in Beaune, he apprenticed in Chablis and New Zealand before relocating to Bordeaux. He taught wine appreciation classes in Pauillac and made wine in Margaux and Pessac-Leognan.
When Chateau Les Carmes Haut-Brion was sold in 2010, Dylan and Pénélope decided to pursue a common goal: to create their own winery at a family scale. Here in the Okanagan Valley, the wine industry was blossoming. Convinced of the potential of Okanagan wines, Dylan and Pénélope chose to put down new roots on the Naramata Bench, arriving from France in May 2011. As their plans developed, Dylan worked as a winemaker and Pénélope as a viticulture consultant, while making their first wines under the Roche label. Roche Wines grew steadily as a virtual label until 2017, when they opened the doors to a new winery building at their vineyard on the Naramata Bench.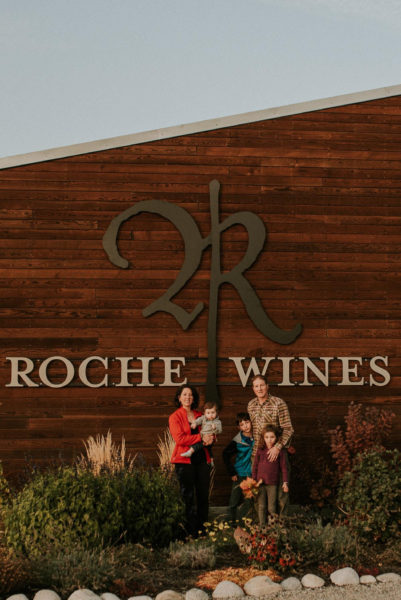 The Vines & Sustainable Practices
Pénélope and Dylan describe their winemaking education as "the traditional" way, where vintners are responsible for work both in the vines and the cellar. They refer to themselves as vignerons, building the wines in the vineyard by using sustainable farming methods to prioritize quality and the unique identity of each vineyard.
The team farms two vineyards: Domaine Roche, and Kozier Organic Vineyard, situated on the Naramata Bench. Both are farmed using 100% organic practices, and every decision is made based on observation and experience. They believe that well-balanced grapes are grown by treating the grapevine and its ecosystem as inseparable and codependent partners. Their well-rounded winemaking approach results in delicious and authentic Okanagan wines.
Small-Lot Wines in High Demand
With Old-World perspective applied to Okanagan terroir, the Roche team makes wines that both sommeliers and everyday wine lovers are eager to drink. The winery focuses on small-lot wines, making only 200-500 cases of each wine. With the exception of two Bordeaux-style blends, every wine on their portfolio is of single vineyard origin. These include Pinot Gris, Chardonnay, Pinot Noir, and Rosé.The wines are available for purchase online, at the winery, or at select private wine stores in BC. To view the full lineup, new vintages, and order online, visit rterroir.ca.
Several wines are kept exclusively for the Black Book Wine Club, where members receive access to library wines and benefits including Roche family recipes, annual vineyard and cellar tours, and complimentary tastings. To view all Black Book Wine Club offerings, visit rterroir.ca.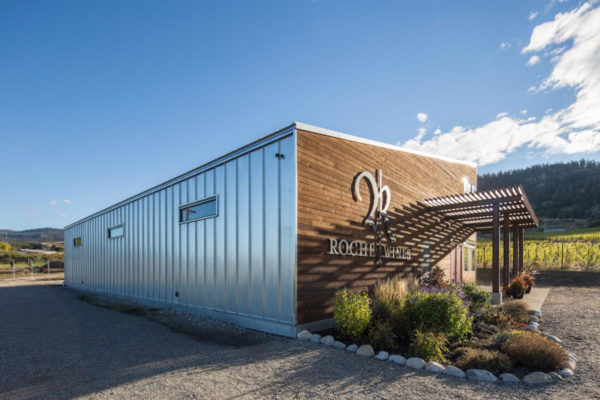 Visiting Roche Wines
Upon arrival, visitors can immediately spot the winery's French influence, as tastings take place in front of a beautiful photo of Pénélope's family chateau. A private tasting is an opportunity to experience the wines with the insight of a wine professional. As winemakers, sommeliers, and WSET certified wine enthusiasts, the team is ready to share their perspective and experience. Visitors leave with a deeper understanding of Roche Wines' philosophy and the unique identity of the region and its terroir. Tasting reservations can be made online at rterroir.ca.
Media release and images provided by Brooklynn Doucette, Town Hall Brands. Feature image: Dylan and Pénélope Roche. Photo credit: David McIlvride