With the recent news of Vancouver loosening public drinking restrictions, ready-to-drink beverages, like Matt & Steve's RTD Caesar's, are the go-to option for practicality and fun. After a long year of closures and restrictions, outdoor drinking is a safer alternative for gathering with friends and is now legal in these select outdoor parks. All you need is a cooler with some ice and you can drink this tasty beverage chilled right out of the can.
Former bartenders and roommates, now Canadian pickling and caesar experts, Matt Larochelle and Steve McVicker set out 21 years ago to find a better, more worthy, garnish than celery for Canada's National Cocktail – the Extreme Bean. Last year, they finally launched their own Matt & Steve's Caesar.
While spending over 20 years trying to craft an excellent beverage, they listened to passionate Canadian Caesar lovers while experimenting with different flavours. After several trial and errors, they discovered the perfect balance of ingredients:
Premium Canadian Vodka – column distilled and charcoal filtered to remove any impurities.
Tomatoes – tomato paste created from 100% vine-ripened tomatoes picked at the peak of freshness
Spices – an aromatic blend of select herbs and spices that creates a balanced Caesar with the perfect amount of flavour
Extreme Bean Brine – a splash of Extreme Bean to create a smooth and easy drinking Caesar
If you are planning a picnic in the park, you can't forget food, of course! Check out some of Matt & Steve's favourite recipes that use a variety of their signature pickled products, summer-friendly for outdoor fun.
Matt & Steve's RTD Caesars comes in Lightly Spiced or Hot + Spicy for an extra kick of flavour!
Here's the Matt and Steve's Caesar recipe with lots more inspiring creations at Matt & Steve's
Matt & Steve's Signature Caesar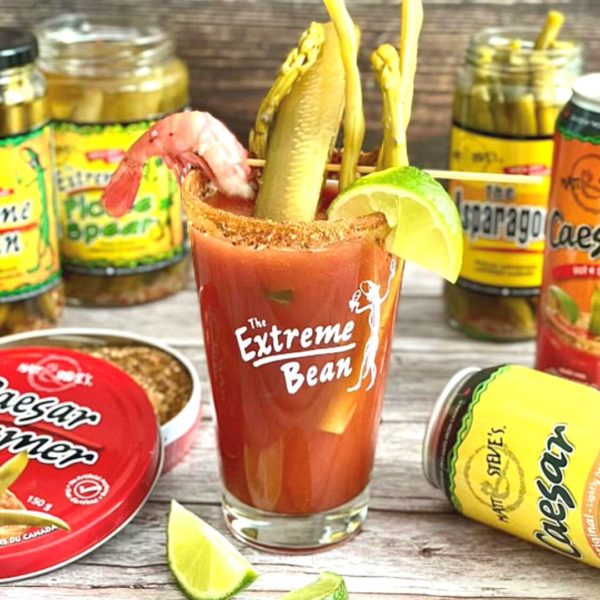 INGREDIENTS
The Extreme Bean Hot & Spicy
Matt & Steve's Caesar Rim
Extreme Bean Brine
Ice
Vodka
Clamato
Worcestershire Sauce
Lime
PREP TIME
1-2 minutes
INSTRUCTIONS
Moisten rim of a 12 oz glass and swirl in Matt & Steve's Caesar Rim
Add ice to the Glass until full ( Ice is Nice)
Add 1 ½ Oz of Vodka ( or your fav spirit)
Add a few shakes of Worcestershire
Add 1 oz of Extreme Bean Brine
Squeeze a ¼ lime into the glass
Add Clamato and fill the glass to right under the rim
Add a few sprinkles of Matt & Steve's Caesar rim
Gently stir everything in the glass until well mixed
Garnish with The Extreme Bean and a lime Wedge
PREPARATION
Serve and Re – Garnish if Necessary
Media release and feature image courtesy of Monica Barbaro, Talk Shop Media. Caesar image mattandstevescaesar Facebook page. Recipe  courtesy of MattandSteve.com