This was the opportunity for the Qualicum Beach Cafe to shine, and shine they did. The dishes were nothing short of spectacular and the guests were thrilled to experience the inaugural Wine Dinner featuring the wines of Noble Ridge.
Set in the elegant private dining room, adorned by twinkling lights and the ocean just outside the door. What a welcoming and pleasing atmosphere for the third wine dinner that owners Jim and Leslie d'Andrea participated in last week.
The dishes and the wines set the tone for the evening and the pairings were so perfectly matched. This was also the inaugural introduction of Chef Todd Bright to the elegant wine dinner series. Chef also outshone himself with these slightly fusion inspired delights.
We started with "The One" Traditional Method Sparkling 2015 paired with BC kusshi oysters with Northern Divine caviar. The One is a favourite and a classic pairing that worked well and started the evening of on a good note. The One is full bodied and fruity with just the right amount of effervescence with a dry finish.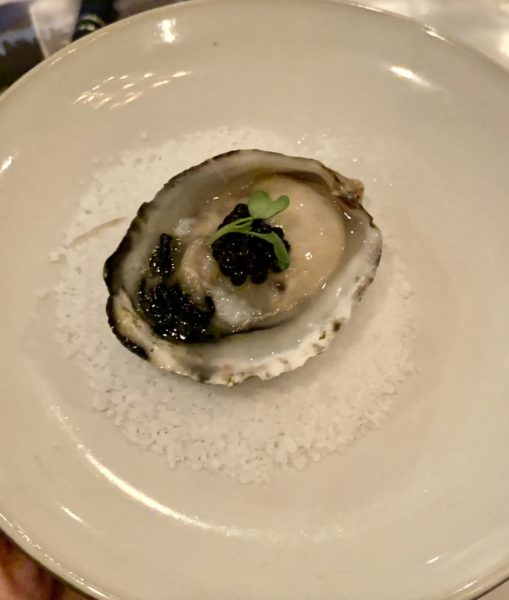 The fresh oysters and caviar was the ideal pairing for The One. Succulent oyster with salty caviar is a classic.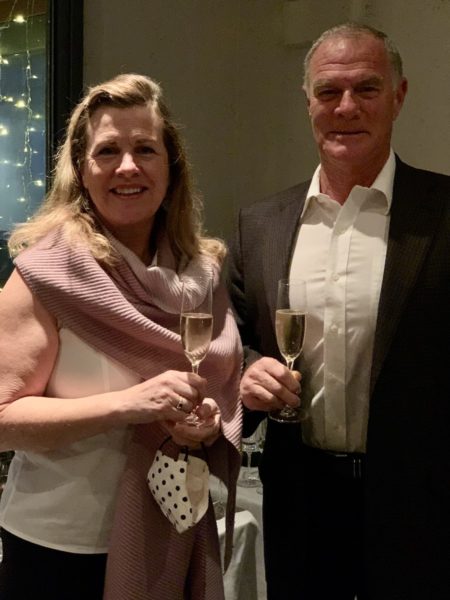 With each course either Jim or Leslie d'Andrea gave a brief history of the wine which always makes the tasting experience that much more enjoyable.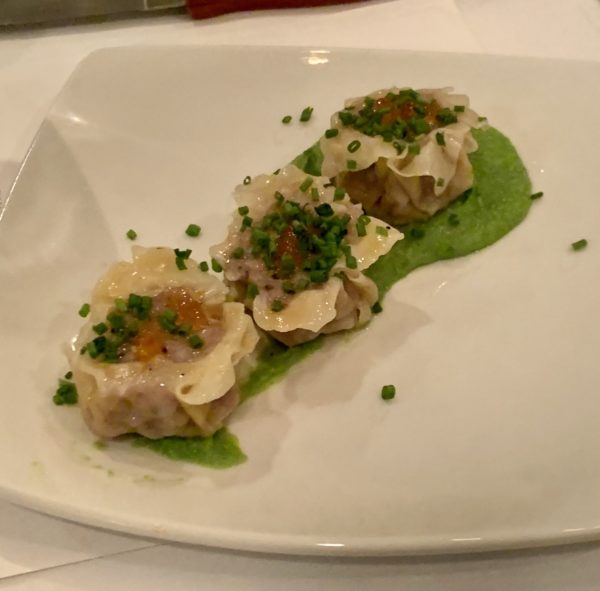 The first course was a Free Range Pork and Sidestripe Shrimp dumpling garnished with salmon roe and nestled in a pea purée. This was a most pleasant taste surprise. Just delicious, the flavour mingled and was oh so pleasing. Fresh chives added a tang to the richness in every bite.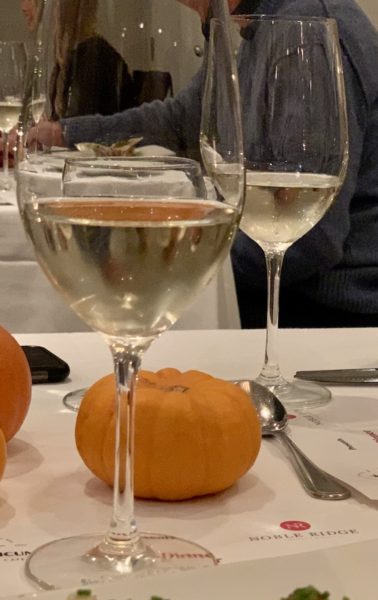 Paired with Reserve Pinot Grigio 2020. Wonderful aromas of apples, stone fruits, peaches, Meyer lemon and tropical fruits. Light and refreshing with good acidity, pronounced minerality and oh so easy drinking.
The second course was a Creamy Polenta with fresh Corn Fritters, miso hazelnut crumble and popcorn shoots. This was so unique and so good. This dish takes fritters to a whole new level of deliciousness. House made polenta that melted in your mouth and tamed the flavours. A juxtaposition of the crunchy hazelnut crumble.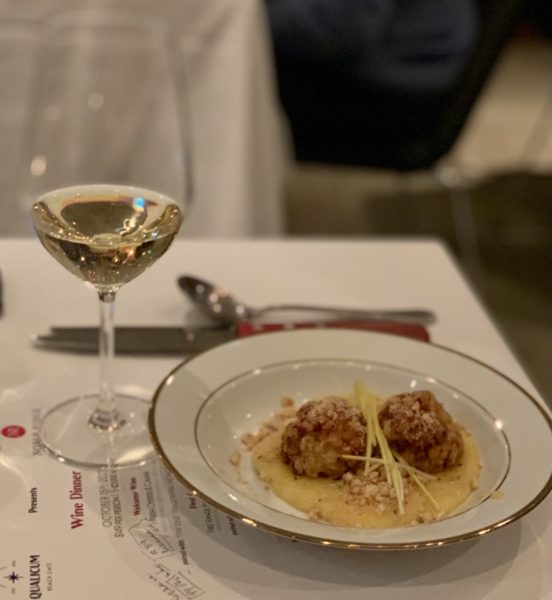 Paired with King's Ransom Chardonnay 2018. This is a Chardonnay for those who aren't really sure they enjoy a Chardonnay, or what might be politely termed "Chardonnay reluctant".  Oaky on the nose with a slight floral aroma. The wine was rich and deep.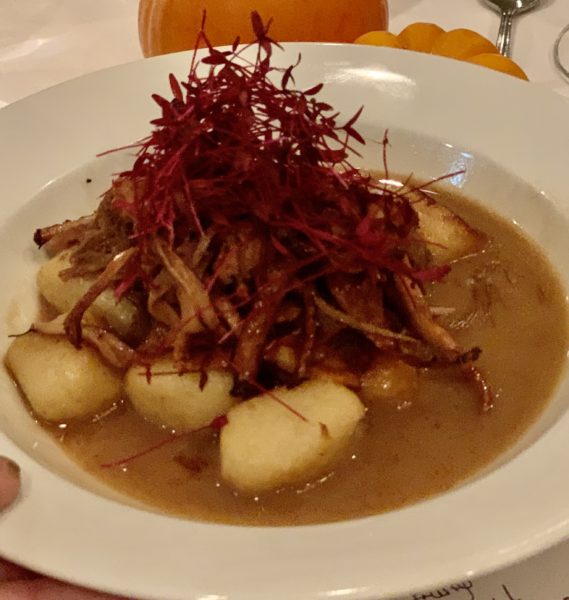 The third course was a Local Duck & Chanterelle Mushroom Ragout with house made gnocchi, blueberry rooibos and Anaranth. As a self proclaimed "duck" connoisseur I can attest that this dish was everything  you could wish for and then some. Soft gnocchi combined with a savoury broth and a ragout that really delivered. Loved the blueberry rooibos! This dish was superb.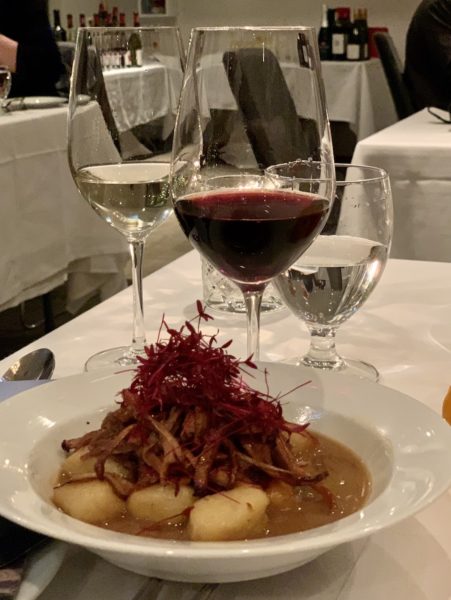 This was a pairing that was as traditional as the dish itself. Reserve Pinot Noir 2018 Fruity and rich with slight notes of pepper. Light tannins and a lingering finish. The Reserve Pinot Noir 2018 is a delight of ripe fruits flavours with a delicate yet luscious body.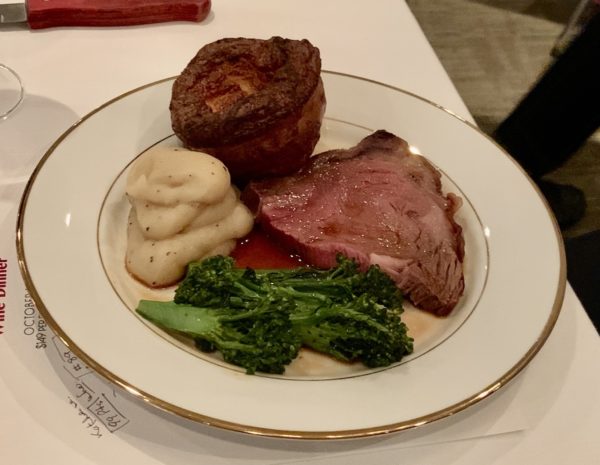 The fourth course was an ideal choice for the Qualicum guests. An all around favourite with all the trimmings. Dry Aged Prime Rib accompanied by a classic Yorkshire pudding along with Echo Valley mashed russets, broccolini and borderline. Broccolini that was fresh and crisp was the perfect foil to the rich and creamy potatoes and decadent Yorkshire. A generous portion of medium rare, tender, flavourful Prime Rib was mouthwatering goodness.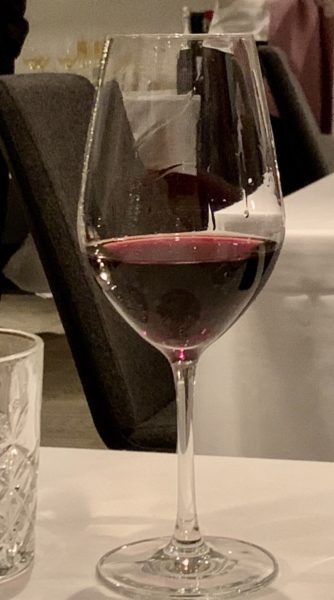 Paired with the King's Ransom Meritage 2017. Showing scents of ripe plum, black cherries, black currants, and raisins with intense flavours of ripe fruits, smooth with medium tannins. A mellow and luxurious wine.
For the fifth course a Warm Donut Duo. Flavours of chocolate, blue cheese, and haskap. So good and just full of chocolate you made short work of this dessert!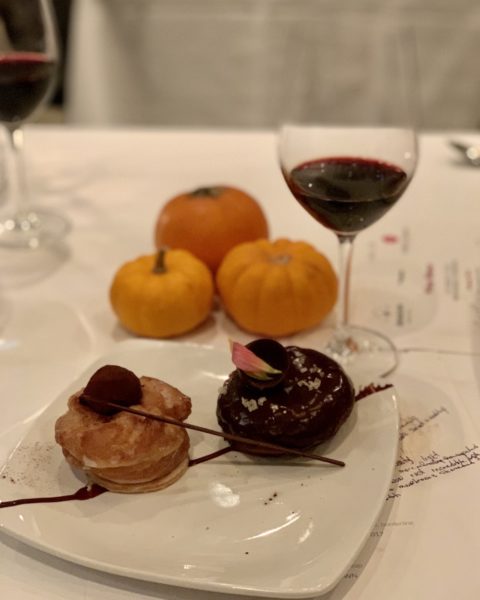 Paired with The Crown. Beautiful in the glass, smooth and opulent on the palate.
This dinner was extraordinarily pleasing and every dish was made with care resulting in an overall outstanding dining experience. The wine pairings were lovely and enchaned each dish. For their first wine dinner Qualicum Beach Cafe, Chef Todd and the entire team outdid themselves.
Experience the wines of Noble Ridge for yourself. Visit their website for tasting notes and how to purchase the wines featured here and their complete line-up of wines.
If you are interested in experiencing a QBC Wine Dinner you are in luck the next wine dinner in the series is on November 17th featuring the wines of Unsworth Vineyards.
Join Qualicum Beach Cafe for an evening of amazing Cowichan Valley wine paired with a delicious meal, great conversation, and hosted by the winemakers themselves!
Tickets and reservations are available online.
I received tickets for myself and a guest to attend the Noble Ridge wine dinner in exchange for pre-event promotion and this review. All opinions are my own. A gratuity equal to 20% of the value of the two tickets was given to the restaurant team.