"In this series I share some of the places I've been to in Victoria"
This is the first in a new series of restaurant reviews of places I've visited while spending time in Victoria. Victoria is one of my favourite places to visit and it makes a terrific stay-cation destination.
The Magnolia Hotel & Spa definitely lives up to it's award winning reputation. Rooms are elegant and spacious offering some of the most comfortable places to stay in Victoria. It's downtown location sets it in the heart of everything you could want to see and experience. Their friendly, knowedgeable team will be there to fulfill your wants and needs as well as provide you with recommendations to make your stay even more memorable.
The Courtney Room has just re-opened for lunch and is offering a specail Prix Fixe menu that is sure to delight and charm you in it's private dining space with views over the city. This special holiday weekday lunch offers both the Prix Fixe menu at $35.00, which includes a decadent dessert, or a la carte dining from their menu. Perfect for a leisurely lunch, or a break from shopping, with an impressive wine list featuring both local and imported wines to pair with your lunch.
On our visit we decided to try one of the Prix Fixe mains and a dish from the a la carte menu. Both lunch choices were a hit!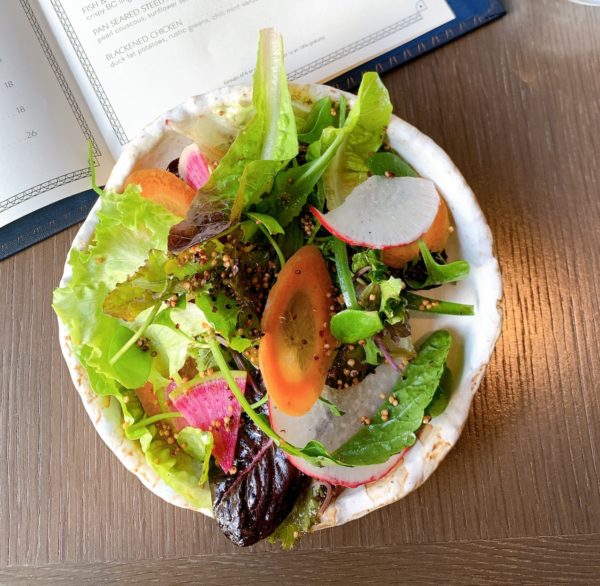 I started with the Farm Green Salad which was the perfect choice. I can hardly believe I'm raving about a salad but I definitely am raving about a salad, especially one that was as unexpectedly delightfully as this oh so fresh organic mix of thinly sliced radish and carrots that added a delicious crunch to the flavourful mix of local greens topped with a perfectly balanced mustard seed vinaigrette.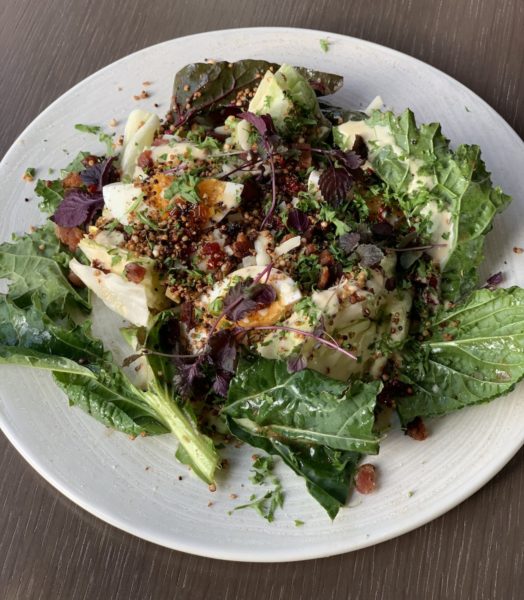 My lunch companion skipped a starter in favour of the featured Wedge Cobb Salad which again was a treat to the senses with an array of organic greens complimented with farm egg, bacon, avocado, aged cheddar, yuzu kosho vinaigrette, and puffed quinoa. Each bite zings with the flavours of fresh goodness. This was a superb take on a classic and was everything, and more, than expected. No small feat serving optimum freshness in the winter, thanks and kudos to local supplier Littlest Acres Organics.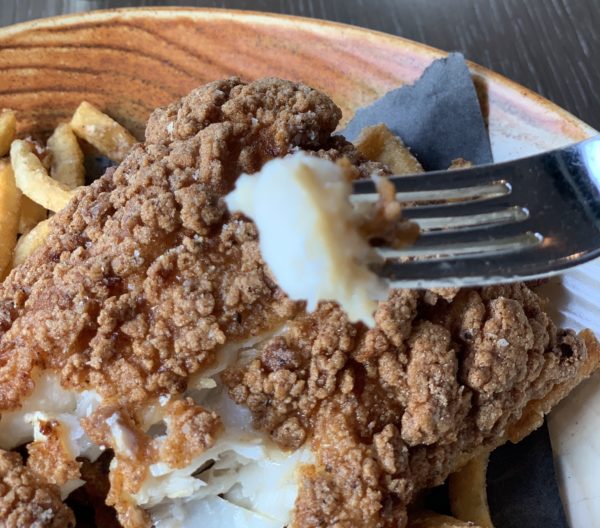 My main, one I can never resist, was the Ling Cod Fish & Chips from the Prix Fixe menu. Succulent and optimum freshness barely begins to describe this dish of local Ling Cod served with the Kennebec frites and kosho aioli for dipping. The Ling Cod was encased in a crunchy shell that preserved the flavour and moistness of the fish, cooked just right. The serving was generous and really ticked all the boxes for the fish and chip lover that I am.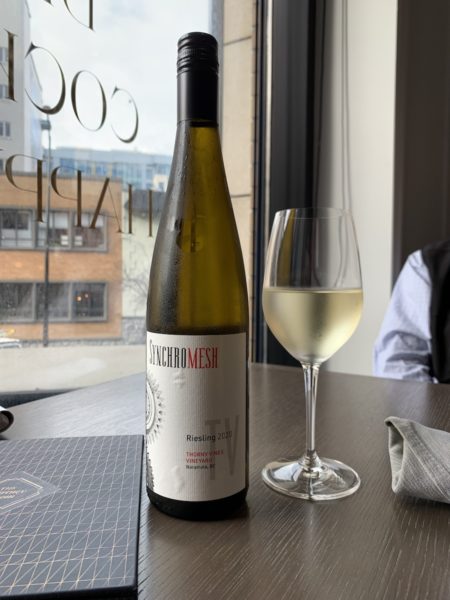 Lunch was paired with a glass of Synchromesh 2020 Thorny Vines Vineyard Riesling. From that first whiff of diesel to the depth of the robust flavour this is a classic riesling.
Today as I write my review I'm regretting our deciion to skip the dessert, but then there's always next time…and there will definitely be a next time. Maybe I'll try the TCR Dry Aged Beef Burger, or the Brant lake Wagyu Bavette Steak Sandwich, or the … so many choices why don't you suggest something from the menu.
Available throughout the month of December, weekdays from 11:00 to 2:00.
The Courtney Room
Modern Pacific North West Cuisine.
Gather at the bar for fresh-shucked oysters and craft cocktails. Unwind with friends over sharing plates in our lower brasserie. Savour a special dinner and elevated experience in the fine dining room. All of our menus feature local seafood, house dry-aged steak and local produce.
Old world meets new at The Courtney Room.  As an extension of The Magnolia Hotel & Spa, The Courtney Room is an elegant dining space providing genuine hospitality. Just two blocks from the inner harbour, we are thrilled to be recognized by enRoute Magazine as #10 Best New Restaurant in Canada in 2018 and one of the Top 100 Restaurants in Canada in 2019!
Whether you're here for happy hour, a casual dinner or celebrating a special occasion, our team will ensure you will have a memorable experience!
Reservations for lunch are highly encouraged. To view menus and make a reservation, visit www.thecourtneyroom.com/lunch..
About The Courtney Room
Old world meets new at The Courtney Room in Victoria, B.C., voted #10 in the 2018 Canada's Best New Restaurant Awards, included in Canada's 100 Best Restaurants 2019 and a finalist for Vancouver Magazine's Restaurant Awards 2020. An extension of The Magnolia Hotel & Spa's award-winning boutique hotel experience, The Courtney Room is a modern dining space where locals and visitors alike can enjoy genuine hospitality and a menu that honours both land and sea, showcasing Pacific Northwest ingredients with classic cooking techniques. Gather at the bar for fresh-shucked oysters, unwind with friends over sharing plates in the lower brasserie, or savour an elevated experience in the upstairs dining room with impeccably prepared local seafood, steak and fine wine. www.thecourtneyroom.com
Read more about "Christmas Comes Early in Victoria" here. Photos: MyVanCity I received a complimentary lunch for myself and a guest. All opinions are my own.