Fondue for Two
$75 PER COUPLE
"You have to be romantic to invest yourself, your money, and your time in cheese."
CHEF ANTHONY BOURDAIN
Join us for a cheese fondue for two prepared by Chef Phil Tees and perfectly paired with a 4 ounce glass of Reserve Chardonnay followed by a 4 ounce glass of Reserve Pinot Noir.
Cheese Fondue for Two
(but also fun for one!)
RESERVE NOW
Allow 60 minutes
Available February 1st though 28th, Wednesday-Sunday, 10-4
Alpine charm in the heart of Okanagan Falls.
Chardonnay and Pinot Noir A LOVE STORY
The funny thing is that where there is Chardonnay, there is usually Pinot Noir because both grapes thrive in similar conditions: cool climates.
Coincidence? We don't think so. We believe this is destiny at work. While Chardonnay is the most planted white grape variety in the world, Pinot Noir is arguably the red wine with the most passionate and adoring fans.
Among Pinot enthusiasts, there's an obsession for discovering great bottles because of this grape's temperamental and difficult nature. The opposite to Chardonnay, a sturdy, reliable variety that adapts easily to the place where it grows.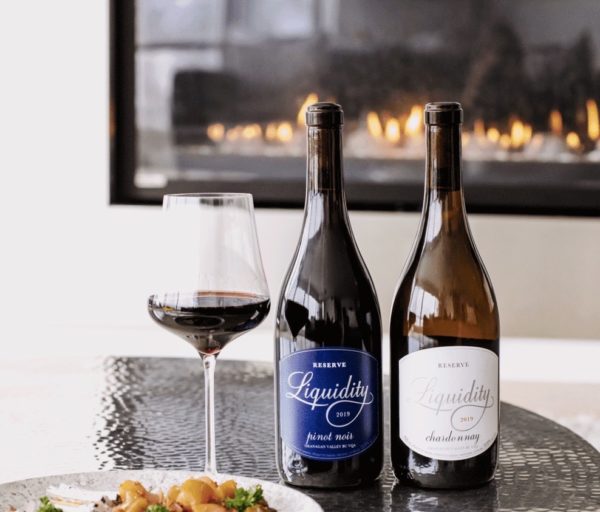 We Love CHARDONNAY
All that richness and intensity. All that beautiful aroma. Barrel fermented and just lightly oaked with carefully selected barrels from our favourite French cooperages, this Reserve Chardonnay lets the fruit really sing.
We Love PINOT NOIR
This thin-skinned grape is just so expressive and alluring. Our Reserve Pinot noir is an elegant, classic style Pinot rich with soft acidity, ripe tannins, and a minerality indicative of the geological richness of Okanagan Falls.
Experience Liquidity
Based in Okanagan Falls, the Heart of Wine Country, Liquidity offers an artisan approach to winemaking – taking you on a journey of the senses that captures the art of winemaking from grape to glass in a stunning space where guests are wowed by the incredible views and eclectic artwork. Time is spent enjoying these finer things in life, while in the vineyard care is taken to carefully hand-harvest the best fruit and artfully blend them into fine wines.
Information and images courtesy of the winery.