"In this series I will be sharing my take on which BC Wine pairs well with some inspirational recipes"
Looking for love this Valentine's Day? How about a dish that's easy to make, tasty and full of "red". Not just a fun dish for the occasion but it is also simply easy. You don't want to spend all day in the kitchen do you?
The Red Pepper Penne is rich and creamy thanks to the addition of the Summer Fresh Roasted Red Pepper Dip. Just to add a bit more Valentine's colour to this dinner I am including the recipe for Roasted Red Pepper Soup, and yes, it uses Summer Fresh Roasted Red Pepper Hummus, easy peasy!
Suggested wine pairing:
Cambria Katherine's Vineyard Santa Maria 2019 Chardonnay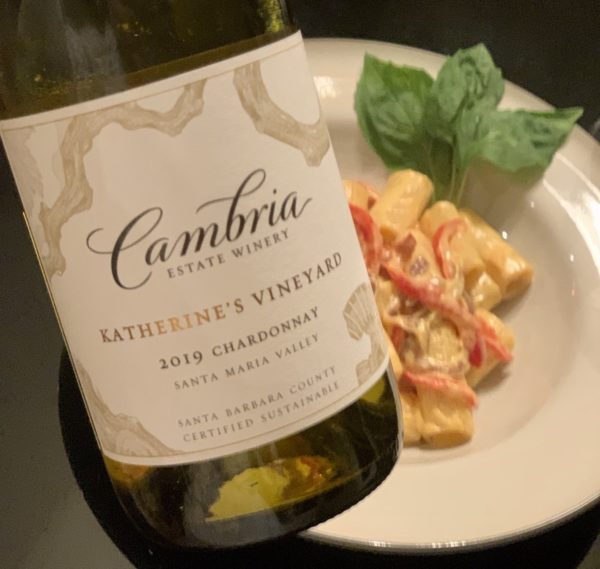 Our flagship Chardonnay is barrel-fermented giving it toasted oak, vanilla, and crème brûlée characteristics complemented by notes of citrus and baked apples. This white wine is known for its balance of oak and a refreshingly crisp finish— sure to convert any wine lover into a Chardonnay drinker.
Each vintage, Katherine's Vineyard Chardonnay is a single-vineyard expression that captures our estate's "refrigerated sunshine"— aka Santa Maria Valley's ocean influence, warm sun, and cool breeze. This layered, elegant, and distinct wine is crafted exclusively from the fog-swept vines of Katherine's Vineyard, named after our proprietor Katie Jackson in 1986, and planted within ancient soils consisting of fossilized seashells, shale, limestone and sand.
92 points, Wine Spectator – "Lithe and powerful, featuring a vibrant core of apple and peach pastry flavors, with dried tropical fruit accents. Buttery midpalate, delivering a plush finish that lingers with intense spiciness."
Chardonnay is Rich & Full-Bodied.
Examples of great pairings: Cobb Salad, Pasta with Chicken, Roasted Chicken, Roasted Turkey, Pork or Veal in Cream Sauce with Mushrooms, Mild Soft Cheeses, Lobster with Drawn Butter, Crab with Drawn Butter, Mushroom Risotto, Poached Salmon.
$31.99 available at BC Liquor Stores (may be in the specialty section)
Red Pepper Penne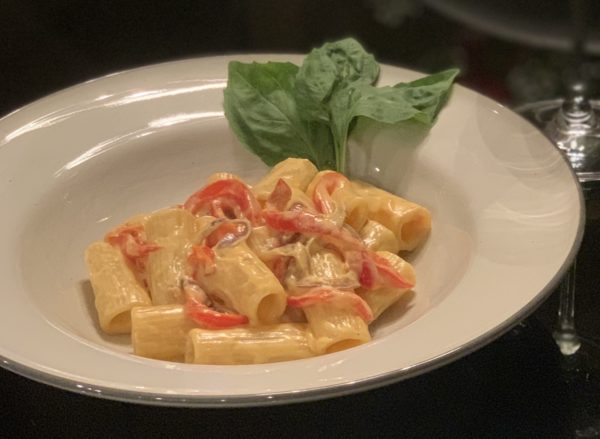 Summer Fresh Products Used in this Recipe:
Roasted Red Pepper Dip
Ingredients:
• 227g (8oz) Summer Fresh Roasted Red Pepper Dip
• 1 – 16 oz. package of pasta cooked as per package
• 1cup pasta water (from cooking the pasta above)
• 1 – 15 oz. cans cannellini beans, drained and rinsed
• 2 red bell peppers, cut into strips
• 1 large red onion, cut into strips
• ½ teaspoon sea salt to taste
• Cayenne pepper to taste
• Black pepper to taste
• Fresh basil to taste
1. Heat pasta water to boiling
2. Place the sliced red pepper and red onion strips in a pan with cooking oil and cook until softened.
3. In the meantime, add the pasta to the boiling water and cook per package directions.
4. Remove pasta from the water
5. Add the Roasted Red Pepper dip, cannelloni beans, and the pasta water to a large skillet. Over medium heat, stir to combine
6. Place pasta directly into the skillet with the sauce mixture. Stir well to combine
7. Place red pepper strips and onion strips into the sauce mixture with the pasta and stir to incorporate
9. Sprinkle with fresh basil and parmesan on top before serving
Roasted Red Pepper Hummus Soup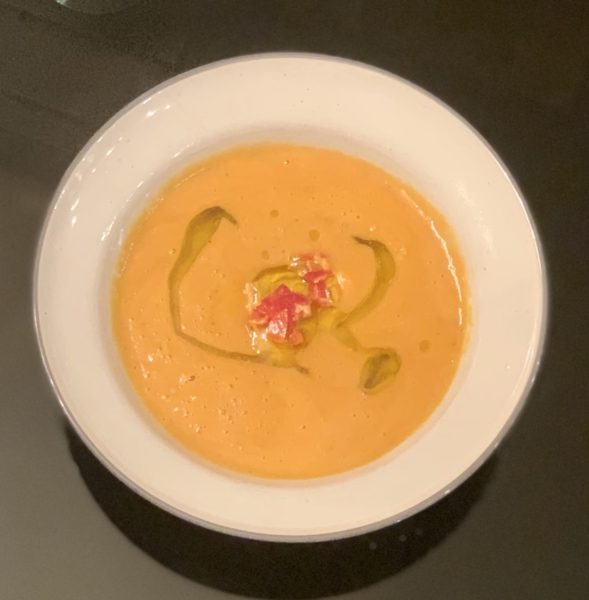 227g Summer Fresh Roasted Red Pepper Hummus
1/4 cup Olive Oil
3 cups of your favourite Vegetables (carrots, sweet potato or squash) peeled & chopped into 1-inch cubes
1 medium, Yellow Onion chopped
3 Garlic Cloves, minced
3 cups Vegetable stock
1 3/4 cups water
1 tsp Salt
1 tsp sweet paprika
crumbled feta cheese, pumpkin seeds, roasted chickpeas (optional)
Heat 2 tablespoons olive oil in a large saucepan over medium. Add onion and garlic; cook, stirring often, until tender and translucent, about 4 minutes. Add 3 cups of cubed vegetable, vegetable stock, water, and 1 teaspoon salt; bring to a simmer. Cover and reduce heat to medium-low; cook for 25-30 minutes or until vegetables are tender.
Take pot off the stove and use an immersion blender to puree the soup until smooth.
Add 4 heaping tablespoons of Summer Fresh Original Hummus into the mixture and blend again until soup is smooth and creamy. Ladle soup into bowls; add one teaspoon of hummus to the top of the soup, drizzle with olive oil, and sprinkle with crumbled feta cheese, pumpkin seeds, roasted chickpeas and enjoy!
Wine notes courtesy of the winery and BC Liquor Store website. All images MyVanCity. I received complimentary wine and reimbursement for ingredients provided by Olivia Chiarastella, Butter PR.