Railtown Catering's Mother's Day To-Go Set Delights with Elevated Sharable Bites
Wow mom with an interactive meal bursting with spring flavours.
Railtown Catering, makes Mother's Day effortless with a no cooking, no heating, ready-to-eat package that's both interactive and perfect for travel.
"We love this one; it's all about sharing and coming together again. Whether you're having a picnic or bringing out the fancy tableware, we think this set will impress mom," shares chef and co-owner Dan Olson.
With individually packaged components and a build your own aspect, this offering is ideal for enjoying both in the home or al fresco this Mother's Day. The offering is available for pickup on Sunday, May 8.
The package comes with four sensationally spring starters. Including highlights of a ruby-hued Ahi Tuna Carpaccio complete with creamy spreadable avocado and asparagus "Tartare" and a quartet of Mascarpone Stuffed Figs presented whole complement an array of savoury plates.
The main event, house made baguette and sourdough crostinis come with an assortment of elevated sandwich spreads and condiments, offering those at the table the opportunity to build their own rustic tea sandwiches. Spreads take inspiration from traditional tea sandwiches and include plenty of spring ingredients such as morel mushrooms and peas along with proteins of poached salmon, chicken salad and pork rillette. For dessert, a perfectly peaked Lemon Meringue Pie offers a sweet and tart finish.
A vegetarian package is also available and can be viewed online with the complete menu here.
Railtown Catering's Mother's Day package is available for $199.00, and serves four people. Packages are cold, do not require any reheating, and are designed to be eaten shortly after pick up. Orders can be made on the Railtown Catering website or by calling 604-568-8811; orders must be received by May 4 at 10:00 a.m. Meals will be available for pickup from 397 Railway Street Sunday, May 8, between 11:00 a.m. – 4:00 p.m.
Mother's Day Menu
Shared Starters
Mascarpone Stuffed Figs with Honey & Black Pepper
Ahi Tuna Carpaccio
Avocado & Asparagus "Tartare", Pumpernickel, Gribiche
Chilled Potato & Watercress Soup
Crispy Pancetta, Chive Purée
Baby Spinach Salad
Camembert, Local Strawberries, Marcona Almonds, Port Vinaigrette
Sandwich Spreads with Fresh Baguette & Sourdough Crostinis
Marinated Tomato, Artichoke, Sweet Peppers & Castelvetrano Olives
Chicken Salad with Morel Mushrooms & Spring Peas
Poached Salmon with Pesto & Fresh Garbanzo Beans
Classic Pork Rillette with House Made Mustard & Gherkins
Dessert
Lemon Meringue Pie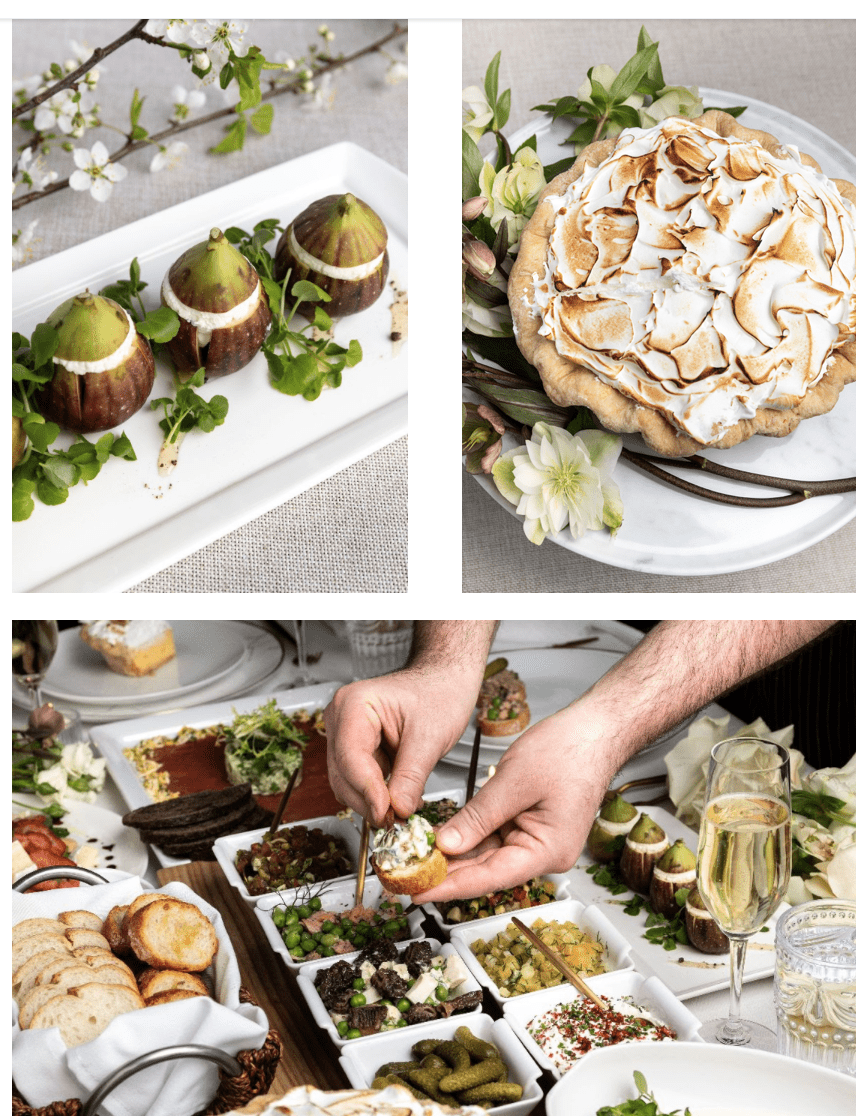 About Railtown Cafe and Catering
Led by Chef/Partners Dan Olson and Tyler Day Railtown Cafe and Railtown Catering offers a signature combination of classical French technique and inspired West Coast style. Since the flagship opening of Railtown Cafe in 2012 in the historic Railtown neighbourhood, the company has expanded to serving healthy and delicious food in three more locations; Main Street, Granville Street, and Howe Street. Through Railtown Catering, personalized food and beverage menus and event services are available for a wide array of private and corporate functions as well as daily office deliveries throughout Vancouver. Whatever the celebration or location, Railtown's friendly and intuitive team of chefs, event planners, and elite service staff have earned a reputation for creativity, innovation, and finesse by delivering a refined, first-class experience from start to finish.
For more information about catering, visit www.railtowncatering.ca, or @RailtownCaters on Instagram. To learn more about the happenings at the cafes, visit www.railtowncafe.ca and @RailtownCafe on Instagram.
Media release and images provided by Jason Haugen, Leila Likes.