"In the Spring a young man's fancy lightly turns to thoughts of love."
Alfred Tennyson, Works of Alfred Lord Tennyson
For those of us with our feet planted more firmly on the ground our thoughts just may be turning to wine, specifically the wines of the latest Spring Releases. In this series of features, I will endeavour to update you on the new spring releases from some of my favourite British Columbia wineries.
For BC Wine lovers this is an exciting time of the year! So many new releases to discover and enjoy. Featured here two new spring releases from vinAmité.
"These wines are bright and fresh and ready to make their way to your house. A lot of love and effort went into making these wines, and we can't wait to share them with you!" vinAmité

"A reliable friend who will surprise you with new fresh attitudes of taste. "
Aromas of green apple, pear, honeydew melon, and 'a trip to the florist' on the nose promise more of the same in taste. Flavours of white peach, lemon and grapefruit dance around your taste buds and leave a clean mouth feel. Crisp acidity with bright and balanced flavour creates a delicious smooth summer wine. Twenty-four hours of skin contact gives this wine a gorgeous peachy hue.

"Intoxicating aromas of wildflowers bring you home to a new favourite blend."
A joyful, lively wine with a floral and fruit-forward aroma, a balanced taste, and a soft minerality, with notes of apple, honey, apricots, jasmine, pear and lime zest. Sit back and breathe easy with this refreshing and sophisticated companion. 50% Pinot Gris, 45% Orange Muscat 5% Viognier.

"This Chardonnay continues to satisfy the magical blend of Old and New Worlds."
Aromas of brioche, vanilla cream parfait topped with toasted hazelnuts are further enhanced and confirmed with the rich tastes of lemon meringue pie, green apple, and baking spices. With a touch of butterscotch on the finish, this Chardonnay is balanced out with 8 months in French oak. No malolactic fermentation allows the fruit to stand out, for classic elegance in a glass.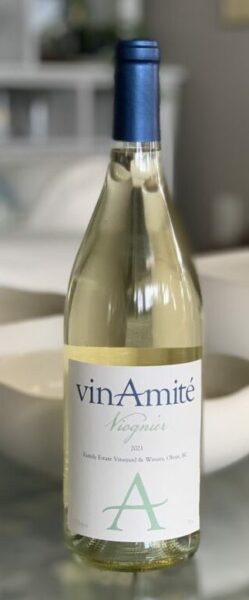 "Take our 'Okanagan Summer in a Bottle' home with you, and celebrate this vintage!"
This clean, approachable, round Viognier is an excellent expression of the grape. Filled with a bouquet of aromas and flavours of ripe stone fruit and hive-fresh honey with a clean finish of subtle caramel lingering on. This Viognier spent two months in neutral French puncheon barrels to soften and balance the finish.
limited quantities
BRITISH COLUMBIA OKANAGAN VALLEY WINES
"From grape to bottle, our winery is devoted to traditional French varietals, made by the Coulombe family in a blend of old and new approaches."
This is our ninth year of production. It just keeps getting better every year. We are thrilled to have hosted a series of food and wine promotions—from Christmas, St.Valentine's, St.Patty's, Mother's Day to Easter and many more—making for a constant set of offerings and wine/food pairings and tastings in our Wine Lounge.
Catherine, our winemaker extraordinaire, has just released our white selection of the year. I urge you to order if you're interested because they won't last too long. I must stress that this vintage is the best vintage of all with each wine on its own strengths without compromise.
Every year, our wines are opened in Canada's great provinces with our best wishes and constant invitation to come and see us in person as so many of you do. We are grateful for the many friends from all walks of life who have become part of our family of wines and people. We love you all, and thank you very much for your friendship and loyalty to vinAmité and the Coulombe family and Friends.
Ray Coulombe
vinAmité Cellars
250-498-2234
info@nullvinamitecellars.com
Hiding in plain sight.
5381 Hwy 97, Oliver BC,
V0H 1T1
Wine notes and information courtesy of the winery. Images: MyVanCity. I received complimentary wine to facilitate this feature.