Pair your Good Vibes with Peach Vibes
Stanley Park Brewing introduces Peach Vibes IPA
Summer is finally in full swing and it's a scorcher, which means we need to find the perfect patio partner to pair with our good vibes! So why not pair your good vibes with some peach vibes? An IPA packed with peach flavour sounds about right to us.
Stanley Park Brewing introduces their limited edition Peach Vibes IPA, brewed with real peach puree and a perfectly curated hop blend to showcase ripe stone fruit and succulent, sweet floral aromas. It's bright, juicy and bursting with peach flavour. Whether you're at the beach, at the park or having a backyard bbq boogy. Peach Vibes IPA is your Summertime beer.
"We wanted to brew a bright and flavourful, fruited IPA to welcome the arrival of longer days and warmer nights," shared Head Brewer Bennie Dingemanse. "Our new Peach Vibes IPA is brewed with real pacific peaches and a hefty dose of HS Sativa hops as the answer to finding the perfect patio brew."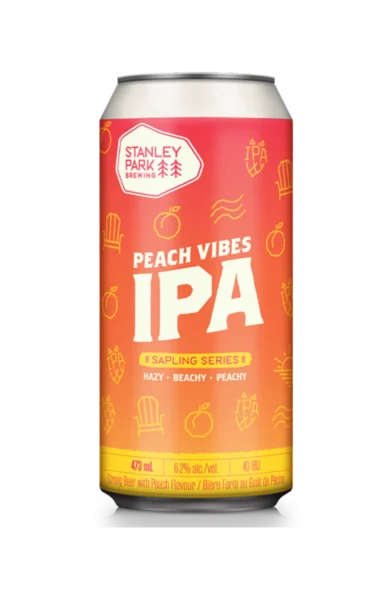 The beer itself is super easy drinking with a 6.2% Alc/Vol and 40 IBU. It's a great partner for this scorching summer. Pick up the limited edition Peach Vibes IPA in 4-pack tall cans online at www.stanleyparkbrewstore.com.
To keep up with the latest from Stanley Park Brewing visit, www.stanleyparkbrewing.com and join our newsletter at http://stanleyparkbrewing.com/signup to be the first to know about all their new brews. Find them on social media and follow them on Instagram @stanleyparkbrew, Facebook www.facebook.com/stanleyparkbrew, and Twitter @stanleyparkbrew.
ABOUT STANLEY PARK BREWING
As beer-crafters, we're explorers at heart. We are inspired by the wonder of Stanley Park, and honouring our curiosity and seeking out new adventures is what we've always been about. From windstorms to daytrips to incredible sunsets best viewed from the beach, every beer we craft is a tasty tribute to Stanley Park and the experiences had within. And just like the park, we craft each one to be an exciting break from the everyday, an experience to be explored and savoured. In 2019, we opened our new Restaurant and Brewpub nestled in the heart of the Park. Situated just steps away from some of the best recreational trails and viewpoints in the city, the revitalized heritage building boasts two large outdoor patios, cozy and bright indoor dining rooms, a casual west coast-inspired menu and a rotating selection innovative beers brewed on-site, under the leadership of brewmaster Thom Riley. Let your taste buds wander as you experience one of the most unique brewpub settings in Canada. Stanley Park Brewing products are also available for sale in retail stores and in many of your favourite pubs and restaurants across British Columbia and Alberta. For more information, please visit www.stanleyparkbrewing.com.
Media release and images provided by Neesha Hothi, Neesh Communications.