June is my turn to design a flight for our group.  I had two or three ideas in mind, but a month or so ahead of time, I came across an opportunity to order six Ontario Rieslings with vintages ranging from 2008 to 2019.  I saw this as a unique occasion to try some wines that we rarely have the chance to taste.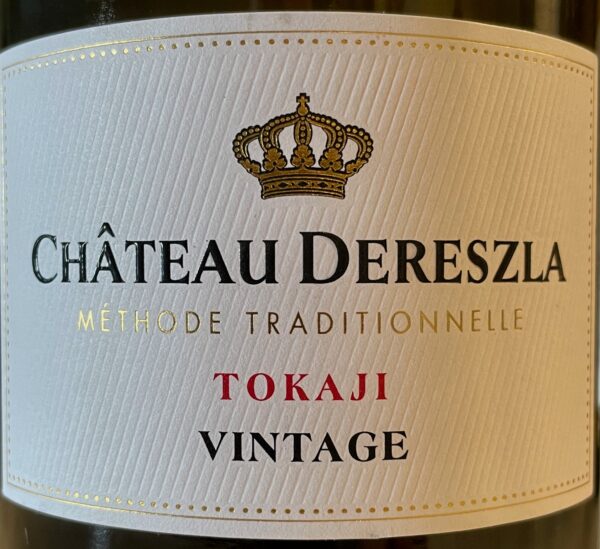 Our greeting wine:
2015 Chateau Dereszla Traditional Method Tokaji                12%     $40(?)
This was another novel experience for our group.  Made from Furmint and Hárslevelü, two of the six most common grapes grown in the Tokaji region of Hungary.  The wine spent 14 months aging sur lees.  It is balanced, and fresh, with a lovely hint of spice.
Tokaji is located in northeastern Hungary, not far from the Slovakian border.  The region is most famous for its delicious sweet Tokaji Aszu, but dry wines are made here as well.  What is not well known is that Hungary has a sparkling wine tradition that is over two hundred years old and once rivalled Champagne.  Typically, these wines will exhibit aromas and flavours of apple, lemon, honey and quince, ginger, brioche, beeswax and floral notes.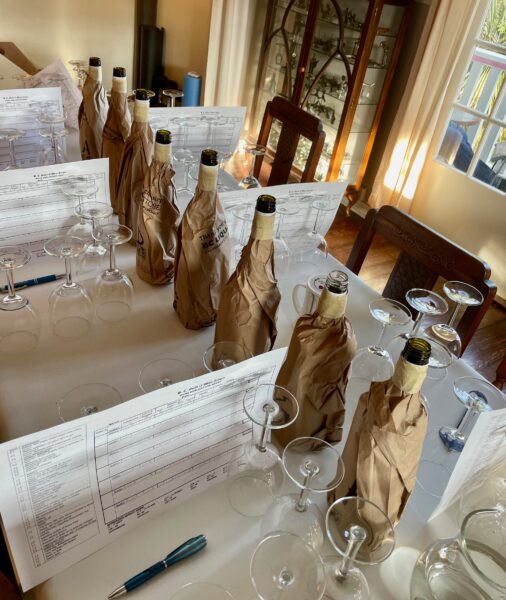 For some strange reason, Riesling has fallen out of favour with the general public, while those in the know sing its praises.  It was regarded as 'The Queen' of white wines, right up until the 1970s when chardonnay became better known.  Both these varieties have suffered from poor quality wines.  Chardonnay for over-oaked, butter bombs and Riesling for flabby sweet wines.  Fortunately, there are fewer of these low-level examples in the market.  Chefs and sommeliers tout the crisp refreshing quality of Rieslings and how incredibly versatile they are when paired with a meal.  In truth, Riesling can range from mouth-puckeringly bone-dry to incredibly luscious dessert wines such as the German Trockenbeerenauslese.
Well-made Rieslings can age for years and the best, for decades.
The wines selected for this tasting all fit into the bright and refreshing category and would be well suited to a wide range of cuisines such as white fish, Asian, Thai, curries, teriyaki chicken, pork, sausages, seafood, shellfish, or creamy pasta dishes.
Sue-Ann Staff Estate Winery on the Niagara Escarpment in Jordan Station Ontario.  She is the owner and winemaker.  Five generations of her family have grown grapes in Niagara.  Robert's Block is the oldest on the property and is named for her great, great, great grandfather.  The grapes from this plot are low-yielding, producing complex concentrated flavours.  Robert's Block Rieslings are only made in cool years when conditions are just right.  These are wines intended for aging for 10+ years.  The winery only grows clone 21 (from the Mosel) on their site.
In addition to Icewines, they also produce Pinot Gris, Riesling, Cabernet Franc, Chardonnay, Baco Noir and Sparkling wines.
The Flight: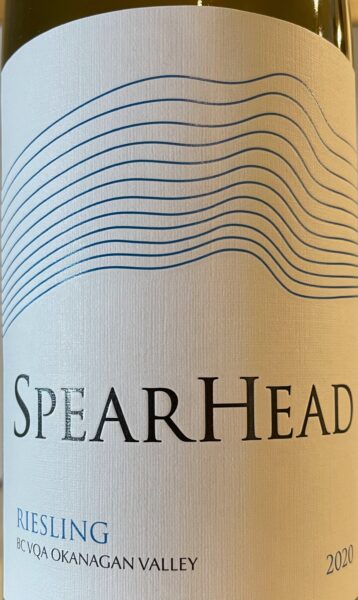 2020 SpearHead                               12.0%              $22.00
"Appearance: A bright lemon colour; medium intensity.
Nose: Medium-plus intensity nose with very distinct lime and spearmint aromas, together with tropical fruit and some bramble leaf. With decanting this wine has a much stronger tropical fruit nose.
Palate: Slightly off-dry, medium-plus body, round with a medium intensity acidic backbone. A mix of sweet and tart citrus fruit, along with tropical fruit (most), lime, peach, and some spearmint flavours. The tropical fruit flavours are stronger with decanting.
Finish: A medium-plus length finishing with mouth-watering acidity and tropical fruit, tart citrus, and a touch of orange and spearmint flavours."
Placed #5 for the group, one person's favourite.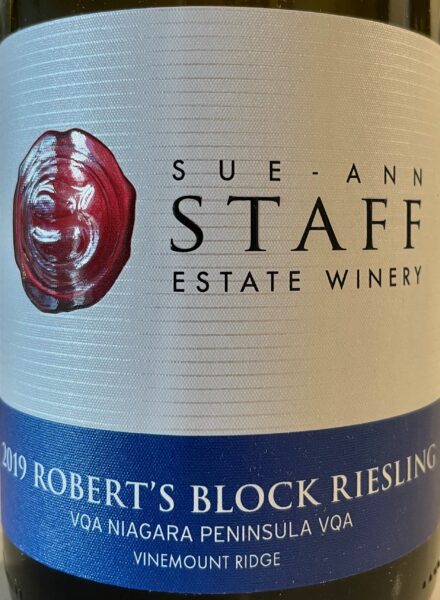 2019 Sue-Ann Robert's Block             12.1%              $26.00
This wine is pre-release and not yet available at the winery.
Fresh, zesty, citrus, long finish, young, lemon rind, ginger, spice.  Lots of aging potential here.
Number 2 for the group, but no one's top score.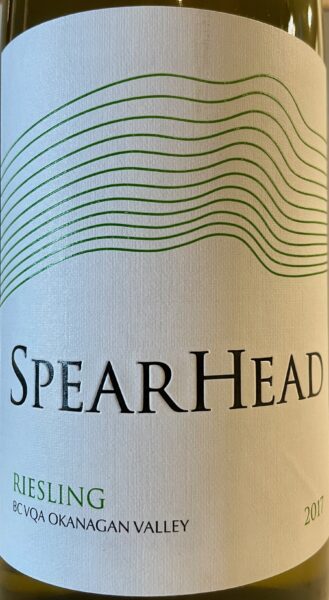 2017 SpearHead                                   12.0%              $22.00
Here is what John Schreiner had to say about this wine shortly after its release in 2018.  "The Germans would call this a racy wine and would cellar it five to 10 years. The 7.8 grams of acid are balanced with eight grams of residual sugar, just enough to give the wine the palate tension one looks for in a good Riesling. It has aromas and flavours of lime, along with a steely spine of minerals. 91 pts."  In the ensuing years, this wine has continued to develop and become more refined and still has lots of time to age.
6th place overall, though one person's highest score.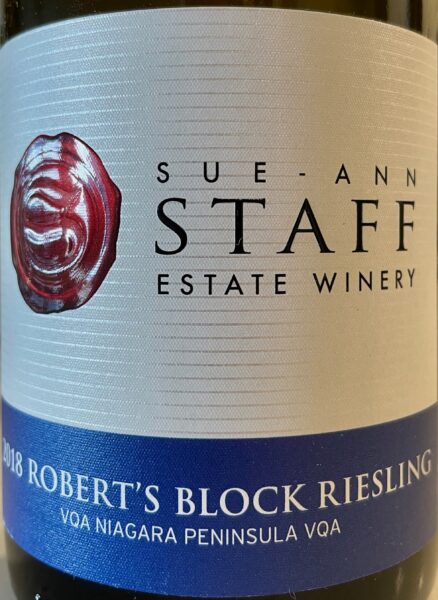 2018 Sue-Ann Robert's Block               10.8%              $26.00
"Gorgeous dry Riesling from 25-year-old vines in the Vinemount Ridge sub-appellation.  Wet flagstone, spring flowers, honeyed stone fruit and zippy apple acidity."
My thoughts – Fresh, complex, chamomile, lemon, pineapple, minerality, green apple, honey, stone fruit.
3rd place, though no one's favourite.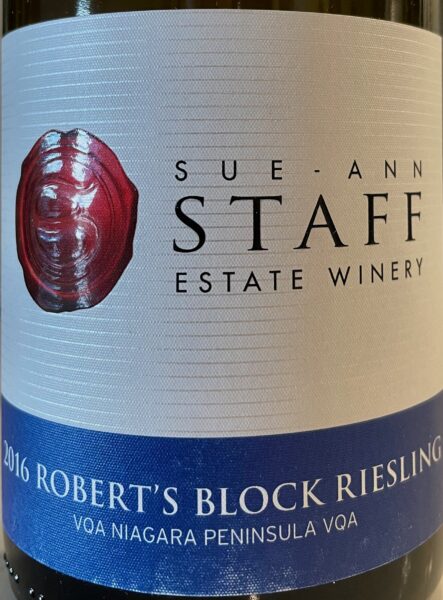 2016 Sue-Ann Robert's Block                 12.3%              $27.95
Lime zest, lemon grass, chives, apricot, wet stone
Many people's favourite and #1 overall.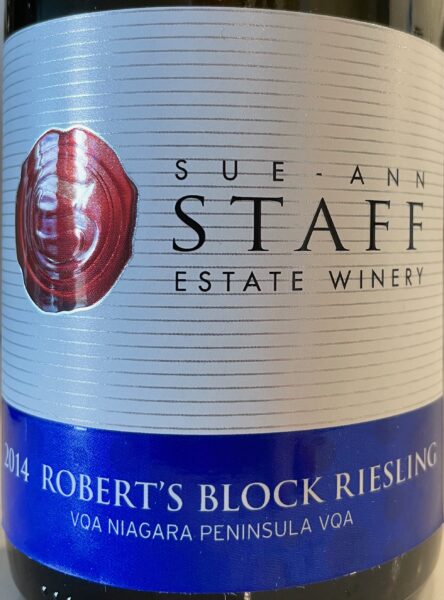 2014 Sue-Ann Robert's Block                  10.9%              $29.95
From a low-yielding year.
"This means what little grapes the vines produced are more concentrated and flavourful."  93 points
Guava, lemon, key lime, apple, honeysuckle, tangerine, slate.
8th place

2011 Sue-Ann Robert's Block                     10.9%              $36.95
Petrol, mineral, slightly off-dry, honey.  Lime, tangerine, peach, long
#4 overall and two people's top score.

2008 Sue-Ann Robert's Block                     10.1%              $47.95
"This wine was the clear favourite and the highest rated Riesling from the International Riesling Day in 2022.  With a stunning 95 points, this wine displayed maturity, balance and complexity . . ."
Semi-dry.  Mature, complex, blood orange, apricot, key lime, Meyer lemon, lavender honey, apple
#7 for the group, but in my top two.
Tasting notes in quotes are courtesy of the winery.
My intent on this flight was to present wines that the other members had not tasted and to compare BC examples with those from Ontario.  While they are all well-acquainted with the typical characteristics of Riesling and have tasted many from around the world, it was a safe bet that most had not tasted Ontario versions or at least, not from this winery.
Do yourself a favour and buy one of the many outstanding Rieslings that BC has to offer and pair it with one of the foods suggested above.  You will become a believer and maybe even a 'Riesling freak'.
Thanks to Carl's Wine Club for making the Ontario wines available and the background on Sue-Ann Staff winery.
https://www.facebook.com/carlswineclub/
(All photos – Sam Hauck)