If like me you missed National Rum Day don't despair because here you will find the ideal late summer to early fall cocktail recipe to enjoy the Appleton Estate 8 year Rum.
Appleton Estate 8 year old reserve a 250th Anniversary deserves at least 8 years of celebration. Crafted by Master Blender Joy Spence to commemorate the special occasion, this blend of pot and column still rums is aged a minimum of 8 years in the tropicalclimage of Jamaica.
Just like a Jamaican sunset, it shows a brilliant honeyed bronze colour with a subtle green ring of ageing. Spicy fruit aromas, hints of honey, vanilla, holiday pie and orange peel notes. A delight to your senses. Perfect to add a dash of excellence to cocktails, it doesn't mind those peaceful evenings when the only soundtrack is the clink of ice in the glass. It only takes two parts of 8 year old reserve to release why Rum means excellence.
Ideal for both unique and reinvented classics, Appleton Estate rums give every cocktail a Jamaican soul. Always looking for unique flavours that speak to the heart of Jamaica, ingredients and aromas that compliment the rum bouquet and celebrate the spirit of the land. That's why enjoying a cocktail made with Appleton Estate means savouring the perfect mix of passion and excellence.
Grilled Peach Rum Cobbler cocktail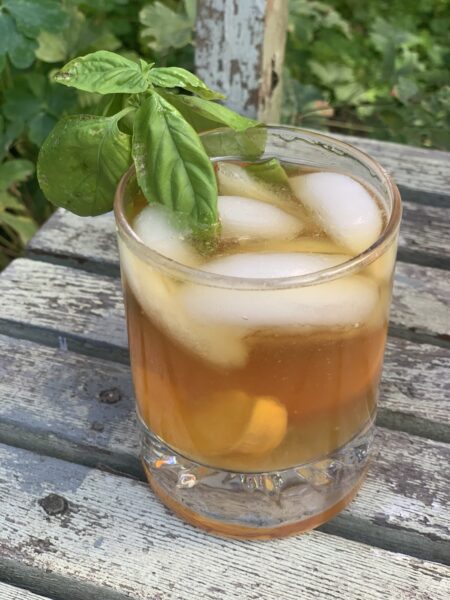 Mixologist: Kaitlyn Stewart
Ingredients:
2oz Appleton Estate 8yr
1/4 of a Grilled Okanagan Peach* (cut into pieces)
0.75oz Ginger Infused Fireweed Honey**
1oz Fresh Lemon Juice
1 Sprig of Rosemary from the garden
2 Dashes Rootside Ginger Lemon Bitters
Steps:
1.
To a shaker tin add the grilled peaches and gently muddle.
2.
Then add the rum, honey, lemon, rosemary sprig and bitters.
3.
Add ice and vigorously shake for 10-12 seconds.
4.
To a julep cup, add crushed ice and strain in the cocktail.
5.
Top up the julep cup with more crushed ice, if need be, and garnish with a slice of grilled peach and a rosemary sprig.
*Grilled Okanagan Peaches Recipe
Steps:
1.
Cut peach in half and remove the pit.
2.
To the cut side add a small amount of brown sugar.
3.
Place the sugared peach cut side down on a grill or cast iron skillet.
4.
Cook until the sugar has caramelized. Remove from heat and let cool.
**Ginger Infused Fireweed Honey Recipe
Steps:
1.
To a sauce pot add 1 cup of local wildflower honey, 1 cup of water and a 1/4 cup of freshly grated ginger.
2.
Put the pot on the stove on medium/low heat and bring to a gentle simmer.
3.
Remove from heat and let cool.
4.
Once cooled, fine strain the honey and bottle.
The process…
We harvest our sugarcane, source water from our limestone spring and meticulously manage the fermentation, distillation and aging processes. The result is a Rum infused with true Jamaican spirit, where heritage and craft blend together to bring you excellence in every sip.
The process begins with the harvest. Several varieties of sugarcane are cultivated at the Estate, and they give our rums a distinctive, complex flavour and aroma.
Our molasses is diluted with the Estate's limestone-filtered water, which gives our run its unique soft taste without any added flavours. We add our proprietary strain of cultured non-GMO yeast, handed down from generation to generation and allow the mixture of molasses and limestone-filtered water to ferment. The fermented molasses is distilled into raw spirit. This process is a true bond of art and science in which expertise plays as such a role as chemistry.
At Appleton Estate, we combine traditional copper pot still distillation, which imparts our signature orange peel top note, and modern column still distillation to create a balanced rum rich inflator. The young run matures in Number One American White Oak bourbon barrels. It is estimated that our topical climate causes the rum to age roughly two to three times faster than if it were in a cooler climate. This transforms our rum into a smooth, mellow spirit, and brings out vanilla, coffee, cocoa and hazelnut notes.
Our rum production process is born out of heritage and joy. At Appleton Estate, every rum is blended by experts, and every barrel used in our bands is personally selected by Maser Blender Joy Spence and her team. We adhere to strict minimum ageing guidelines, this means that the age statement on a bottle refers to the youngest drop of rum in that blend.
I've never met a recipe I didn't want to fool with! I changed up the rosemary for a sprig of Basil just because I like basil and peach together and I had some fresh basil available. Be sure to let the caramelized peach total cool so it keeps it crunchy brown sugar coating intact.
Rum notes courtesy of Appleton Estate and provided by Michaela Kelly, HK Strategies. Images: MyVanCity I received complimentary product to facilitate this feature.