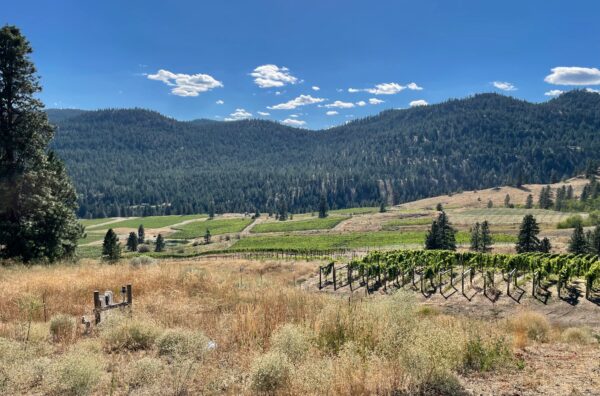 Stunning.
I have heard of Okanagan Crush Pad's Garnet Valley Vineyard for several years, but until recently, had not visited it.  For years, Christine Coletta and Steve Lornie have been passionate about organic farming and getting the best from their land.  To that end, years ago, on the advice of famed soil specialist Pedro Parra, they began a search for pristine unfarmed land.  They finally found just what they were looking for down a winding road north of Summerland in the Garnet Valley.
I had driven by the gates at the entrance of the property before but had yet to call for an appointment to see the new site.  I wrongly assumed there was a vineyard behind the building one sees from the road and not a lot else.  Was I ever wrong.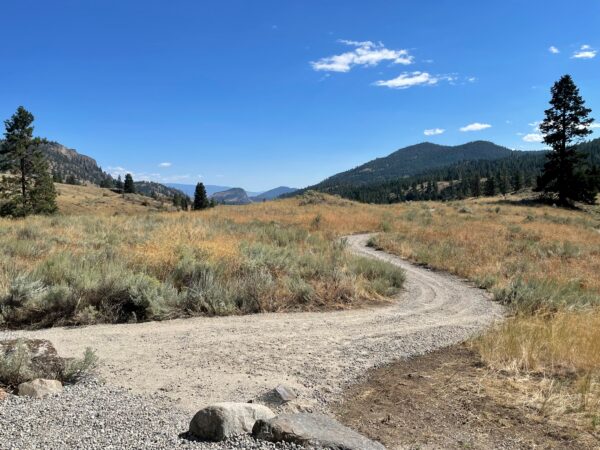 Okanagan Crush Pad hosted an Open House in late August for their club members and the media.  I drove up the drive through the opened gate and saw the building to my left, but signs pointed ahead.  I drove up a long, winding gravel road and was amazed by what I saw, lavender beds, and a large vegetable garden down below.  And on the road went.  Just as I thought I must have taken the wrong way, another sign urged me on.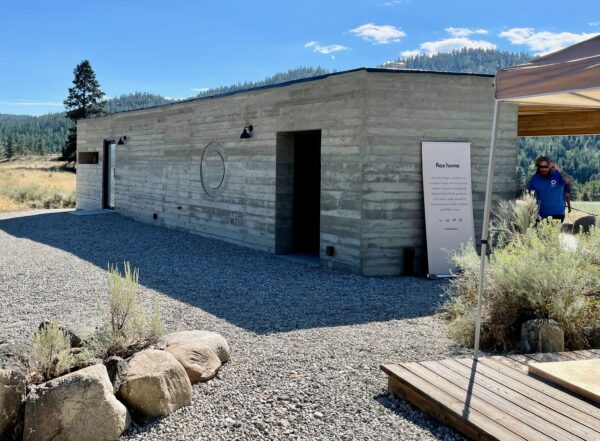 Soon I saw the familiar concrete OCP-designed building. I pulled up alongside several other cars and got out, pausing for a moment to take in the beauty of this half bowl that surrounded me.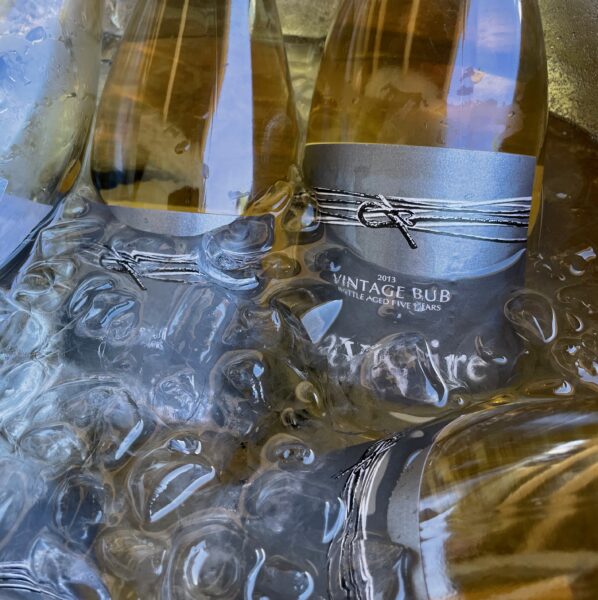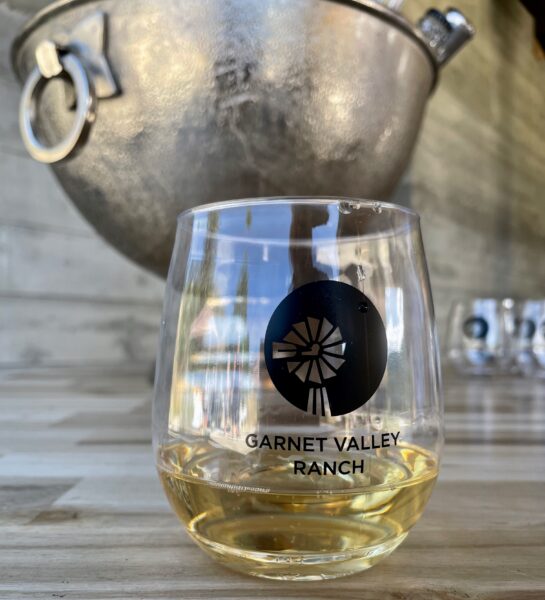 As soon as I walked in I was greeted with a glass of Vintage Bub, cool crisp and refreshing.  It has always been a favourite of mine.
Christine and Steve bought this property in 2012 and planted vines in 2014.  At the time there was a log house, where winemaker Matt Dumayne and his partner Sally now live and a log barn where equipment is stored.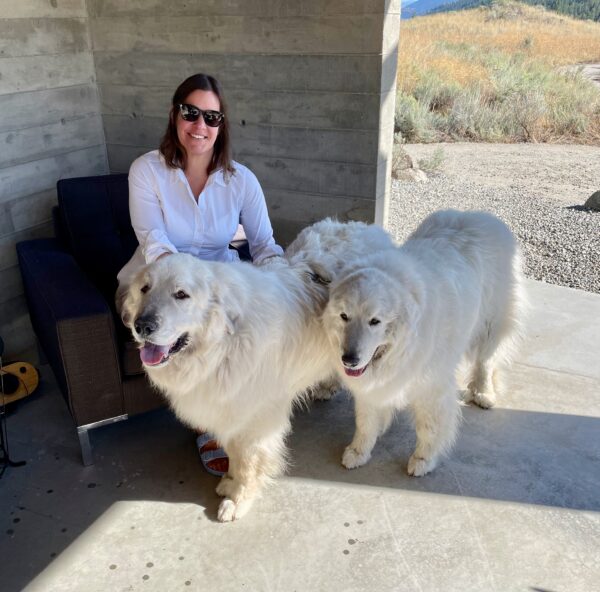 Two Great Pyrenees, Yukon and Bizou, spend time at the ranch when the vines need protection.  These dogs are known for their great eyesight.  They scan the vineyard and when they spot something unusual, they let out a unique bark that makes it sound as if there are many dogs around.  They alert rather than attack.  Deer, birds, bears, and any other grape-loving critters are kept at bay.
This spectacular property is very different from your typical winery lake view.  Crown land surrounds their land so there will never have neighbours on their borders.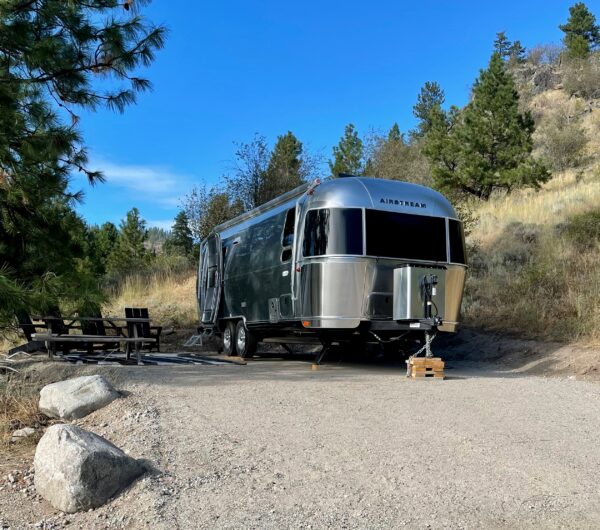 Garnet Valley Ranch currently consists of 320 acres with 100 acres of potential vineyards, compared to the Crush Pad's original 6 acres.  The site will soon be licenced and include an on-site winery, a guest spot, three campsites, and one Airstream trailer for accommodation with two more to come.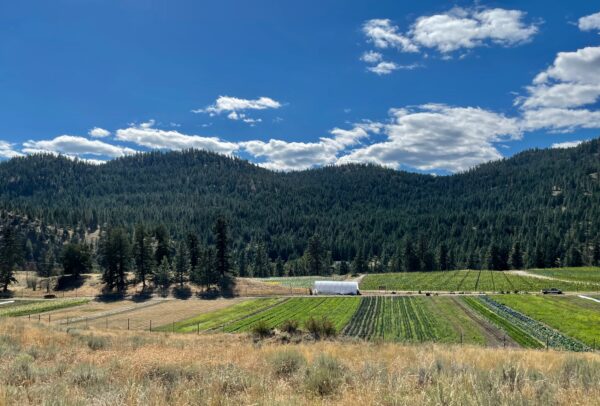 Currently, 40 acres are under vine along with 2 acres of lavender, and 8 acres of organic vegetables.  The vegetable plot is leased to Thomas and Celina Tumbach who operate Local Motive Organic Delivery and have a shop in Penticton.
The lavender has been planted to attract bees, whose hives are enclosed in a large wire-covered cage to protect them from bears.  It is a delicate balance to maintain.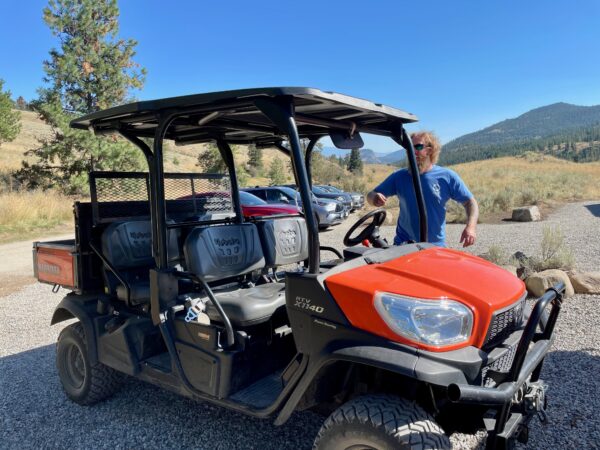 After catching up with Christine, I headed out on a quad with winemaker Matt Dumayne for a tour of the property.  That was when the true expanse and diversity of the bowl-shaped property revealed itself.  Each block had its own character – soil, aspect, elevation.  We first drove by 10 acres of Gamay.  Matt has become a big fan of Gamay, which, like many, he used to consider poor man's Pinot Noir.  Now he has come to believe that BC can produce some amazing Gamay wines that have similar, but distinctly different, aroma and flavour characteristics to Pinot Noir.  I agree 100%.  The rest of the blocks were planted with Riesling, Chenin Blanc, and a bit of Pinot Meunier.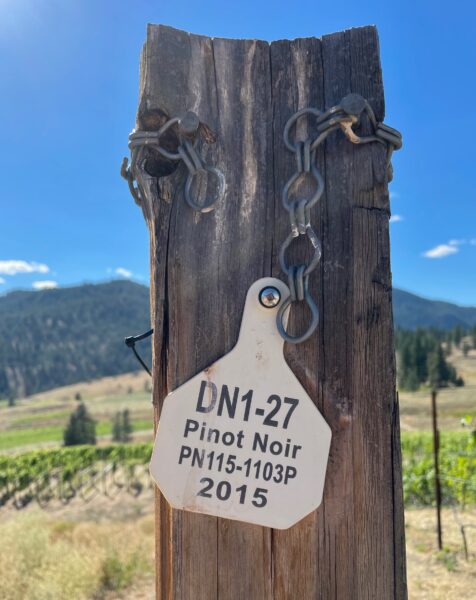 The bulk of the plantings though are devoted to Chardonnay and Pinot Noir.  OCP has been very strategic in what they have planted.  In a cold year, everything can go into sparkling wines if necessary.  The high acid levels the grapes experience mean that there is minimal need for sulphite to protect and stabilize the wines.  There is almost a constant breeze blowing over the land thus there is little disease pressure.  Frost and bears are their main concern.  The yields are low here which is okay as often the best wines come from the harshest sites.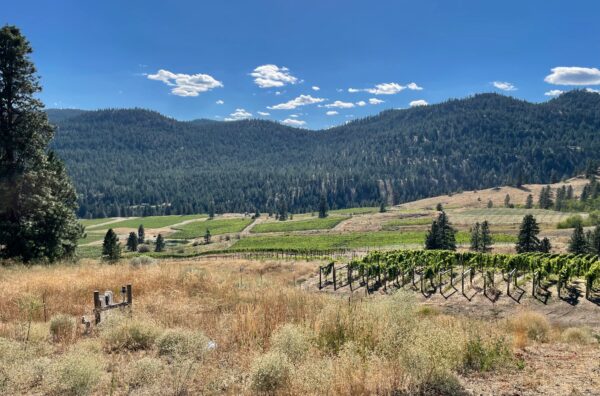 The uppermost block, at 2300 feet above sea level, is likely the highest vineyard in Canada.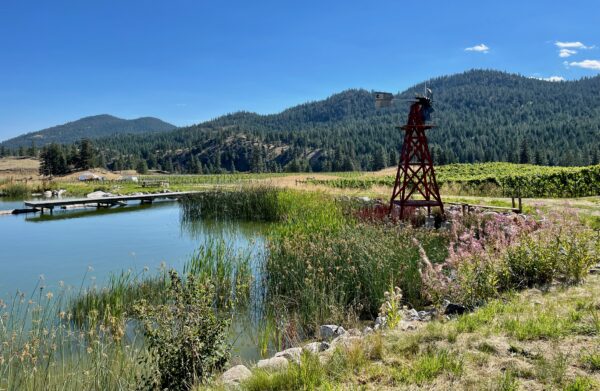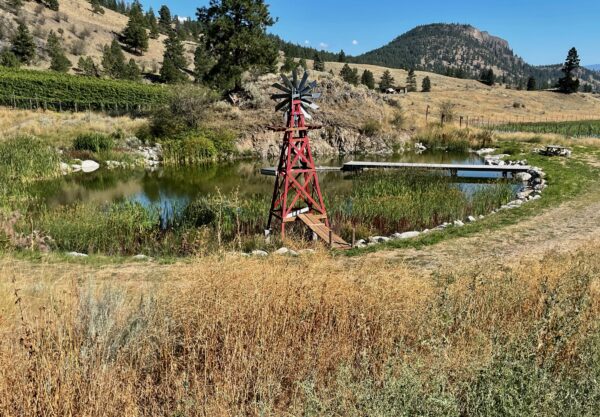 We drove past a small pond and I was shocked to learn how deep it was – as much as 10 metres! During the 2021 forest fires that threatened the region, helicopter fire crews used this site to scoop buckets of water.  The only casualty was the scads of goldfish Matt had stocked the pond with.  It has since been restocked with trout.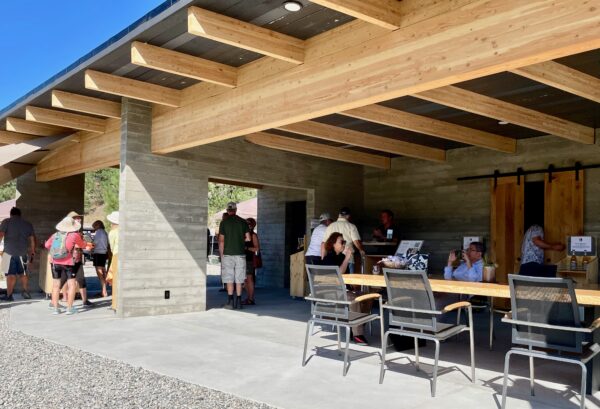 Back at the venue, I chatted more with Matt as we tasted through samples of, Riesling, Vin Gris, Cabernet Franc Rosé, and a Chardonnay.  I caught up again with Christine and sampled two vintages of Pinot Noir.  Unfortunately, my favourite, the 2021 was only a barrel sample and won't be available for a while.  Keep your eyes peeled for it.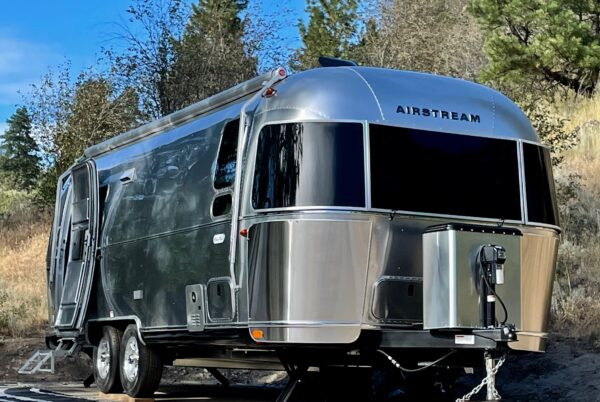 Future plans call for an on-site tasting room near the pond and special guest experiences including camping platforms and luxury Airstream accommodation
This stunning property shines through in the purity of the wines produced from Garnet Valley Ranch grapes.
Their labels are created using eco-friendly stone paper, which saves trees and water.
Some notes on each of the wines I tasted: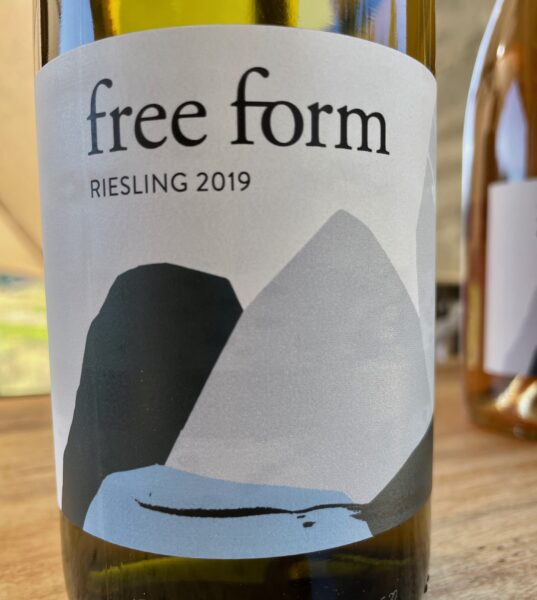 Free Form 2019 Riesling
$34.99
Made from Garnet Valley Ranch organic grapes.  The soil here is volcanic in nature with sandy loam, granite, and limestone.  Fermented in clay amphora with native yeast prior to aging in stainless steel.  The winery describes the wine as, "Mouth-watering acidity & plush texture balanced with delicate tropical candied fruit."  It is a very focused wine, crisp and fresh, and a very versatile food wine.  Likely their best Riesling ever.  I love the 10.5% ABV.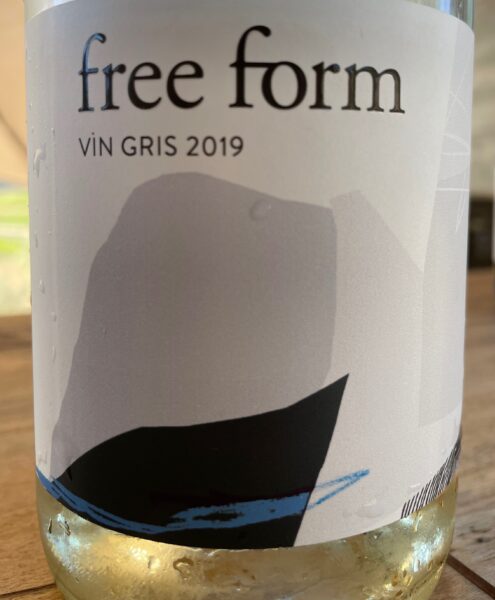 Free Form 2019 Vin Gris
$29.99
Made from organic Summerland grapes that were whole-bunch pressed and fermented in concrete eggs with ambient yeast.  The wine underwent a full malolactic fermentation and was bottled unfiltered.  "This Vin Gris exhibits savoury herbal notes which lead into a finely balanced expression of Pinot Noir with texture from concrete fermentation and aging."  Well worth trying.  12.6% ABV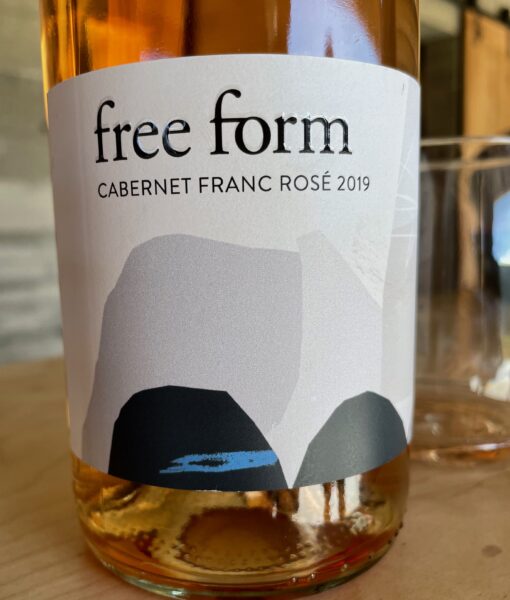 Free Form 2019 Cabernet Franc Rose
$28.99
Made from certified organic grapes from Osoyoos.  Delicately pressed with natural fermentation and malolactic fermentation.  Extended lees contact for an extra creamy texture.  No argument from me on their description, "This Rosé exhibits red berry aromatics leading to a harmonious balance of lush sweet and savoury fruit and a juicy framework of acidity."  Very good.  Again, well suited to so many dishes, including charcuterie, salmon, ham, and turkey.  An all-year-round rosé.  12% ABV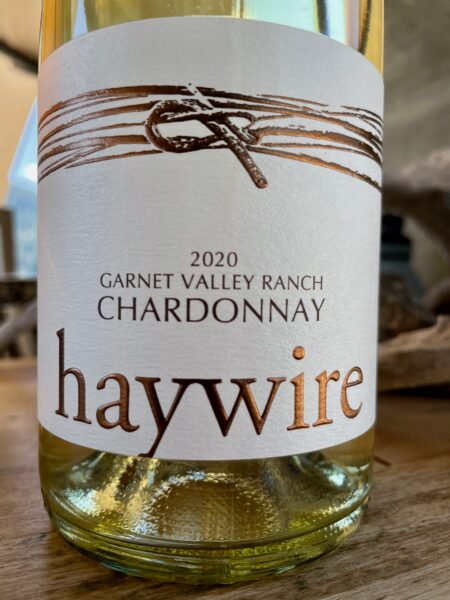 Haywire Garnet Valley 2020 Chardonnay
$34.99
Chardonnay grapes were whole cluster pressed, with no juice settling or additives and went through natural fermentation in concrete and stainless steel then full malolactic conversion before further ageing for ten months on lees. The wine was then clarified by settling in a tank and bottled unfiltered and allowed further bottle ageing prior to release.  "Steely with notes of sherbet and orange blossoms, the texture is dense with a delicate fragrant lift. The wine is finely balanced with mouth-watering acidity."  Yum!  12.5% ABV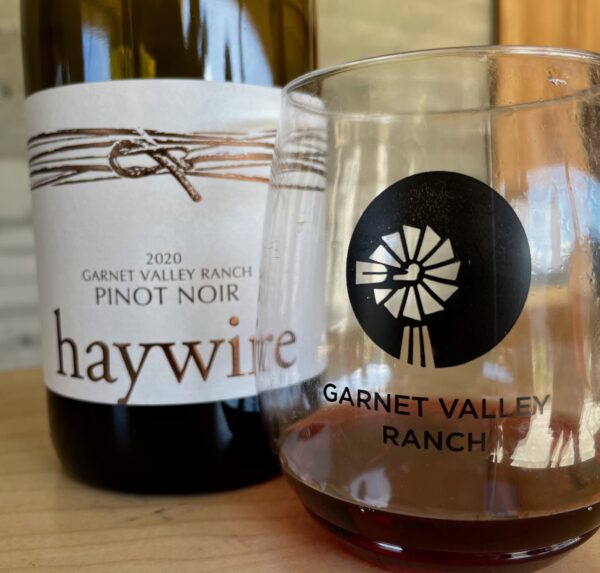 Haywire Garnet Valley Ranch 2020 Pinot Noir
$35.99
Made from high altitude – 1,968 and 2,230 feet, Garnet Valley Ranch organic grapes which are placed into concrete and open-top stainless tanks for native yeast fermentation, then aged on lees for 10 months before being bottled unfiltered. "Brooding aromas of cherries and dark red berry fruit with mocha and an oyster shell salinity. A savoury herbaceousness unique to Pinot Noir. Sensuous yet rustic tannins frame the lengthy finish and highlight our high elevation Garnet Valley Ranch. Pair with white meats, pasta, chicken stir fry and soft cheese."  Bright fruit shines through in this wine. 12% ABV
Haywire Garnet Valley Ranch 2021 Pinot Noir
$35.99
I really liked this wine.  Increased whole clusters in this vintage (50%).  Fermented in stainless steel then aged in concrete, old barrels, and amphora.  A rounder, denser wine with greater depth with lots of dark red fruits.   A lovely varietal nose.  Unfortunately, this was a barrel sample and was not yet available for purchase.
Matt loves aging reds in amphora as it helps the wines develop a creamy texture.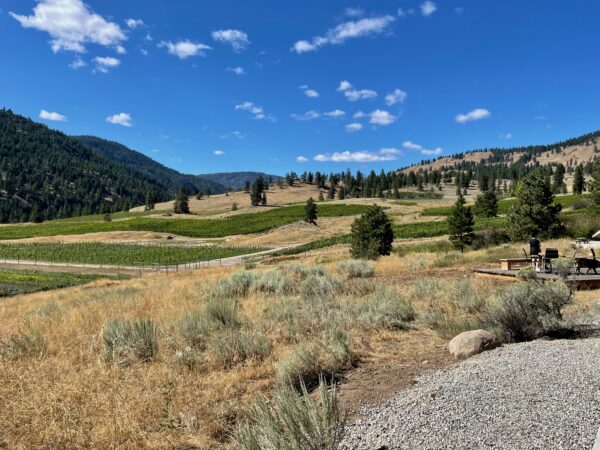 When you have seen the Garnet Valley Ranch property you will appreciate how the terroir shines through in their wines.
Thanks to Zoe for the invitation.
(All photos – Sam Hauck)