Gelato 101 resumes with new flavours!
We're delighted to announce the return of our popular artisan Gelato 101 seminars this autumn. The fun and tasty classes are seasonally themed and are designed for "cone-noisseurs" and beginners alike, no experience needed.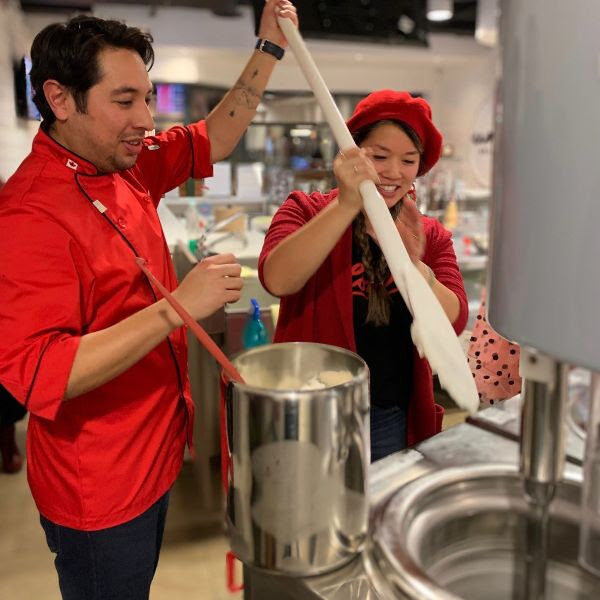 Great for girls night or date night, discover the sweet science of making gelato and sorbetto in the classic Italian method. Classes are October 21 to the end of March, Wednesday and Thursday evenings, 6pm to 7:30pm. Led by our Maestro, sessions are limited to 6 people and are at our Kitsilano shop, 2579 W. Broadway in Vancouver. Priced $79.99 per person (plus taxes), it includes 10 gelato/sorbetto samples, a cone or cup of choice during the visit, along with a pint each of the gelato and sorbetto made that evening to take home. Private group classes are also available for booking.
"We're thrilled to resume our popular Gelato 101 classes this fall/winter season. Participants love the hands on, behind the scenes experience of the class and I think will really enjoy the delicious new gelato and sorbetto flavours," said Andrés Bermudez, Maestro, Uno Gelato.
Gelato 101
Want to be a "cone-noisseur" of all things gelato? Give our delcious gelato-making class a try! We offer 1.5-hour courses Wednesday and Thursday evenings from mid-October through the end of March from 6 pm to approximately 7:30 pm at our Kitsilano location.
Our entertaining and tasty classes are seasonally themed* and are designed for "cone-noisseurs" and beginners alike, no experience needed! Includes 10 gelato/sorbetto samples, a cup or cone of choice to enjoy at the class, and you take home a pint each of the gelato and sorbetto that you made that night. Our experiential seminar is limited to just 6 people to ensure safe social distancing. These sessions are designed for a fun, behind the scenes chance to see how gelato is made!
Sampling of Gelato 101 Gelato & Sorbetto Seasonal Flavours
Our new seasonal themes in class this year are:
October 21-November 10th – Pumpkin Pecan Bread gelato / Lemon Basil sorbetto
November 16-30th – Chocolate Grand Marnier gelato / Apple Pear sorbetto
December – Tiramisu gelato / Pistachio sorbetto
January – Infusion gelato / Mamey sorbetto
February – No sugar added Hazelnut gelato / Blood Orange sorbetto
March – Mango Chocolate Chili gelato / Mango & Pineapple sorbetto
At Uno Gelato you will experience the sublime flavours of true artisan, handcrafted gelato, created and produced by an amazingly talented team of local craftsmen and women. You won't find bubblegum flavoured gelato, but you will find year-round favourites as well as seasonal, farm-to-cone creations using the very best natural ingredients available. From Vancouver Island Sea Salt to Avalon Dairy organic milk and the freshest local fruits and herbs, Uno Gelato is a sensory experience you won't forget.
Uno Gelato…Simply Divine
Information and images provided by Uno Gelato.