The leaves are finally changing and the crisp cool air is setting in, indicating that fall is officially upon us. Time to look to some seasonal wines and inspiring cocktails.
As we gear up for the coziest season of the year, what better way to heat up than with warm wine-based cocktails?
For cocktail lovers looking to experiment with something a little different this season, an innovative mulled wine cocktail recipe with a twist that features domestic wine and will be sure to heat up hearts and souls this fall.
Sumac Ridge Private Reserve Merlot 2019

Plenty of dark plums, berries and spice with a hint of sweet toasted oak on the nose. The aromas carry through to the palate making this an easy-drinking Merlot. You'll notice a medium finish with a pleasant aftertaste that leaves you wanting more. This versatile, medium-bodied Merlot pairs well with Italian favourites like pizza and pasta. Sip Merlot with BBQ favourites like ribs and thick cut rib-eye steak. Create a tasty cheese plate with Canadian Swiss, havarti and smoked cheddar.
Merlot is Full-Bodied & Robust
Examples of great pairings: Grilled Steak, Roast Beef, Rack of Lamb, Lamb Shank, Osso Bucco, Sharp Cheddar
$14.99 available at BC Liquor Stores (on sale for $13.99 until Nov 26)         
Mulled Wine Season is here!
Mulled Cabernet Merlot Hot Chocolate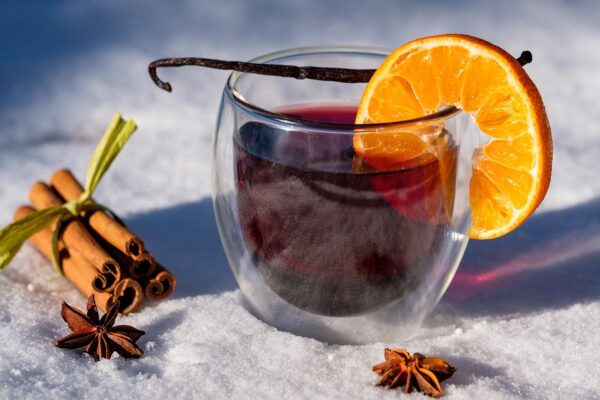 Hot cocoa, but better! The cocoa and spice aromas in Sumac Ridge Private Reserve Cabernet Merlot add up to the cinnamon and anise making this one of the best mulled wines you've ever had.
Serves 6-8
1/2 cup cocoa powder
2 cinnamon sticks
4-star anise
8-10 cloves
½ teaspoon dried ginger
2/3 cup dark chocolate chips
1 cup cold water
1/2 cup soft brown sugar
1 orange, sliced
1 bottle (750ml) Sumac Ridge Private Reserve Cabernet Merlot
1/2 cup fresh or frozen cranberries
a few orange slices to decorate
Add cocoa powder, cinnamon sticks, star anise, ginger and chocolate chips to a large saucepan. Pour in the water, then add the sugar and orange slices. Heat on medium heat, occasionally stirring until the sugar has dissolved, then turn down the heat and simmer for 10 minutes. Pour in the red wine. Heat gently for another minute or two until warmed through.
Bask Cabernet Sauvignon

Just BASK in 0g sugar per serving. BASK gives you one less thing to worry about, so you can zero in on the moment and savour every second. BASK Cabernet Sauvignon has aromas of blackcurrant and black cherry with a hint of spice. A full-bodied wine with a smooth finish.
Cabernet Sauvignon is Full-Bodied & Robust
Examples of great pairings: Grilled Steak, Roast Beef, Rack of Lamb, Lamb Shank, Osso Bucco, Sharp Cheddar
No need to look further if you want something stronger for date night in. If you are cooking for that special someone this fall, choose BASK Cabernet Sauvignon to pair with hearty dishes like pasta or meat.
Media release, recipe, and wine notes provided by Arterra Wines Canada. Images (except as noted): MyVanCity. I received complimentary wine to facilitate this feature.