With Valentine's Day just around the corner what would be more perfect than sharing a little foxly with your sweetheart. Here we give you two of their popular wine from the line of foxly from Foxtrot Vineyards.
Whether you are getting cozy by the fire, hanging in the hot tub, or watching Netflix one of these wines will set the mood. Wines meant to be enjoyed now and shared with someone you care about even when it's not Valentine's Day.
foxly
foxly wines made their debut as the second label from Foxtrot Vineyards in the Spring of 2020. These flavourful wines emulate the excellence of Foxtrot Vineyards at an affordable price.
Wines for everyday adventures, approachable, easy-to-sip, and great to drink upon release.
2021 foxly rosé
rosé for life!
our pinot noir rosé celebrates the season with its pale salmon color and a youthful palate bursting with notes of mandarin orange, cream soda, and starfruit. the grapes were destemmed, given three hours of skin contact and aged four months in stainless steel. crisp acidity charges toward a refreshing finish and invites the next sip.
Winemaking The 2021 foxly rosé is 100% pinot noir, destemmed and left on skins for 3 hours before pressing. Fermented and aged four months in stainless steel before bottling.
Tasting Notes Pale salmon in colour. Mandarin, cream soda and pink starburst. Dry palate, pucker and steel, orange blossom and tangelo zest finish.
2020 foxly pinot noir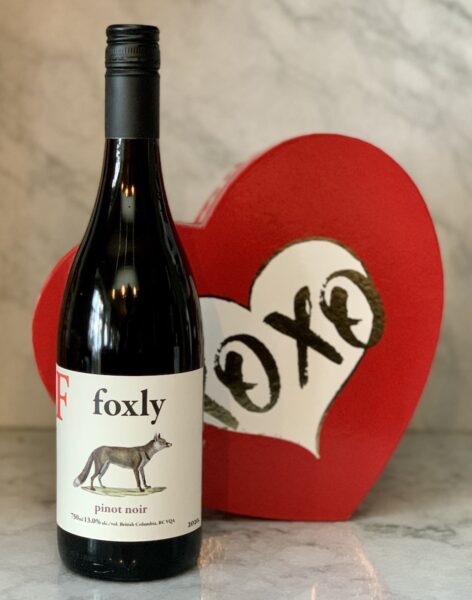 A wine of the moment.
This wine carries itself with grace as a 16 month aged oaked pinot noir. Fresh floral aromas lead to a clear articulation flavors on the palate from fresh cherrries, savory thyme, and nutmeg. While this wine comes from a several disparate pinot noir vineyards, it nevertheless shows a precision and typicity through the granitic minerality unique to the Okanagan and Similkameen. It is fully resolved and ready to drink.
$24.00 available  online/currently $2 off at $22.00
Wine Club
The foxly collection, featuring 6, 12 or 24, a collection of foxly wines featuring the pinot gris, rosé and pinot noir.
Foxtrot Vineyards | 1201 Gawne Road, Naramata, BC, V0H 1N1 |
Email: info@nullfoxtrotwine.com | Telephone: 250-496-5082 | Fax: 250-496-5083