The Chefs' Table Society of BC (CTS) and Mount Pleasant Business Improvement Association are excited to host the 9th Annual Curry Cup are excited to host the 9th Annual Curry Cup on Monday, March 6, 2023 at Heritage Hall.
Eight chefs will prepare their best curry for guests and judges. All guests have the opportunity to vote for People's Choice while judges, Vancouver Councillor Sarah Kirby-Jung, The Nosh Radio Host, Anya Levykh, Granville Island General Manager, Tom Lancaster, North West Culinary Chef Instructor Jonathan Kinney, Journalist Tim Pawsey and 2022 Curry Cup Winner, Chef Thiyagarajan Raj will rate the eight curries on taste, presentation, sustainability, the story and originality to determine the winner of the 2023 Curry Cup.
The 2023 competitors are:
Steven Tran, Pier 7
Kunal Dhigne, JW Marriott
Brandon Alves, Douce Diner
Chef Paolo (Faustino Guillermo), Executive Inn
Chris Andraza, Lift Bar & Grill
Nutcha Phanthoupheng, Baan Lao Fine Thai Cuisine
Vincent Nguyen, Chef & Owner & Thao Tran, Sous Chef, Anh & Chi
Curtis Luk, The Farmhouse on 10th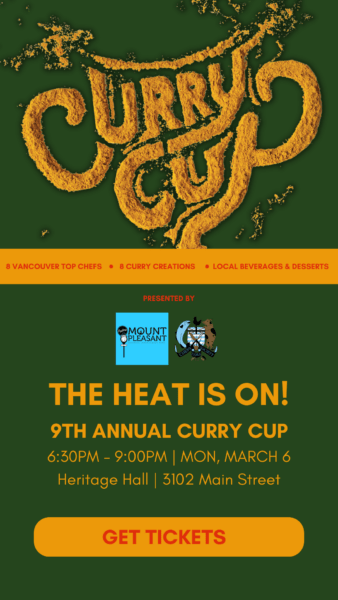 Gordon Food Service, a key sponsor of the Curry Cup will have their chefs, Tim Tejuco and Michael Viloria serving a sweat treat to top off the event.
Guests will also have the pleasure of tasting beer R&B Brewing and Main Street Brewing and wine from Summerhill Pyramid Winery.
The Curry Cup is a fundraiser with partial proceeds going to support Growing Chefs! The proceeds help B.C. kids build connections to their food, the earth, local food systems, and with one another.
Tickets must be purchased in advance. Tickets available here.
About the Chefs' Table Society of BC
The Chefs' Table Society of British Columbia is a province-wide collaborative dedicated to creating a foundation for the exchange of information between culinary professionals. We support innovative and sustainable programs that will inspire, educate and nurture our chefs, our producers and our local food industry. We promote standards of excellence with the aim of enhancing the reputation of our regional cuisine. Find them on Instagram @ChefsTableBC
Media release and images provided by the Chefs' Table Society of BC.