Just last week I had an opportunity to taste a wine that is new on the market in Canada,      Inception – introduced by the Mark Anthony Group of Companies.
It was a delightful evening at Brix Restaurant and Bar where we were invited to "unravel the mysteries of a deeply layered all new wine to Canada". There were a number of familiar faces, and some new people to meet, from the Vancouver wine scene. Sommeliers, people from the hospitality industry, restauranteurs and media.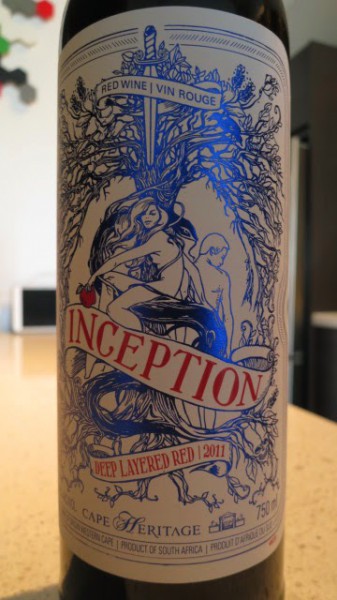 Here is how the wine is described:
"Inception – sophisticated, intriguing and deeply layered. Inception is an exciting red blend from South Africa that conjures a sense of wonder with every sip. Comprised of Shirac, Mourvedre and Petit Verdot grapes, the complex blend of flavours and smooth lairs gradually reveal themselves to the palate for a unique taste experience.

Colour: Deep purple red.
Bouquet: Red berry, drive with nuances of oak and vanilla.
Taste:  A fruit forward profile that combines rich flavours of chocolate, vanilla, mocha and spice and has a soft finish on the palate.
Food Pairing: Serve with roast red meat, spicy chicken dishes, casseroles and dark chocolate."
Okay so now to the good part, Inception was delicious! I very much enjoyed the wine and I'm pleased to tell you that it is at an excellent price point (around $14.99) and it's available at BC Liquor stores throughout the province.
Thank you to Mark Anthony Group of Companies and Brix Restaurant for pulling together this fine and fun event to showcase Inception.
Facebook/InceptionWineCA
Twitter/@InceptionWineCA