Niche Winery
One of the 'small guys', or garagistes, Niche Winery is a small family run operation set well off the main highway in West Kelowna.
Opened in 2011 by James and Joanna Schlosser, they indeed have 'found their Niche'. This small ten-acre, 'Hugh and Mary' vineyard, owned by James' parents, Kathleen and Jerry Schlosser, sits at an elevation of over 2000 feet elevation. The high altitude ensures their wines, currently five in the line up, always have good structure which makes them so very food friendly. These are clearly wines made with passion as they also have day jobs, but love the time spent in the vineyards, in the winery and pouring the wines for customers.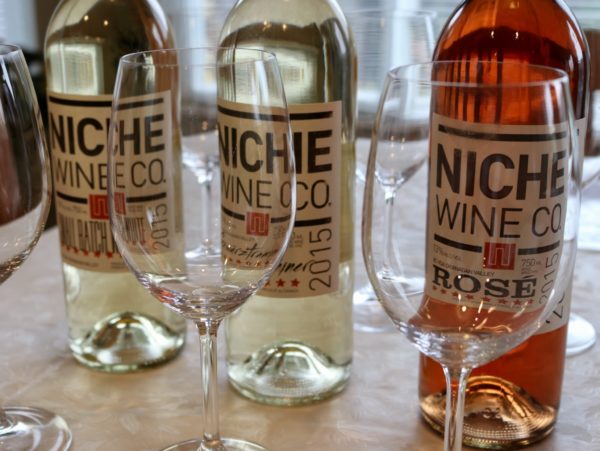 They don't have a tasting room, however, you will find their wines at VQA stores, select private liquor stores, some grocery stores and 'niche' restaurants.
2015 Small Batch White
This white blend is made from Gewürztraminer, Pinot Blanc, Chardonnay and Riesling. Each grape brings something interesting to this wine – stone fruit from the Gewürztraminer, body from the Pinot Blanc, structure from the Chardonnay and minerality and aromatics from the Riesling. Pale straw colour with medium-light intensity. The nose is bright and inviting with pear, apple, white peach and a hint of watermelon. Good balance and mouthfeel. The flavours follow the nose. A medium-plus finish with lingering white peach. Serve this with any style of chicken, sushi or as an aperitif when guests arrive. I paired it nicely with clam linguini.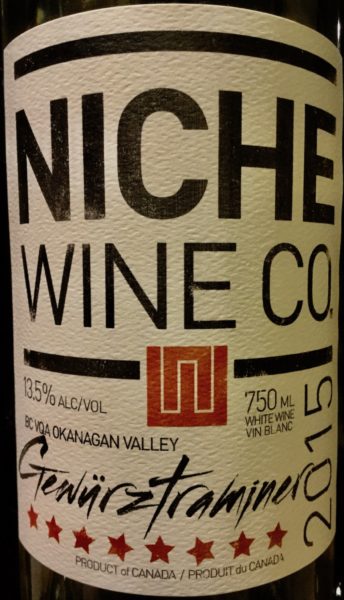 2015 Gewürztraminer
Pale straw in colour with medium-light intensity. The nose is an inviting bowl of fresh cut fruit including melon, pear, transparent apple, apricot and peach with hints of rose petals. Good balance and mouthfeel. The flavours mirror the nose followed by a medium-plus finish with lingering pear notes.
2015 Rosé
Made from Pinot Noir, this Rosé is salmon coloured with medium intensity. Aromas of strawberry, cherry and rhubarb with hints of spice and black tea. Good balance and mouthfeel. Pleasing fruit on the palate with Tayberry standing out followed by a medium finis. This is a delightful social or luncheon wine and would pair very nicely with turkey.
2014 Foch
I think this is one of the best BC expressions of this grape. This French hybrid is known to have good acidity, which makes it food friendly and low tannins so it is easy to drink and does not require lengthy aging. Garnet red with a purple rim and deep intensity. Black cherries, dark berries, dried fruit, cinnamon and earthy aromas on the nose. Good balance with medium body. Bright fruit, cherries, and spice on the palate. Tart cherries and chocolate flavours linger on the medium-plus finish. This would pair nicely with a creamed salmon, hamburgers, pizza or chilli.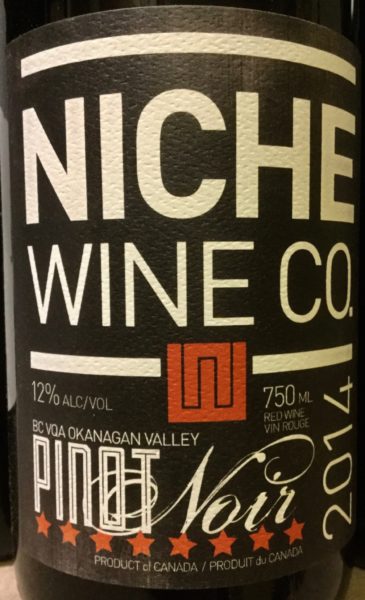 2014 Pinot Noir
Niche
West Kelowna, BC
Garnet red in colour with medium-deep intensity. The nose shows aromas of cherry, red apple, licorice, earth, bramble and spice. Good balance and medium bodied. Pleasing fruit on the palate including cherry and black currant followed by a medium finish. Serve this with stews, beef bourginon or other hearty dishes. It will age well for another three to five years.
(All photos – Sam Hauck)