Singletree Releases First Wines of 2016 Vintage
What: Singletree Spring Release
Where: Singletree Winery (5782 Mt. Lehman Road, Abbotsford)
When: Saturday, April 8 (12-5:30pm)
Cost: FREE and open to all.
This will be the very first chance to sample and purchase the 2016 'Siggy' (aka: the winery's flagship Siegerrebe wine: floral, rich, flavourful), the 2016 Rosé (enticing, fresh, lively) and the all-new 'Wild Siggy' (textured, complex, delicious).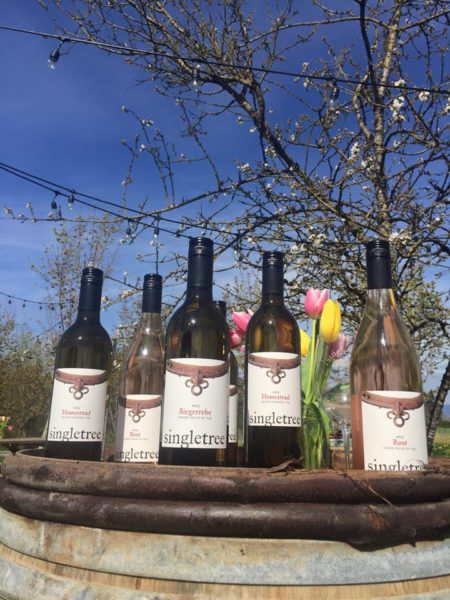 The tasting room and picnic area will be open for all to enjoy. Take advantage of case-lot sales on library vintages. The picnic fridge will be fully-stocked, making it the perfect opportunity to spend a family-friendly afternoon in Fraser Valley wine country.
On the 2016 harvest, winemaker and viticulturist Andrew Etsell noted, "the harvest was our earliest on record, but the grapes developed beautiful flavours with balanced acids and sugars. We started with our Siggy (Siegerrebe), which is evolving into one of our most popular wines. We're so proud of our first-ever Wild Siggy and can't wait to share it with our guests."
For more information and the latest updates, visit Singletree Winery on Facebook.
About Singletree:
Singletree Winery is in the Mt. Lehman area of Abbotsford, an emerging wine region in the Fraser Valley, the heart of agri-business in British Columbia.  The Etsell family has deep roots in the agricultural community.
With careful attention to their land, they are committed to showing the world what the Fraser Valley is capable of: aromatic, crisp, and juicy wines that showcase their unique terroir. Their focused portfolio currently includes Siegerrebe (Siggy), and all-new , Sauvignon Blanc, Pinot Gris, Chardonnay, a Pinot Noir Rosé, a Late Harvest Kerner, a white blend called Homestead, and Harness, a Bordeaux-style red blend. New wines this year will include a Wild Ferment Siegerrebe (Wild Siggy) and a Grüner Veltliner. A traditional-method sparkling wine will be released in 2018. The wines are crafted by second generation family member Andrew Etsell, made in Summerland under the guidance of winemaker Matt Dumayne.
The winery is now open daily for visitors, Wednesday through Sunday from 12 noon to 5:30pm.
Visit singletreewinery.com to join the wine club and for more information on picnics, events, weddings and much more.