Tech-Sector Entrepreneur Pledges Support to Non-Profit Charity's Second-Annual Initiative to Raise Much-Needed Funds for Ongoing Mission to End Youth Hunger
Local entrepreneur and tech-sector philanthropist Shafin Diamond Tejani has given a big boost to Mealshare's second-annual 'Tonight For Tomorrow' fundraiser by pledging to match all monies raised during the dining-out event that takes place at 15 Vancouver-area restaurants on Wednesday, May 10.
"Tonight for Tomorrow was already a huge event for us and helps us to continue growing, but the fact that Shafin is willing to come in and match everything on a dollar-for-dollar basis makes this event an even bigger game-changer for us now," says Mealshare co-founder Andrew Hall. "We're so excited to see what we can accomplish with this added boost to our efforts and we're so thankful to Shafin for his ongoing generosity to worthy causes like this."
Diamond, the co-founder of venture builder Victory Square Labs and a noted philanthropist, will match any funds raised during the exclusive, one-night-only event that will see participating restaurants across Vancouver donate one dollar to the charity for every dollar that a patron spends on food at their establishments that night.
"Mealshare is an organization that I truly believe in," says Tejani. "It's run by a group of young and passionate change-makers who genuinely want to make a huge impact in the fight to end youth hunger. I'm thrilled to be able to play even a small part in this huge event."
To help generate momentum for the 'Tonight for Tomorrow' fundraiser, Mealshare has launched 'The Most Delicious Petition Ever,' and is encouraging Vancouverites to sign up, show their support and commit to dining out on May 10 to help support the charity. As a token of thanks, those who sign up will receive a free Evo Car Share membership and/or driving minutes to travel to the participating restaurant of their choice.
Participating Vancouver restaurants to date include:
•Anatoli Souvlaki
•Bauhaus
•The Bayside Lounge
•Brix & Mortar
•The Emerald
•Fable (lunch only)
•The Greek by Anatoli
•Jamjar Commercial
•Jamjar South Granville
•The Mackenzie Room
•The Oakwood Canadian Bistro
•Pidgin
•The Portside Pub
•Sai Woo
•Tuc Craft Kitchen
For more information about Tonight for Tomorrow and Mealshare, visit www.mealshare.com, become a fan of /MealshareTeam on Facebook and follow @MealshareYVR or @MealshareTeam on Twitter and @mealshare on Instagram.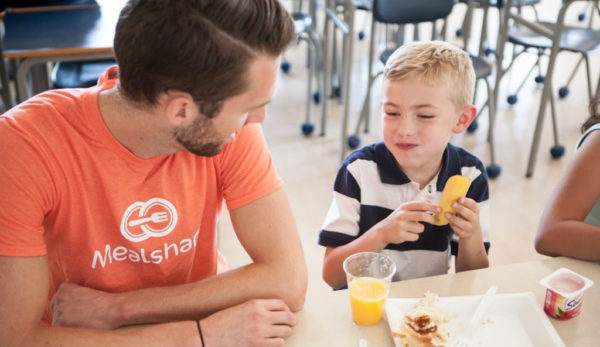 ABOUT MEALSHARE | A not-for-profit organization launched in Calgary in 2013, Mealshare partners with restaurants and designated charities in cities across Canada to provide meals for youth in need. For every Mealshare-branded item ordered at 80 participating Vancouver restaurants, one complimentary meal will be donated to youth struggling with hunger through Vancouver-based charities Breakfast Club of Canada and KidSafe or their international partner, Save the Children Canada. Since its inception, Mealshare has served over one million meals to youth in need.
www.mealshare.ca | Facebook: /MealshareTeam | Twitter: @MealshareYVR, @MealshareTeam | Instagram: @mealshare | #TonightForTomorrow