MyVanCity.ca is sharing 15 days of Cocktails for the Dr. Peter AIDS Foundation Pride Crawl Fundraiser taking place at 45 Cocktail Bars and Lounges in Vancouver July 14 – August 6
Bars and restaurants across Vancouver will stand proud and pledge their support to the Dr. Peter AIDS Foundation this July and August by taking part in the inaugural Pride Crawl Fundraiser to generate financial support for the Dr. Peter Centre in the city's West End.
ROYGBIV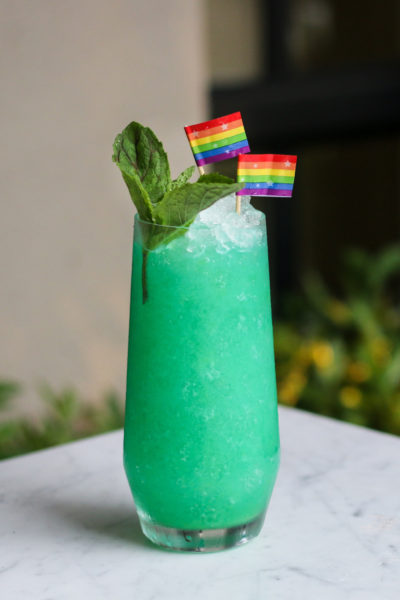 RECIPE
Jamaican Rum
Fresh OJ
Ancho ReYes Verde
 Green strawberry bitters
  Blue Curacao
Coconut Milk
Vanilla
45 ml Appleton VX rum
10 ml Ancho Reyes Verde liqueur
10 ml fresh orange juice
10 ml Blue Curacao
20 ml Coconut milk
5 ml Vanilla syrup
4 dashed Ms. Betters Green Strawberry bitters
Shake all ingredients with ice in a cocktail shaker. Strain over crushed ice into a pilsner glass. Garnish with fresh mint, and 2 pride flags.
Cocktail Name: ROYGBIV
Price: $15 ($5 donation)
Description: This cocktail represents the colours of the LGBT flag, also a symbol of peace. I tried my hardest to incorporate all these colours into the recipe. What I didn't want was a dark purple finished product, so I made a beautiful bright blue cocktail, a fun, flamboyant, and of course tasty beverage.
Restaurant: Boulevard Kitchen & Oyster Bar
Created by: Shaun Layton
Social: @BLVDyvr (IG, FB, Twitter)
Website: www.boulevardvancouver.ca