The ever popular Sunday School at VANCOUVER URBAN WINERY is back in session.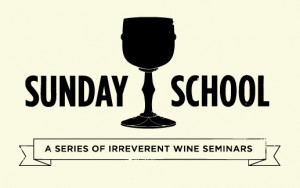 A Wine tasting event hosted by Sommeliers David Stansfield and Lisa Cook, Sunday School is an opportunity to demystify wine. Class content will range from understanding wine labels and terminology to evaluating aromas and flavours to assessing perfect food pairings and gauging value.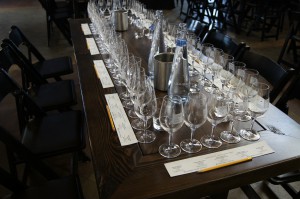 SUNDAY SCHOOL THE #300 SERIES:
 January 26th
#301 – The Price Is Wrong, B.
 February 16th
#302 – France vs. the New World
 March 16th
#303 – Sommelier Smack Down: the Rematch
 April 20th
#304 – Food Fight: The Great Beer v. Wine Showdown
 May 18th
#305 – BC vs. the World: Round III
June 15th
#306 – The Cider House Rules!
TICKETS
$40 + GST per class
Available for purchase through Vancouver Urban Winery.
Visit us at 55 Dunlevy Street, Railtown and purchase at the tasting bar. Or, email or phone to book: 604.566.9463 /info@nullvancouverurbanwinery.com
CLASS TIMES
Doors: 6PM / Seminar: 7PM – 9PM / Mingle: 9PM – 10PM