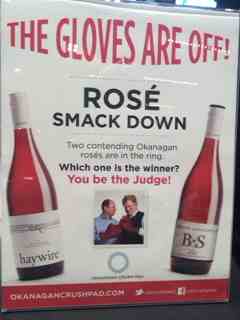 "Bright, Fresh, Refreshing, Pristine, Alive, Vibrant!"   These are the words from Michael Bartier of B&S wines, that describe" its not just the wines from the Okanagan but the Okanagan itself."
Marquis Wine Cellar was the venue for the second annual Rosé Smack Down with Michael Bartier in one corner defending the 2011 Haywire Rosé and David Scholefield in the other corner defending Bartier and Scholefields  2011 B&S Rosé.
Bartier explains that both of these wines are from the Seacrest Mountain Vineyard just north of Oliver, where in his words it is "Nuclear Hot".  McIntyre Bluff is a huge geographical landmark and thereby creates its own climate resulting in wines that speak to their terroir or sense of place.  Both wines are from the same block, same grape variety; Gamay Noir,  but from different parcels with different soils and subsoils resulting in remarkably different wines.  The vines were planted in 1997 and are able to produce wines that have the capacity to be interesting and speak to the "soul of the wine."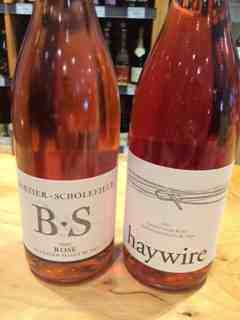 David Scholefield has a slightly different approach; "GLUG GLUG!" "seriously not serious, fun to drink and here and now". He feels that rosé is a wine that is under appreciated in the market and that these wines should bring pleasure and be "gluggable", and that "BC is the perfect place to be genuine and authentic".
Scholefield goes on to describe Haywire as being " crisp, fresh and perfect with food" and that the B&S Rosé as "being the perfect wine on a desert island where the perfect food match would be fresh air".
My favourite was the B&S Rosé which was a beautiful salmon colour with bright, fresh aromas of red currant, raspberry, baked strawberry, chalk, dried herbs, white mushroom and a hint of earthiness.  The palate is dry, with good acidity and intensity of flavours of citrus, red currant, and baked strawberry with a crisp mineral-like finish.
Bartier describes wines as a "way to transport you to another place" and in this case I felt that I was enjoying a wine that was not from BC but from Provence.  A true testament to the winemaking skills from Bartier and the Okanagan Crush Pad.
Feature pic by Judy Bishop The Travelling Eye photography