What will you find at 905 Hornby Street in Vancouver?  Earls Test Kitchen, which just opened in June.  It is the culinary inspiration centre for all of Earl's sixty-five restaurants throughout North America.
Here, they bring together a collection of world-class chefs to develop new menu items.  If you look at the menus of casual dining restaurants, they all tend to feature many of the same items.  Earls goal is to break the mold, be innovative and offer its customers a unique dining experience.
The media were invited to visit the new facilities and were offered samples of some of their new items from their food and beverage list.  Then we were introduced to the test kitchen chefs and watched a video presentation showing the members of the team and the new facilities.
The almost overly attentive staff came by to take drink orders and offer appetizer samples.  The first to come around was an enticing spicy tuna cone, which was tasty and as fresh as can be.  Next was a grilled Serrano chili pepper dressed with olive oil and sesame seeds.  The final sampler was a spoon featuring a crispy Thai prawn.  All were novel, delicious and attractively presented.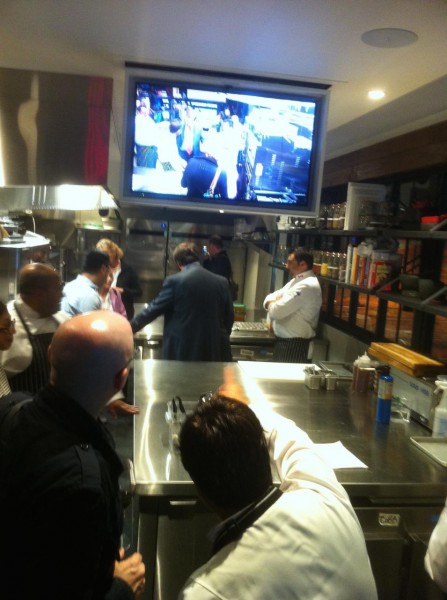 The media had a tour of their new state-of-the-art test kitchen, complete with AV equipment so they can record food preparations or live-stream demos to staff in other kitchens across Canada and the US. The test kitchen is outfitted with a large flat screen to monitor all aspects of the operation.  I was impressed with the three-level Jet Air ovens, the cast iron woks and fry pans and the stainless steel pots.  Local restaurant supply company, Puddifoot is one of their major equipment suppliers.  Among the many objects lining the shelves in the test kitchen was an impressive collection of cookbooks, from the classic Larousse Gastronomique encyclopedia to the iconic El Bulli collection.  This is clearly a Foodie's dream kitchen.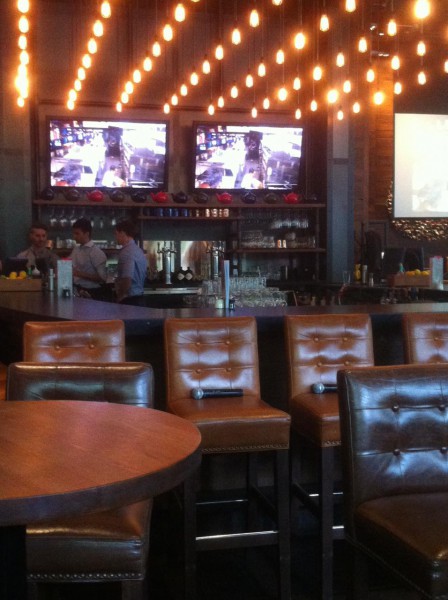 The restaurant features a large horseshoe shaped bar with seats all around. Their signature Rhino beers and ales are on tap as are a section of wines. Their featured house wine is "Rascal Next Door" red and white.  I was able to find out that their beers are custom brewed for the restaurant chain by Whistler Brewing.  Cedar Creek Winery, in Kelowna, makes their house wines to their specification.  I was impressed that BC products are served at all their establishments. The house red wine is primarily a blend of Merlot, Cabernet Sauvignon, and Pinot Noir.  Gewürztraminer, Pinot Gris and Chardonnay dominate the white blend.  Both wines were quite pleasant and versatile enough to pair with most foods on the menu.  Other wines are also offered.  One thing that really impressed me was the price on their premium wines.  Earl's has a smaller percentage mark up on these so it's a great place to try something special – perhaps something from Cakebread, Caymus, Osoyoos Larose or Stag's Leap.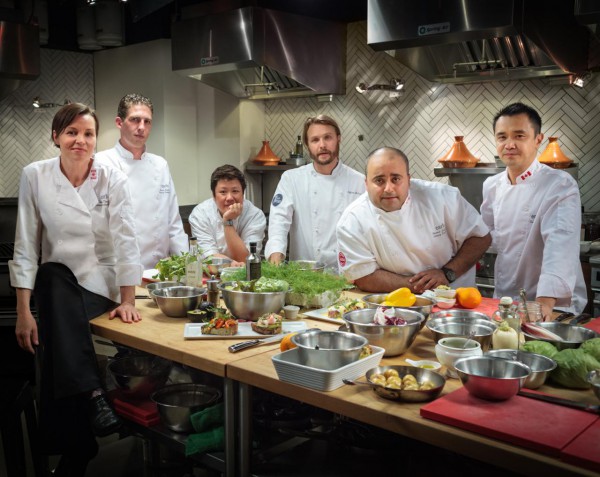 The chefs descended the stairs and walked to the front of the room for the presentation.  First we heard from Earls founder and CEO, Stan Fuller.  Stan is an unassuming and down-to-earth individual.  You can tell he is very passionate about his business.  One million dollars was spent in developing the test kitchen.  Next, Mo Jessa, President of Earls Restaurants Ltd. spoke to the audience.  He mentioned that Earls raison d'etre is not fine dining, but rather casual dining and how they want to make Earls the best restaurant in that category.  Then Executive Chef Phil introduced the panel of chefs including: Dave Wong, Dawn Doucette, Hamid Salimian, Tina Finez, and Andrew Hounslow.  Jeff McInnis appeared via a video link from a restaurant in Miami where he is currently working.  Cameron Bogue is the beverage director.  All the assembled staff come with impressive credentials including tours in top restaurants, and competing for team Canada in the culinary Olympics.
The collection of chefs create new items for consideration for the restaurant's menu.  It may take months or even years of preparation and tweaking to get the dish to perfection, however the creating chef gets veto power over the final outcome to make sure that the integrity of the dish hasn't been lost in the collaborative 'tweaking' stage.
During the following Q&A, I asked the following question for the panel, "What has been the best tip or trick you have learned from another chef?"  Two responded with "Feedback and collaboration" and "Keep an open mind and never say 'No'".  Earls has assembled a very impressive team for their test kitchen and it is certainly reflected in the quality of the food we were served.