I think if we are given a healthy choice, we would like to take it.  Sometimes though people have health conditions, where your choices for what food is better for your body is not as widely available, or you do not know where to get this.  This weekend is the Fraser Valley Food Show in Abbotsford, which has health conscious food for us to try, as well as locally produced food (in a environmentally/socially conscious way), wine and beer.  A large part of the show are gluten-free products for those people that are celiac, or have some degree of gluten sensitivity.  Gluten does cause me some problems so I was interested to see what tasty foods I could try and where I could buy them in Vancouver.
Gluten-Free Foods I Enjoyed
Gluten-free does not mean, no flavour, texture, or tastes like cardboard.   I had some great samples of food.  If you are a pasta lover, there was Zara Foods Italian Deli & Fresh Pasta at Granville Island Public Market.  They have a wide range of pasta and sauces.  I tried their gnocchi, which was made with corn and rice flour.  It had a great texture and taste, and I will definitely buy it in the future.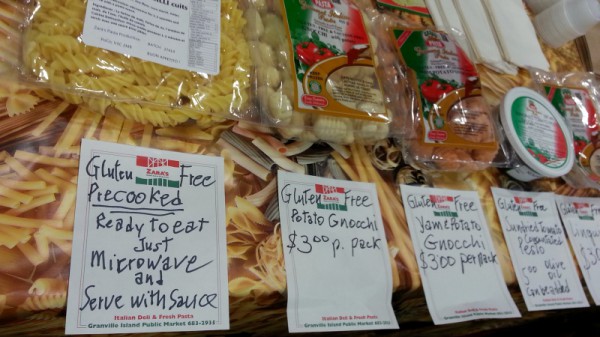 Azuma Foods brought their Asian-inspired salads to try.  The Quinoa Salad with Chia would be good for the gluten-free crowd.  Lots of flavour.  If you like seafood, try the Calamari Salad.  I think this was the favourite salad that everyone around me, including me, was talking about.  You can buy their salads at Costco, Save on Foods, Fujiya, and Whole Foods.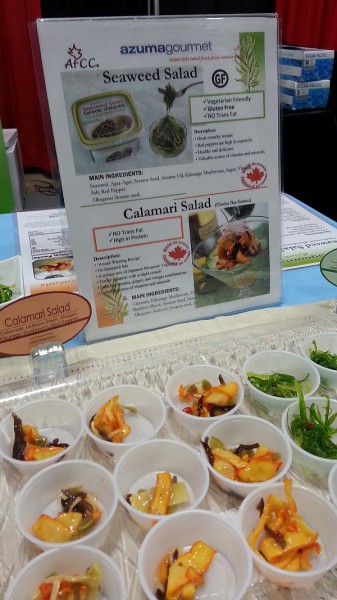 There were many bakeries in attendance, offering either their gluten-free baked goods and/or their speciality gluten-free flour for you to buy. Aroma Bake House (with Middle Eastern baked goods), Wise Bites (great muffins), NextJen gluten-free flour, Lupita Mexican Foods (for corn tortillas, chips and tamales. Note they only sell at Farmer's Markets), and many more.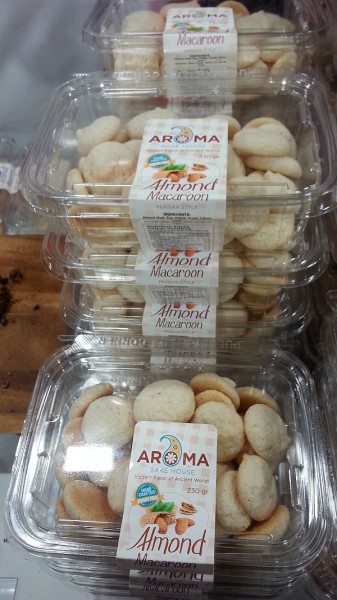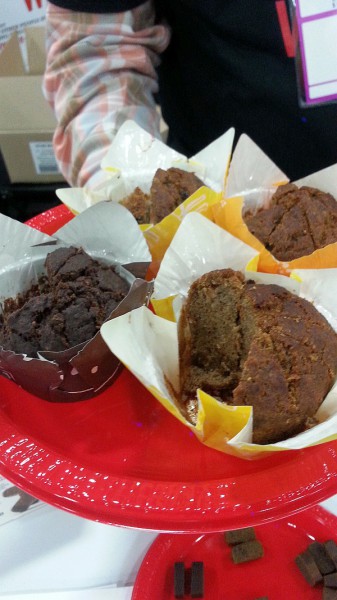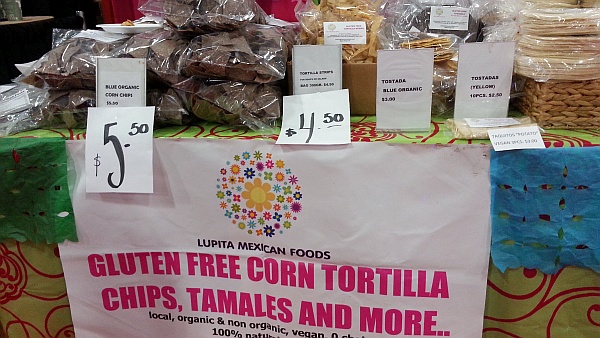 Once you have your baked goods, maybe a nice baguette, you need something to go with it.  Olive oil and balsamic vinegar dip is one good choice, but I learned about another oil you probably have not heard of, or tried; Pumpkin Seed Oil from Austria.  This oil is meant for salads or dipping, not for cooking as it has a very low burn point.  It is almost an opaque dark green in colour, but is very flavourful with a nutty taste.  I bought a bottle and will use it as a dip for bread. Check out bonnesantedistributing.ca for locations to buy this fantastic oil.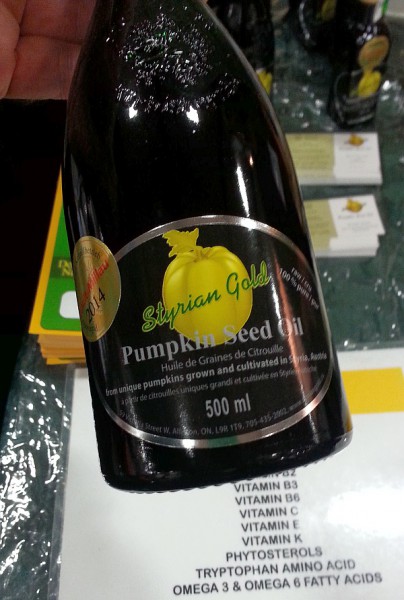 If you like to nibble, there were many crackers and chips to sample, again all gluten-free.  Some were made from rice flour, others from quinoa. I really liked the bean and rice chips from Beanfields.  Lots of flavours, like Pico de Gallo and nacho.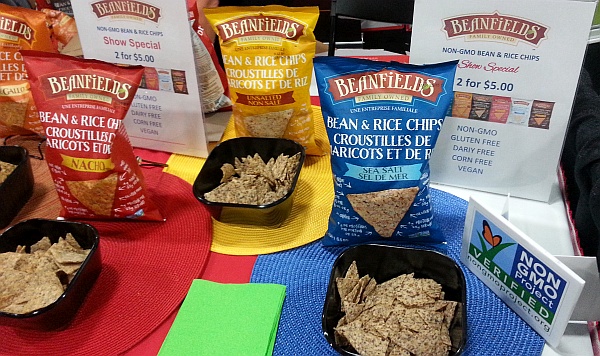 Meat Products of Interest
There were many farmers or fishing families that brought their pork, beef, chicken, or fish products for you to buy.  Gelderman Farms (who raise wonderful pigs that make wonderful pork belly which you can try at Forage downtown), Hopcott Premium Meats (for beef or chicken), Spolumbo's Specialty Sausage, Country Prime Meats (for pepperonis) and many more.  I, in particular, enjoyed the Chicken Apple sausage from Spolumbo's Specialty Sausage.  Not spicy, but has a rich flavour of chicken and apple.  Their sausages are also gluten-free, with no fillers, binders, or preservatives.  This would be great grilled, or maybe added to a light pasta sauce.  It is available at Safeway's that have a fresh meat deli section.  You can buy one sausage or more as needed.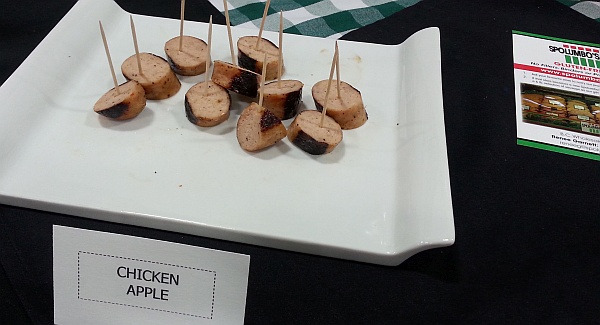 There are so many booths with so many samples, that you will easily get full, and tired.  I spent 4 hours touring the booths. But if you have energy after that, there is a wine and beer tasting area (you need to buy tickets to sample the wine and beer), as well as 4 stages, with continuous shows on wine/beer, cheese, sausage making and more.  On Saturday there is a sausage making competition, so head out there.  I don't know if there will be samples for the public, but I hope so!  This is a really fun and informative event, and I recommend the drive to the Abbotsford Tradex today or tomorrow.  You can buy tickets online for $7, or $9 at the door. Here is the link for tickets.  Enjoy!