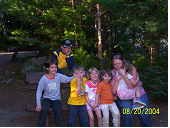 My life is sometimes measured in laptops killed rather than human years. The other day I stumbled upon an external hard drive that contained (or so I thought) info recovered from the sudden death of Mr. Three Laptops Ago.
Now when I say "stumbled upon", what I really mean is that I finally found it after desperately ransacking every nook and cranny of my house.
Imagine my surprise when I found pictures from Mr. Three, Miss Four & Mrs. Five devices ago (number five was a PC) on the hard drive. Felt like Christmas had arrived early. Needless to say (but I will anyway) I didn't get much done for the next few hours. Wow! I was looking at pictures from a decade ago!
I was looking for the hard drive in the hopes that it contained pictures from our cross country move to Vancouver Island from Montreal. As you can see…it did! That's me in the picture with six kids and no they aren't all mine…two daughters, two nieces, two nephews.
I plan on sharing stories about Vancouver Island especially the Cowichan Valley. First though, I figured I'd tell you how we got here.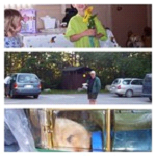 Quite simple really (ha ha ha) we sold four houses, filled a big moving truck with our belongings and sent it off to the Cowichan Valley. We loaded up two vans and one car with 4 adults, 6 kids, 1 dog and a hamster.
Peacefully (ha ha ha ha) we drove across Canada doing a bit of sight seeing along the way, arriving on the island via our first ferry ride ten days later.
Grandma was smart; she flew here after a relaxing southern vacation.
Feature pic from Tourism Cowichan