COUNTRY CHRISTMAS
If your family is looking for a relaxing and fun Christmas experience that avoids the crowded malls and long Santa line-ups, come out to the country!
Leave the busy city behind, and enjoy the short trip to a 73 acre horse ranch in Maple Ridge that has been transformed into a Christmas wonderland. Here you will be enchanted by glorious lights, beautiful trees, interactive scenes, lovely music, and delightful activities that remind us of times when Christmas was a lot simpler . . . and a lot less commercial. It's all priced so reasonably that you'll want to return with your friends!
This experience will include interactive displays, a wagon ride, a visit to the petting zoo, a cookie (that each person will get to decorate!), the history of Christmas, and so much more!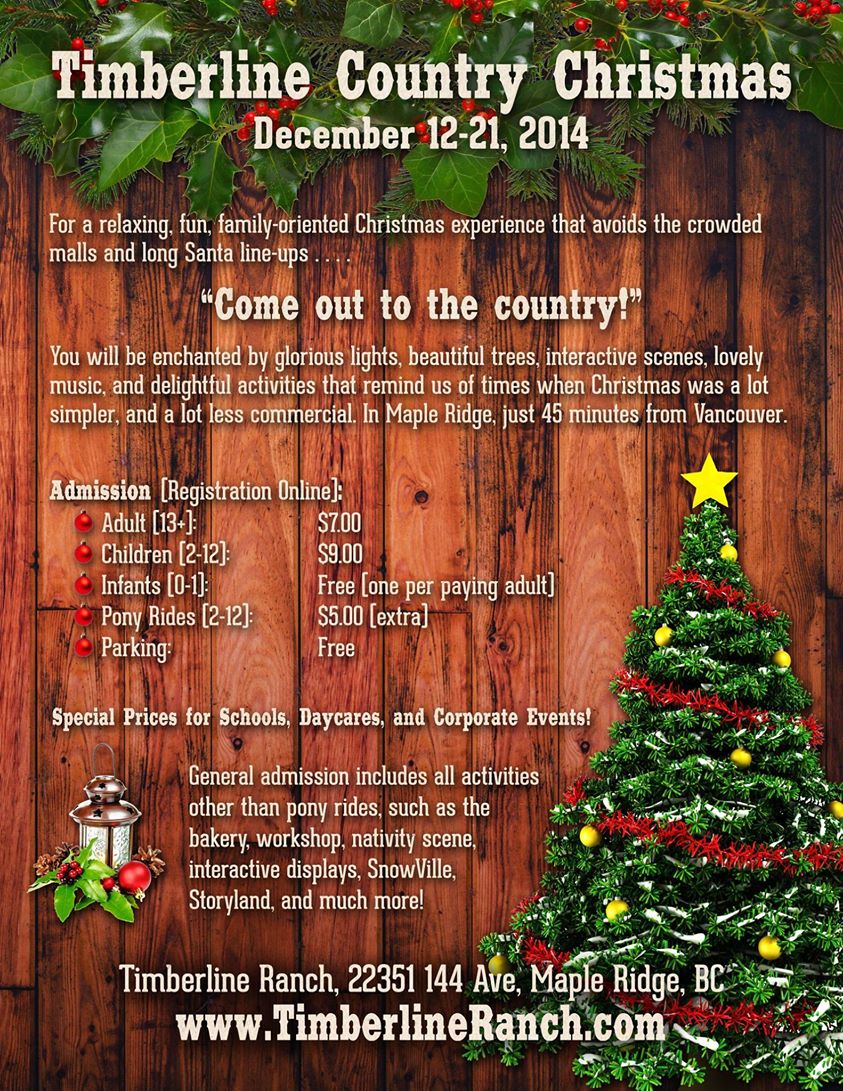 Dates of Operation:
•December 12-21, 2014
Prices:
General Admission (online):
Adults (13+):
$7.00 (+ GST)
Children (2-12):
$9.00 (+ GST)
Infants (0-1):
Free (one per paying adult)
School or Day-Care Groups (10 or more; reserve by phone):
Adults:
$4.00 (+ GST)
Children:
$6.00 (+ GST)
Pony Rides (additional):
2-12 Years of Age:
$5.00 (+ GST)
School/Day-Care:
$4.00 (+ GST)
Hours of Operation:
General Public:
Mon/Tue/Thu/Fri
4:00 p.m. – 8:00 p.m.
Saturdays
9:00 a.m. – 8:00 p.m.
Sundays
1:00 p.m. – 8:00 p.m.
Schools and Day-Cares:
Mon/Tue/Thu/Fri
9:00 a.m. – 2:00 p.m.
Cafe Hours:
Mon/Tue/Thu/Fri
5:00 p.m. – 9:00 p.m.
Saturdays
11:00 a.m. – 9:00 p.m.
Sundays
2:00 p.m. – 9:00 p.m.
Included in Admission Price:
• Bakery
◦Decorate a large, delicious cookie – and then eat it!
• Petting Zoo
◦Interact first-hand with a whole bunch of friendly animals, including a llama, donkey, mule, miniature horse, bunnies, goats, and more!
• Workshop
◦Make a unique Christmas ornament that you can take home with you.
• SnowVille
◦Test your skills in a snow-themed ball pit with snowman targets and fun games.
• Covered Wagon Ride
◦Climb aboard for a ten minute ride around the Ranch and off and on at the Barn.
• Origins of Christmas
◦Interact physically with numerous small displays that explain where many of our Christmas traditions come from, such as Mistletoe, Christmas Trees, Santa Claus, and Christmas Stockings.
• Nativity Scene
◦See Mary, Joseph, Baby Jesus, and the Shepherds at the manger.
• Storyland
◦Hear a touching, back-country story about a time when Christmas was more about helping others than helping ourselves.
• Family Photo Spot
◦Bring your camera and we'll take your photos in a booth set up to give you that country Christmas look and feeling.
Location:
Refer to our Map and Directions page to find out how to get here.
Contact Information:
•Group and Corporate Bookings: 604-463-9278, extension 21
•General Inquiries (please read below first!): info@nulltimberlineranch.com