Do you use the BC Liquor Store's web site (http://www.bcliquorstores.com) to check for products? Do you use their mobile app?  Probably many of you do and if you don't, they are well worth checking out.  But how many have scrolled to the bottom of the page and under "Customer Service" clicked on "Special Events"?  Not many I am willing to bet.  Here you can find out about all of the special tastings and programs that you may have stumbled upon from time to time.  Most, though not all, events take place at the 39th and Cambie Signature Tasting room and many are free of charge.  You can even sign up for monthly email event updates.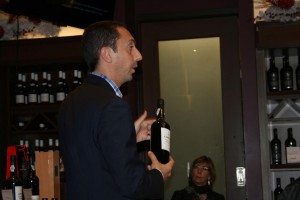 On November 25th, I attended the "Best of Port" tasting seminar.  The tickets for the event were $50, but it was well worth it.  I was so impressed that they even included a plate of some perfect port pairings, including a selection of cheeses, nuts, dried apricots (the best I've ever had) and dark chocolates.
The event ran from 6:00 to 8:00 and it was the shortest two hours I have spent in a long time.  Jorge Ramos, Export Director for Taylor Fladgate, led us through a tasting of some of the very best port wines available in BC.  Programs such as these are intimate events as the Tasting Room only seats about 20 people.  We began with a short video presentation, which provided an overview of the region and the basics of Port production.  Here is a (different) video of the foot treading many houses still use for their best ports.  As it says, the human foot is unsurpassed as being the best way to break the grape skins without breaking any of the seeds, thus avoiding harsh tannins.
The wines we tasted: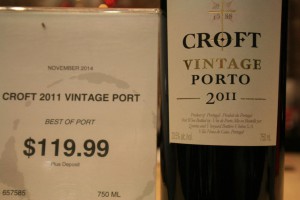 Croft 2011 Vintage Port
$119.99
97 points Wine Spectator
Chocolate and jammy fruit, dark berries, spice and licorice.  Very fruit forward.  The house style is to be upfront with luscious, jammy fruit flavours.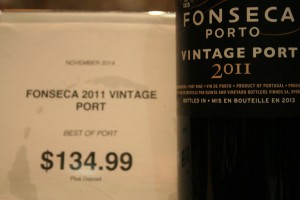 Fonseca 2011 Vintage Port
$134.99
99 points Robert Parker
This wine is #13 on the top 100 wines list.  Impressive, rich and concentrated.  Lots of fruit flavour – plum, blackberry and cherry undertones.  Good structure and a lingering, rich chocolaty finish.  My favourite Vintage Port.
Taylor Fladgate 2011 Vintage Port
$134.99
98 points Robert Parker
This is the 'leanest' of the three Vintage ports.  This does not suggest anything lesser, simply a different style – more elegant and restrained rather than voluptuous.  Good fruit on the palate – black berry, black currant, raspberry and cherry.
Fonseca 10 Year Old Tawny Port
$39.99
90 points Wine Spectator
Red/orange in colour.  Bold and bright with lots of red fruit and good structure.
Taylor Fladgate 20 Year Old Tawny Port
$66.99
93 points Wine Spectator
Definitely finer than the 10 year old, elegant, amber-orange.  Caramel, honey and nutty aromas and flavour with spice and citrus undertones.
Taylor Fladgate 1964 Single Harvest Tawny Port
$279.99
93 points Wine Spectator
Absolutely amazing.  Pale amber in colour.  Rich and complex aromas and flavours of walnut, dried red fruit, raisin, fig and toffee aromas that leap out and then linger in the glass long after the wine is gone.  This wine shows elegance and finesse.  It was the hit of the evening for me.
If you have just won the lottery, then have I the perfect Port for you, the 1863 Taylor Fladgate Single Harvest Port.  This wine predates Canadian Confederation.  Only 1,600 bottles of this wine exist.  It is offered in a 750 ml crystal decanter housed in a beautiful maple wooden box complete with a signed certificate.  The tasting note for this wine is the lengthiest and most elaborate description I have ever read at over 120 words.  The price?  $3,988.00.