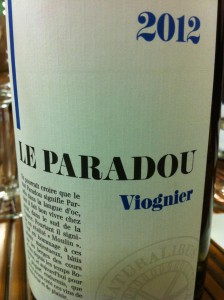 2012 Viognier
Le Paradou
Provence, France
$16.00
Bronze Medal
Lemon yellow in colour with medium intensity. Aromas of lemon, butter, pear and apricot with a hint of hazelnut. Good balance. Clean and refreshing on the palate with flavours echoing the nose. A medium finish with flavours of citrus and wet stones.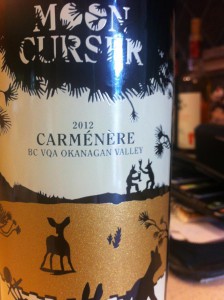 2012 Carmenere
Moon Curser
Osoyoos, BC
$37.90
Silver Medal
Not much of this varietal, usually associated with Chile, is grown in the valley. Garnet red in colour with deep intensity. Black pepper hits your nose followed by earthy dark fruit aromas. Good balance with firm ripe tannins. Fruit flavours dominate the palate with a medium-long finish. Pair with grilled pork tenderloin, BBQ'd chicken or charcuterie.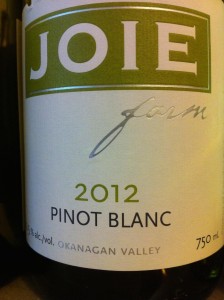 2012 Pinot Blanc
Joie Farms
Naramata, BC
$20.86
Silver Medal
Lemon yellow in colour with medium-light intensity. Aromas of apple, pear and grapefruit zest. Well balanced with good mouthfeel. Juicy fresh fruit flavours on the palate with a hint of tropical fruit. A medium long finish with mineral undertones. A good accompaniment to pan fried sockeye, herbed risotto and steamed lemon asparagus. A very good example of BC Pinot Blanc.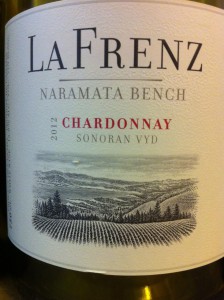 2012 Chardonnay (Sonoran Vineyard)
La Frenz
Penticton, BC
$22.00
Silver Medal
Golden yellow in colour with medium intensity. Aromas of butter, vanilla, pineapple, peach, toast and a hint of orange peel on the nose. Well balanced. Integrated oak and fruit on the palate with a medium-long finish. This is an elegant Naramata Bench chardonnay.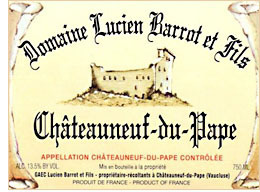 2009 Chateauneuf-du-Pape
Domaine Lucien Barrot
Rhone Valley, France
$49.33
Silver Medal
This wine was hard to drink upon first opening, however with a lot of time to breathe it opened up and became quite pleasant. Be sure to decant or aerate well in advance of drinking. Garnet red tinged with brick and medium-deep intensity. A delicate nose showing some complexity including notes of stewed red fruit, earth, game and spice. Good balance and flavours that echo the nose. A warm, medium finish. This is a Grenache led (80%) GSM blend. Serve with grilled steak, lamb or pork loin.